Aviv Digital -
Calicut
Digital Marketing Courses in Calicut
1/3446 D2, Second Floor,
Shivam Building, Westhill PO, Kozhikode,
Kerala, India – 673005
info@avivdigital.com
+91 8156998844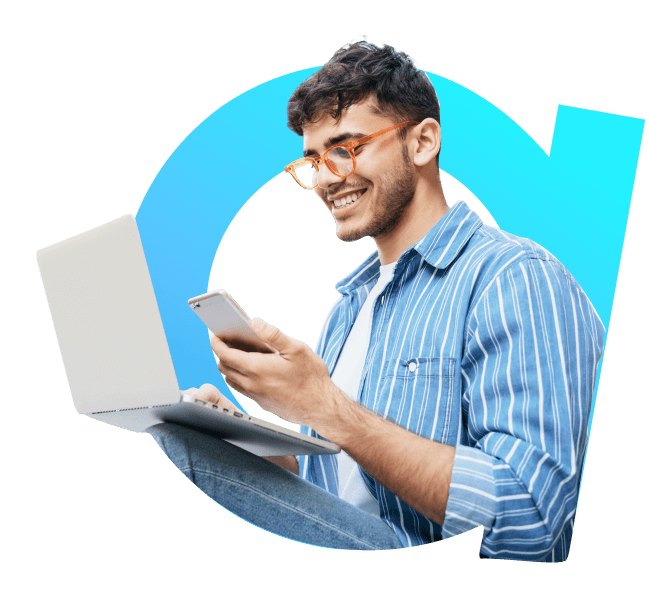 2000+
Trained Students
4.99
300+ Reviews
Aviv Digital is an award-winning digital marketing training institute based in
Calicut

- the

first

and

No.1

dedicated institute in Kerala, run by a digital marketing agency
Why Aviv Digital?
Personalized learning
Our Calicut centre offers every student to learn at their own pace with individual attention given to each based on their progress.
Classes From Industry Experts
Apart from our own in-house expert trainers, our courses also include training sessions from industry experts from across India.
100% job Assistance
At Aviv Digital, we provide complete assistance for placements of students who have successfully completed our courses. This includes preparing for interviews, submitting applications, etc.
Train with paid tools
We ensure that our students receive hands-on exposure to all advanced and latest marketing tools, so that they can implement them in their work.
Govt.of India Approved Certificates
Our Certificates are recognized by the Govt of India, which gives our students a huge edge while seeking jobs in India, Middle East or anywhere in the world.
Hands-on projects and assignments
As we're part of Acodez, all of our digital marketing students get the opportunity to work hands-on live projects at our office in UL Cyberpark and Westhill offices in Calicut.
Learn More About Us
Explore courses
Digital Marketing Courses
Digital Marketing Courses
Full Stack Developer Courses
UX Design Course
Corporate Training for Companies
Build an internal digital marketing team at your office or train your employees with digital marketing skills.
We offer complete training and consultation in setting up your own digital marketing team at your office or in-house training for your employees to enhance digital marketing skills.
For more information contact +91 8157998844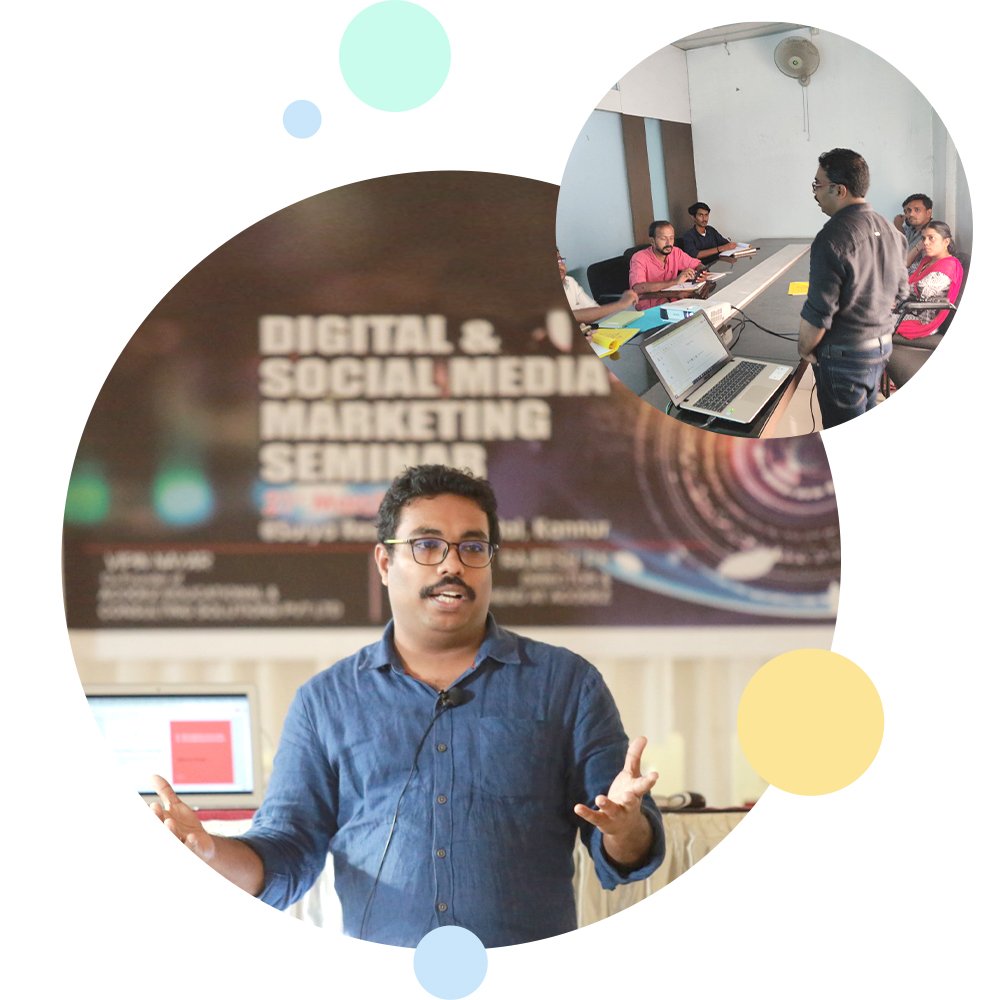 Digital Marketing Course in Calicut
The world is switching to the online mode, and no business is lagging behind in this rat race. In a state like Kerala where cities are constantly growing and developing into an IT hub, more and more potential businesses are coming into existence. Having a strong position, recognition and popularity in the online platform require as much dedication and strategic planning as the brick and mortar businesses demanded.
It is quite important that you should take enough time and assess yourself to choose the best institute for digital marketing in Calicut to meet your personal goals.
That is why; we at Aviv Digital, one of the top 10 digital marketing institutes in Calicut, also the brainchild of Acodez IT Solutions; have come up with a professional standard Digital Marketing training course. As one of the pioneers in the industry, we have seen the lack of properly trained professional digital marketers in the IT market in the recent times. Various IT parks mushrooming in the city is a clear evidence of how much the world is into this digital world. In this marathon, where Calicut itself has become a battleground seeking the best brains, it is a must, to get acquainted with Digital Marketing including SMM, SEM and SEO courses in Calicut; Cyberpark jobs is not far from realization.
However as the demand is ever increasing, and this resulted in many big and small training centers to shoot up in every nook and corner. Likewise, there are a horde of students as well that are hunting for PG institute for digital marketing in Kerala to pursue this as their masters after degree. But before you end choosing any, you must make a proper study of all the places and then make the right decision.
The main factor that makes Aviv Digital the best center for SEO training in Calicut is our expert trainers who are well updated with the latest in industry and right practices that win. Moreover, we offer Government approved certified courses that will definitely let you earn an edge over others in the job market. Apart from preparing for competitive exams like CAT, PSU or any other similar ones, people are also considering this opportunity as a serious gateway for a great career ahead.
To meet this demand and to provide you with exceptional exposure, we have carefully designed our digital marketing course at Kozhikode with syllabus that will impart both, complete practical and theoretical knowledge of the digital marketing and its potential to the learners. Our course includes:
Search Engine Optimization (SEO)
Search Engine Marketing (SEM)
Social Media Marketing (SMM)
Email Marketing (EM)
Inbound Marketing (IM)
This gives us the global recognition that is required by the trainees while seeking jobs in reputed international companies. The Digital Marketing training course certificate from Aviv Digital is a singular certificate that is acknowledged and approved all across the globe.
Currently, Aviv Digital has three centres in Kerala, and we plan to expand in the future even more. Our Calicut centre is located right in the heart of the city, making it an easy access for the willing applicants.
If you are interested in PPC training, come to us, as we follow a detailed and thorough syllabus for our courses where others don't provide for a short period of time. Our aim is to make professional and best digital marketers, who are skilled in every aspect of the online marketing business. Thus, we not only offer the mere basics of digital marketing, but every nook and corners of the digital arena. Our SMM training includes every detail of business analysis, strategy planning & implementing, developing, analyzing, report generating with live projects.
Learning will be at its best when theory is coupled with practical sessions. As the most seeking institute for SEM training, we offer you live projects to get hands-on experience. Qualified expertise is something that only our strategically planned and designed certificate courses can offer.
Get Direction
It takes around 14 minutes to reach AvivDigital from the Moffusil Bus Stand via Kannur Road.
From the bus stand, go south on Rajaji Road towards Ram Mohan Road.
At the Stadium Junction, turn right onto Pavamani Road.
Turn left onto Beypore - Kozhikode Road.
Turn right at Lavanya Trading Company onto Mananchira Road.
Turn right at M/s Leo onto Town Hall Road parallel to Mananchira Lake.
Turn left at the next junction to continue on the Town Hall Road.
At Paragon, go straight onto Kannur Road.
Go straight on at Nadakkavu Cross Junction and continue on the Kannur Road.
Go past The Hindu office at Chakkorathukulam for 300 meters
Head on North towards Old Railway Bridge.
Take left from Old Railway Bridge.
U-turn at Hotel Deewar onto Oyitty Road.
Turn left at Crown Theatre onto Townhall Road.
At Paragon, go straight onto Kannur Road.
Go straight on at Nadakkavu Cross Junction and continue on the Kannur Road.
Go past The Hindu office at Chakkorathukulam for 300 meters, and it is on your right opposite to KVR Fiat Showroom.
It takes around 59 minutes to reach AvivDigital from the Calicut International Airport.
Take Calicut Airport Road towards NH-966 (Calicut - Palakkad Highway).
Turn left from the NH-966 Roundabout and head on towards Calicut.
At Ramanattukara Bypass circle, take right on to Kozhikode Bypass Road.
Go straight on at Pantheerankavu Junction.
Go past HiLite Mall.
Turn left onto Pottammal-Kattukulangara-Palazhi Road at UL Cyber Park.
At Pottammal Junction, turn left onto Mavoor Road.
Go past Focus Mall and Moffusil Bus Stand on the Mavoor Road.
Turn left onto Beypore - Kozhikode Road.
Turn right at G-Tec Junction onto Red Cross Road.
At Paragon Junction, turn right onto Kannur Road.
Go straight on at Nadakkavu Cross Junction and continue on the Kannur Road.
Go past The Hindu office at Chakkorathukulam for 300 meters, and it is on your right opposite to KVR Fiat Showroom.
More Locations
Kochi - India
AVIV DIGITAL,
Door No. 40/383,
5th Floor,
Jos Annex,
Jose Junction
M.G.Road,
Kochi-682016
Above TBZ Jewellers
info@avivdigital.com
Mob: +91 8157998844
Calicut - India
AVIV DIGITAL,
1/3446 D2,
Second Floor,
Sivam Complex,
Westhill
Kozhikode
Kerala 673005
info@avivdigital.com
Mob: +91 8156998844
Our certifications
Certified Digital Marketing Courses
What our learners have to say about us!
Frequently Asked Questions
Why Digital Marketing course is important?
The primary reason to join a digital marketing course is to learn about digital technologies and accelerate your career growth. The bigger advantage of a digital marketing course is that it can help you in getting a better salary in your career.
What digital marketing courses your training institute provides in Calicut?
We teach you the basic and advanced levels of subjects like SEO, SEM, Social Media, Email Marketing Inbound Marketing Affiliate Marketing, etc.
Do your digital marketing training institute in Calicut provide placements?
With the digital marketing courses, we will make you a certified professional and will assist you in getting placements at various companies.
Who are the instructors in your digital marketing training institute?
The instructors are certified digital marketers as well as experienced professionals who have rich theoretical and practical knowledge in the industry.
Is Digital Marketing a good career in 2022?
Yes, digital marketing is a good career option. We live in a time where people use the Internet for everything. You can expect more openings for work in the digital marketing industry.
Can students of any educational background learn digital marketing?
The short answer is 'Yes', but provided you get proper technical training on the subject. Digital marketing is the best choice for both long- and short-term prospects, but to mark a best career in this arena, technical proficiency is a must to chase your dreams. Aviv Digital has specially prepared an in-depth syllabus to master in Search Engine Optimization (SEO), Search Engine Marketing (SEM), Email Marketing, Social Media Optimization (SMO), Pay-Per Click (PPC), content marketing, etc and to convert you to a highly paid professional, regardless of your educational background.
I'm an Entrepreneur. Why should I learn a Digital Marketing course?
If you are an entrepreneur or entrepreneur-to-be looking for an organizational impression of your own, digital marketing is a must-have skill you should possess. Customer acquisition is always a top priority for every business owner and there is no other medium than digital marketing to acquire new customers. Being an expert in every corner of digital marketing, right marketing decisions are sure to make and thereby saves a lot of money. Our courses are designed in a way to increase your online presence, achieve improved sales and build a great online brand identity. This course can also help you understand the complete know-how of digital marketing which can help you create digital marketing campaigns on your own or can come in handy even if you're engaging a third-party digital marketing agency to promote your business.
What kind of Corporate Training programmes do you provide?
We have more than 10 years of industry experience in building digital marketing teams, training and grooming of in-house resources - in fact we do have a 100+ member team for our own agency, Acodez where we also have a couple of offices in Calicut. We offer complete consultation in setting up an in-house digital marketing team. Our certified trainers have prepared an in-depth curriculum for aspirants to make aware of every nook and corner of digital marketing trends and updates. A systematically planned course imparts the true practical knowledge to improve your business efficiently by leveraging the scope of digital marketing and online advertising.
Where are your centres in Kozhikode?
Presently we have 2 centres in Kozhikode city - one at Westhill, Calicut and one at UL CyberPark, Calicut. The corporate office of Aviv Digital is at Westhill.