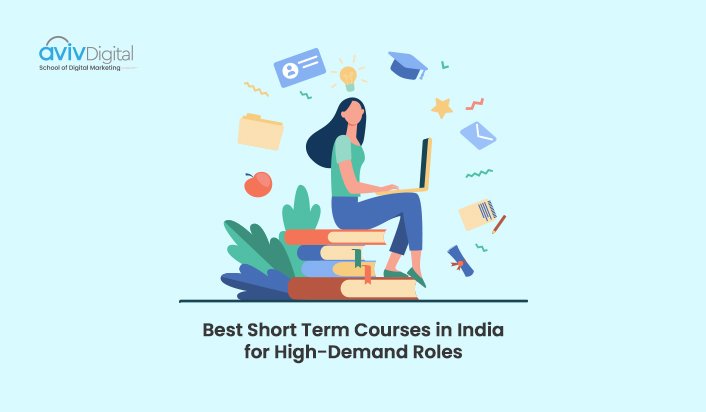 Landing a good job can be challenging, especially if you don't have the necessary qualifications. Not everyone is able to do courses that take up a lot of time and money. Here we will discuss the best short term courses that you can do that are job-oriented.
1. Digital Marketing Courses
Even before the pandemic, online shopping was gaining popularity; after COVID-19, it almost became the norm. Today the ecommerce market is close to 90 million USD in India alone. This means there is a huge demand for tech experts and digital marketing professionals. Digital marketing professionals help create and implement strategies that help businesses boost sales and achieve growth. Digital marketing is one of the most happening fields in the world today, and it's a great option for any student who wants short term courses for job. Digital marketing courses from reputed institutes like Aviv Digital train students on various topics like SEO strategy, affiliate marketing, web analytics, mobile marketing, social media management, search engine marketing, email marketing, content development and marketing, and so on. The best institutes offer students practical, hands-on training on live projects so that they can learn quickly how things are done in the real world. There are several career options that are open to students who complete a digital marketing course and the growth prospects are also very high. Students who get recognized certificates can be employed anywhere in the country. Digital marketing courses are of various durations, from three to six months, and are one of the best short-term courses with high salary in India.
2. UI/UX
User experience is a very important element in any application that is developed today. Users should be able to use it easily, and should feel interested in using it. With ecommerce making such rapid strides, more and more apps are being developed, giving rise to high demand for UI/UX professionals. UI/UX professionals are among the very highly paid IT professionals in India. While it's a bonus if you are artistically inclined, you can have a career in UI/UX even without it. On completing the course, you can choose to become a UX architect or analyst. This short term course from Aviv Digital allows you to be part of an exciting industry with tremendous growth prospects. Students will be trained on design fundamentals, user-centric design, ideation structures, user research, wireframing, prototyping, information architecture, and more. Hands-on training is usually provided so that students get used to designing a site or app all by themselves. Students will learn to combine their creativity with cutting-edge technology to create web and app designs that excite users. UI/UX courses are for a period of 6 months, with four months of classroom and two of hands-on training. On completion of the course, you can work as a web designer, Ui designer, UX designer, analyst, or architect.
3. Full Stack Development
Full stack developers who can build both client side and server-side parts of an application or site, and are in great demand in the IT industry. Client side is what the end user sees, and server-side is where the processing takes place, in the background. In full-stack development courses, students are trained on HTML, CSS, ASP, PHP, Node, Python (server programming), jQuery, JavaScript, Angular (browser programming). A full stack developer has much better chances for career growth and for getting high salary than a mere front-end or back-end developer. If you are passionate about coding, this is one of the best short-term courses you can opt for. When you enroll for a full stack development course at a reputed institute like Aviv Digital, you will receive detailed training on all the required languages, databases, and other tools you will need to be a successful full stack developer. You will also receive practical training on live projects to make sure you have understood the concepts well and are able to implement them in real-life scenarios. At the end of your training, you will be able to develop and maintain web services and interfaces, do functional coding, build new features for APIs, execute tests and do troubleshooting and bug-fixing.
4.Business Accounting and Taxation
These courses are designed to help you become qualified accountants, by providing practical tax and accounting experience. Students who have passed their 12th can do this course and find employment in taxation, payroll, MIS reporting, and more.
5. Business Analytics Courses
Business analytics courses are one of the short term courses you can pursue after your 12th if you are interested in Finance, Sales or even Logistics. These courses help students understand and utilize data generated by businesses. Students will be trained in data mining, pattern matching, data visualization etc. to maximize the value and performance of data, analyze market baskets, and so on.
6. PG Certification in Machine Learning
ML is not very new but is still in its infancy, and there is a good demand in the market for these professionals. Machine learning courses teach students to build and train supervised ML models for various tasks like prediction, regression, and so on. Students can master the basics and get qualified for a job in the field as there is a shortage of qualified machine learning professionals. Take advantage of this and grab the opportunities.
7. Java Courses
Java is a computer language that is used to build applications and is one of the best online short-term courses you can do if you have a flair for programming. Jav programmers are in huge demand everywhere, and if you're good in your job you can get a high salary too. Students are trained on the concepts, given coding exercises, and resources to help them master the concepts and start building applications. Course duration is from 7 weeks to 6 months depending on the level.
8. Data Visualization Courses
Data visualization is an upcoming field in India with huge demand for professionals. Students can sign up for courses that last from one to six months depending on the skills they want to master. Key concepts and techniques in Tableau are taught which help students to move from basic to advanced visualizations, incorporate them in interactive dashboards and more.
9. Big Data and Hadoop Courses
Data is king today, and there are innumerable opportunities in big data and analytics. Big Data Hadoop certificate courses equip students to interpret and organize data to enable informed decision making for businesses. Hadoop focuses on boosting the efficiency of data processing so that managers can make sense out of mountains of data. It's one of the most lucrative short term courses after 12th, as students who get certified can get excellent placements.
10. Certified Financial Planner Courses
This is a short-term course that is ideal for those who are interested in Finance. It's a career-oriented course that trains students to gain the skills needed to execute flawless financial planning for businesses. They are also taught the relevant laws and regulations to maintain compliance, ethics code, and so on. Financial planners help businesses stay on budget, raise funds for ventures, manage their cashflows effectively, and more.
11. Networking Hardware and Security Courses
If you're good with hardware or are interested in this field, this is a good course to do. It's one of the popular job-oriented diploma courses in Kerala that students can opt for after completing their higher secondary education, and are unable to get admission for courses like BCA or computer engineering. Students learn cybersecurity strategies and data and network protection. The duration is typically 6 months.
12. Journalism and Mass Communication
While these are usually offered as Bachelor's or Master's degrees, there are also short term diploma courses you can do if you have a flair for writing. Courses may take from 3 to 9 months to complete, depending on the institute and the concepts you want to master. With the steady rise of online publications, you can easily find a job once you complete your certification and prove yourself.
Why Should You Enroll in Short-Term Job Oriented Courses?
If you are wondering whether it is worth enrolling for short term courses, we will give you a few solid reasons to do it. These courses give you a competitive edge over other students, allow you to be in charge of your learning and to get a head start in your career, even without doing degrees from fancy colleges.
Better Salaries
By doing job-oriented courses, you acquire practical skills required for jobs, and hence can earn better salaries. Many of the technical skills that companies demand today are not offered by conventional degree courses that are curriculum oriented. However, short term digital marketing, financial planning, business analytics and other courses can help you land plumb jobs with handsome remuneration packages.
Improved Career Opportunities
By doing job-oriented courses and learning new skills, you increase your employability and also the number of career paths that you choose. Many of the short-term courses like digital marketing have a lot of scope that offer numerous lucrative career options after course completion.
Practical Knowledge
Most short-term courses after 12th offer practical hands-on training and real-life scenario exercises. These courses equip students to solve customer problems easily when they actually start working. For example, in digital marketing courses, students are provided supervised practical working experience on live projects. This increases confidence and helps them understand how the concepts they learnt work in actual real-life situations.
Conclusion
It's easy to get worried and confused about the career path to follow after your 12th, especially if you are not able to or interested in pursuing degree courses. However, as you can see, it's not the end of the world, and there are innumerable options available to you in the form of short term courses that are designed to help you land a job immediately. So, without thinking too much, check out these courses and sign up for the one that interests you so that you can start earning as soon as possible.
If you are interested in Digital Marketing courses, you are in the right place. With over <years> of experience in training students and helping them find their dream jobs, Aviv is the best option for you. We have industry experts as faculty, whose experience allows them to impart the best training to students. They are approachable and knowledgeable, and help students to gain all the skills required for their professional career.
Aviv Digital is one of the leading Digital marketing course in calicut. We offer a wide variety of globally recognized certification programs that include SEO, SEM, SMM, Email Marketing and Inbound Marketing courses. For more details, Contact us at: +91 8156998844