Seminar on Changing Trends in Marketing – Emergence of Digital Marketing – 19/8/2017
Digital Marketing – It's been almost two decades since Google made its way for worldwide users online. Since then, digital marketing has been constantly changing its trends and thus making a challenge for every digital marketing agency to stay top among competitors to open up opportunities for branding, growth and innovative development. Being the most trendy, digital marketing has become a 'must-know' field among job seekers too.
To make aware of the evolving trends and emerge of digital marketing, a team of experts from Areva Digital has put a step forward for a seminar. The seminar entitled
"Changing Trends in Marketing – Emergence of Digital Marketing"
was conducted on 19/8/2017 at Calicut. The audience was passionate to learn the influence of internet technology in business and emergence of new trends through digital mediums in marketing.
The seminar explained how the digital marketing has evolved and its special impact on blogs, mobile devices, big data, social media etc. These key elements of development strived to continue to drive how marketing agencies and internet marketing develop and execute their plans. Analyzing the importance of each element responsible for carving out and shaping the future trends of the digital marketing field can help businesses in developing their own effective digital marketing plans.
The session was concluded with a clear explanation that digital marketing cannot be ignored as it is a trend and future and to be successful in business, it is better to get entrenched in the digital world.
Digital Marketing Corporate Training at PVS Builders – 06/04/2018
In Corporate world even today there is a group of companies who are still not aware and updated with the changing trends that have affected all industries globally. Digital Marketing has taken over the major operational functions of any businesses – be it branding, marketing, customer retention, promotion, etc. In order to be on par with the advancing world, it is the need of the hour to be digitally trained and that too from the right hands.  
This motivated Aviv Digital to come up with a unique training module specially designed for the corporates. So we organized a session purely to help them understand what digital marketing is, and how it is helpful, the benefits of digital marketing and also help the employees to master useful practical and daily implementable tips for better efficiency in fulfilling organizational goals.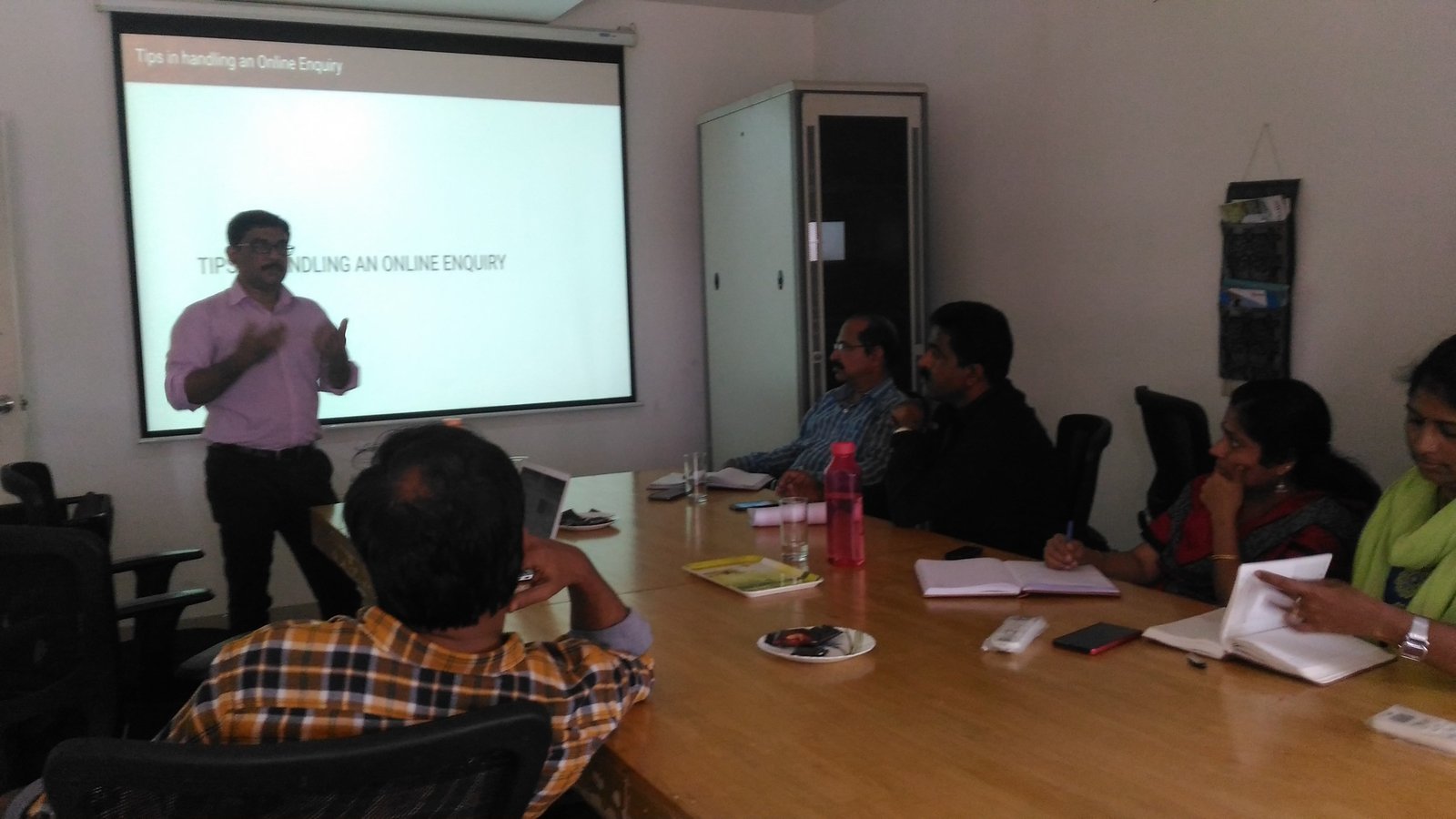 Through DM the companies' efficiency is multiplied as you are open to a global audience and so your reach a wider market and a larger audience in few simple steps with much lesser effort. We also show them how to enhance their businesses for better ROI.  
Our Corporate training in Digital Marketing enabled them to comprehend the basics of DM and how it must be implemented on daily basis to meet their organizational goals
We recently organized a corporate training program for PVS Builders and Developers on their request. PVS Builders and Developers is a property development division of the KTC Group that started off in the year 1991. Their services primarily concentrate in offering economy type to luxury residential apartments as well as commercial spaces for a better quality living.
As real estate is a highly competitive industry, it is very important that they adopt latest marketing trends to reach their targeted audience. The industry is fast advancing and most of the queries and leads are generated online. So to filter these potential leads and to convert them into loyal customers, it was the need of the hour to get updated and adopt new marketing trends.
The benefit of this new era of marketing is that you can individually target your potential leads and address them from person to person, and that makes a big difference in reaching out from the usual conventional style.
Our course on overall covered the changing trends in the industry and need for change in the marketing approach. What people are looking for, and how to reach them; traditional marketing trends v/s digital marketing. We also covered the latest trends and the different stages of customer journey in DM. Introduction to what is internet marketing and different streams in it, that includes SEO, SMO, ORM, Email marketing, Adwords, etc. We helped them understand the importance of each of these and also taught them how they can be used and what the benefits of each are.
This session became very fruitful and interesting. We had a detailed interactive session and discussed on live situations and examples on how to enhance efficiency in meeting their organizational goals and excel their marketing skills with the internet. This training course gave them real-time experience and an overall idea of how to plan and execute effective methodology and statistic in Digital Marketing.
If you are interested in having a corporate training session to be organized for the employees of your organization as well, drop-in your query in our contact page at https://avivdigital.in/contact/.