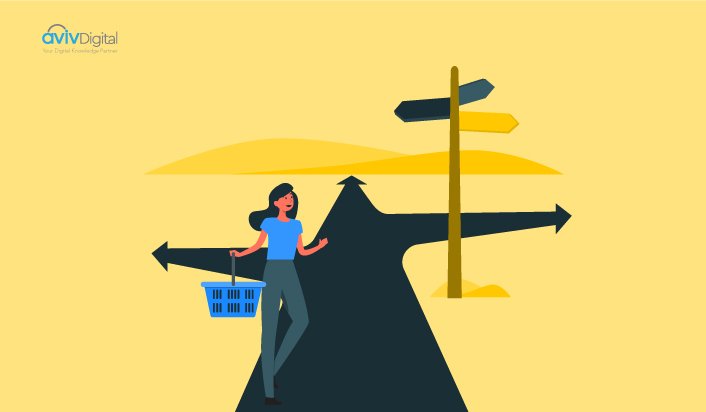 In today's world, we have all the information at our fingertips which is why customers are well-informed about the product. Customers won't be making a purchase out of impulse, it might take days or weeks of consideration before making a purchase, and waiting for this long will make you miss out on opportunities for profitable sales.
Thus, in order to be successful in marketing, you need to have a perspective of helping your customers. You need to understand who your potential customers are and their journey to make a purchase called a Buyer Journey.
What Is A Buyer Journey?
The buyer journey includes the ways or steps which a customer goes through to make a purchase of a product or service. The buyer journey is also called the purchase journey where a customer goes through the path of awareness, consideration, and decision-making process before making a purchase. If you construct these paths starting by identifying the problems to making a purchase of a solution – we would understand the buyer journey.
The buyer journey will help to understand how your potential customers behave at each stage of making a purchase and what makes them lead the next steps. It will also enlighten the sales rep on the problems experienced by the customers through their journey and the reasons that made them shape their thinking.
Why Buyer Journey Is Important?
The buyer Journey is highly important for companies because through them they can understand the problems and pain of their potential customers while they going through buying process. Having this knowledge will help the business to come up with a better marketing strategy that will help in cutting down the problems of the customers and meeting their needs.
It is essential as a business for you to understand who your potential audiences are and their behavior at each stage of the buying process – acquiring this knowledge will help you to nurture your customers on making a decision to buy from you, unlike the old way to wait until they're ready to buy.
Some of the reasons why the buyer journey important is are:
It helps to effectively market your product or services by highlighting how your product or services solve particular problems
The buyer journey is categorized into three different stages which makes it easier to understand the pain or obstacles faced by your customers so that you can take necessary measures to alleviate it
It helps in building your brand trust before even making sales.
Let us now look into the stages of the Buyer Journey.
Stages Of The Buyer's Journey
There are mainly 3 stages in the Buyers Journey, which are:
Awareness
Consideration
Decision-making
Each stage has its own unique benefits. You need to analyze the challenges faced by the potential audience that might make them take a step backward and eliminate the hardships. You also need to observe the behavior of the customers during each stage so that you can take measures to eliminate more obstacles. Let us dig more into each stage:
Awareness Stage:
This is significantly the primary stage in Buyer's Journey and it is all about the customer's problem or pain. In this stage, customers realize there is a problem and are in need of a solution. During this stage, they will not have any knowledge of your product or services nor would they think there can be anything that can be fulfilled by your business or company.
They will be in search of finding a solution via browsing through Google or taking advice from social media networks etc. During the awareness stage, customers understand what their problem is and find ways to alleviate it by going deeper into what it is and why it happens.
Consideration Stage:
This is the second stage in the Buyer journey where customers look for potential solutions for their problems. The Customers start to investigate and find many possible solutions mainly online and they might even consider going for DIY ideas that would become helpful in solving their problem.
They go through high-level understanding to find the right solutions. The customers will narrow down the list of companies with possible solutions and look into factors such as cost, competitor pricing, etc.
Decision-Making Stage:
The last stage in the buyer's journey is the decision-making stage. Here the customers have chosen a particular product or service. The decision-making stage involves deciding which is the best brand among the options gathered through research and it is the stage where the sales rep gets the most interaction with the customers – just because customers choose to purchase the product or services doesn't mean they will.
The customers will look into many other factors and as a sales rep, you should help them out with various things such as convincing, paperwork, warranties, customer care support, implementation, maintenance costs, and many more
Let us further understand each stage with an example:
Buyer Journey Example:
1. Awareness Stage:
Adam wants to paint his house and whilst painting the top ceiling he realized he isn't tall enough to reach the ceilings. This is the stage where he understood there is a problem and is in need of a solution. Soon he browsed online and started reading many articles and blog posts hoping to find solutions to his problems.
2. Consideration Stage:
Once Adam checked online, he found many possible solutions for his problem after reading many articles and blogs. He has now several potential solutions such as using a ladder, using spray paint, and using extra-long paint rollers. Adam started going into each solution: the ladder is not possible since Adam is scared of heights, and spray paint is also not possible as it is out of his budget which makes him consider option three which is using extra long paint rollers. Adam started to make a list of companies that sells extra-long paint rollers.
3. Decision-Making Stage
Adam narrowed down the list to three products and to make a better decision he started to scroll through product reviews on different websites from which he found out one of them have an adjustable tip that help him to adjust the angles while painting. Since this product is unique and different from other products, he decided to shop for that.
What Are The Ways To Meet Buyer At Each Stage?
Let us look into what we can do to meet or create awareness among our potential buyers at each stage of buying journey:
TOFU Content is Met in the Awareness Stage:
In the awareness stage, the buyer is asking essential questions to find solutions to their problems. You need to ask yourselves the following questions?
How do buyers describe their problems from a business perspective?
How are buyers educating themselves on this problem?
What will be the consequences if the buyer chose to not act?
Is there any common misconception buyers have while describing the problem?
How do buyers decide that their problem should be taken priority?
Some of the content types to meet the TOFU (Top Of The Funnel) Stage are:
Blog Articles
eBooks/Whitepapers
Industry Reports
Introduction Videos
MOFU Content is Met in the Consideration Stage:
Now the buyer gets a deeper understanding of their problems and has narrowed down the possible solutions. Some of the questions you need to ask yourself during this stage are:
What categories of solutions do your customers investigate?
How do they educate themselves on these various categories?
How do your customers perceive the pros and cons of each category?
How do they decide which category is best for them?
Some of the content types for reviewing different solutions to meet MOFU (Middle Of The Funnel) Stages are:
Successful case studies
Webinars
Checklists/Guides
More educational/technical blog articles
Comparison Whitepapers or eBooks
Product Feature Videos
BOFU Content is Met in the Decision Stage:
The buyer now possesses Tofu and Bofu content pieces that help them to choose particular options and are evaluating the providers. You should ask yourselves the following questions at this stage:
What criteria do buyers use to evaluate the present offerings?
While investigating our company offering, what factors they will like about it compared to other options?
Who needs to be involved in decision making and how does their perspective decision differ?
Do buyers have any expectations to try out the offer before making a purchase?
Do customers need to make additional preparations outside the purchasing such as implementation?
The following BOFU (Bottom Of The Funnel) Content will help in making your customers more comfortable with your company:
Case Studies, or Testimonials
Comparison Whitepapers or eBooks
Live demonstrations or consultations
Product promotions or free product trials
"About" or "Our Story" website pages and social media content
Conclusion:
It is essential to understand the buyer journey to come up with an effective marketing strategy that meets your potential customers' needs. All three stages will help you to understand the behavior of your customers at each stage so that you can tackle them accordingly. In the end, it is about gaining trust from your customers towards your product or services.
Aviv Digital is one of the leading Digital marketing course in kerala. We offer a wide variety of globally recognized certification programs that include SEO, SEM, SMM, Email Marketing and Inbound Marketing courses. For more details, Contact us at: +91 9037 489 577