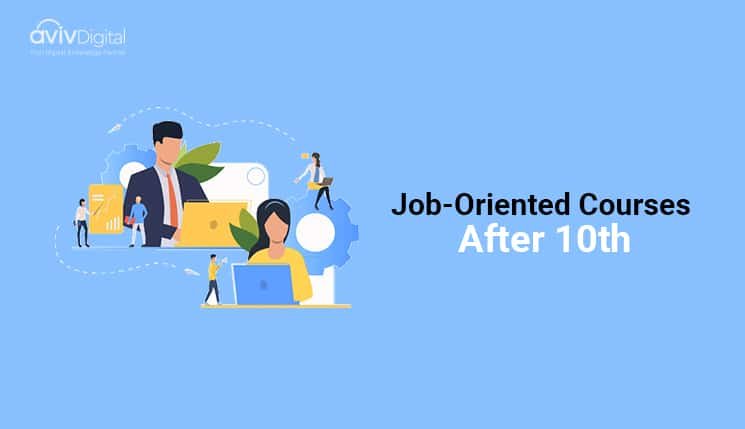 Are you a 10th graduate who is looking forward to pursuing a job-oriented training program?
Could not find the right short-term job-oriented courses after 10th that promise you a great career?
This platform is totally for you. In this blog, we will discuss the best job-oriented courses that you can attend after completing your 10th.
We live in an era where there is so importance for education. With the educational standards so high we are fortunate to have many short-term courses that help to get a promising career. After the 10th majority of the students look forward to attending +1 and some of them take a different path of opting for short-term courses with the intention of starting their career journey a little bit faster.
Based on your field of interest there are many short-term job-oriented courses available. But the conflicting advice and the wide choice of options make it a little hard to choose the right one. We have picked out the 7 best short-term job-oriented courses you can consider opting for after the 10th. The list of courses are:
Digital Marketing
Full-Stack Development
UI/UX Design
Diploma in Fashion Designing
Certification in Interior Designing
Certification in Event Management
Diploma in Photography
1. Digital Marketing
One of the best short-term job-oriented training programs after the 10th is digital marketing course. Over the last couple of years, there has been a huge increase in online platforms because every business is creating an online presence to meet their potential customers and also to promote their brand. Having a great online presence across various digital platforms for the brand help in the growth of the business to a very great extent. The business can also keep lasting relationships with the customer through online platforms.
All this has given an excellent projection for professionals skilled in digital marketing. Digital marketing involves promoting the brand using the internet or any other form of digital communication. Pursuing this course will be a great choice to safe zone your career and the probability of getting a good job soon after the training program is also high considering the demand for digital marketing in the industry.
The Career opportunities in Digital Marketing
Digital Marketing Manager
SEM Manager
SEO Specialist
Social Media and Content Manager
Copywriter
Content Writer
Advertising
Email Marketer
Course Curriculum:
Social Media Marketing (SMM)
Search Engine Optimization(SEO)
Search Engine Marketing (SEM)
Data Analysis And Tracking
Affiliate Marketing
Content Marketing
Email Marketing
Course Duration: 3-6 Months
2. Full-Stack Development
The next best short-term job-oriented training program after the 10th is full stack development. This is a great career option if you have a passion for coding and programming language. Even though the course is a little bit difficult, the outcome you going to get will be worth the difficulties. 
Full stack development is an end-to-end development of application software of the front-end, database, and back-end portion. The front end is the visible portion where the users directly interact, and the back-end portion involves the server side of the web application or the website with the main focus on the working of the website.
As a skilled full-stack developer, you should master HTML and CSS along with the knowledge in programming the browser, server, and database. There is a great demand for full-stack developers as many companies are looking to hire them. A proficient full-stack developer help in cutting technical and operational cost as he is solely responsible for many tasks.
Career Opportunities of Full-Stack Development:
Full-Stack Developer
Back-End Developer
Front-End Developer
Web Developer
Web Designer
Course Curriculum:
HTML
CSS
Javascript
JQuery
React JS
Tailwind
PHP
MySQL
Laravel
Ajax
MRestful API
WordPress
Node JS
Express JS
MongoDB
Socket.io
API Security
Course Duration: 3-6 Months
3. UI/UX Design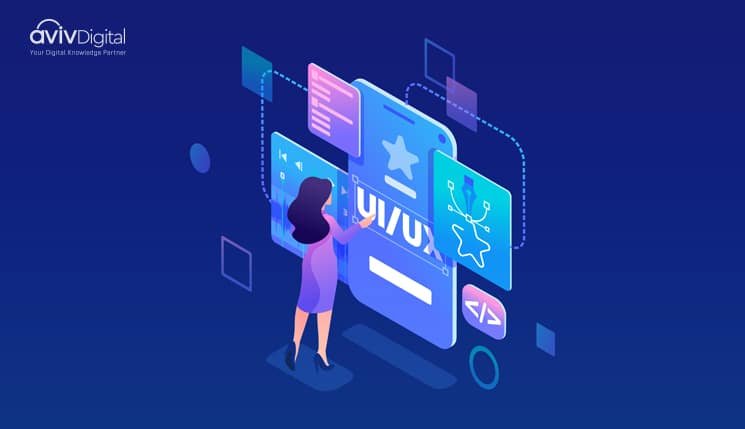 UI/UX design course as a job-oriented training course will be a great option if you possess innovative and artistic aptitude. UI, which stands for User interface involves anything and everything that a user interacts with whilst using a digital product or service. Whereas, UX which stands for User Experience, involves the planning of user experience while interacting with products, applications, or operating systems.
UI/UX design plays a vital role these days because getting a first impression of anything matters and thus a first impression on a website or a product will have a direct impact on the business. Acquiring the right skills and knowledge in UI/UX design will help you to lead a successful career. UI designers create a user interface that is easy to use and enjoyable, whereas UX design is designed to improve UI. 
Career Opportunities in UI/UX Design
UX Designer
Web Designer
UX Analyst
UI Designer
UX Architect
Course Curriculum:
Concepts of UI & UX Design
Design Thinking
Information Architecture
Wireframing & Prototyping
Typography & Colors
Intro to Design Tools (XD/Figma/Sketch)
Course Duration: 2-10 Months
4. Diploma in Fashion Designing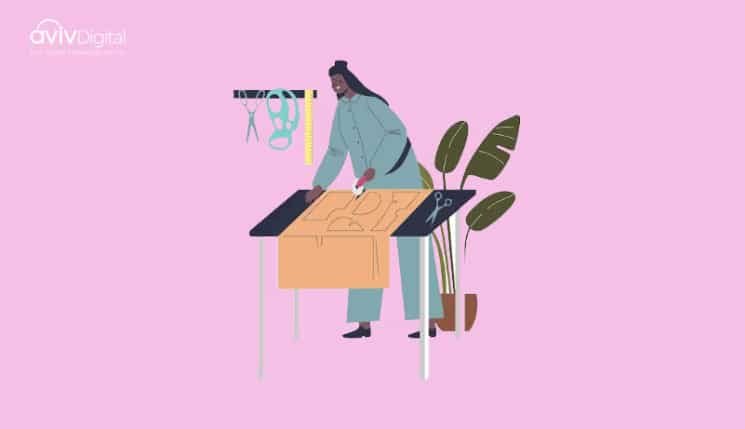 Another great career choice after 10th grade is fashion design. If you are into clothing design with great taste in fashion, this course is totally for you. We live in times of fast-growing fashion. All the social media platforms and influencers have given a great rise in the fashion industry. People look for innovative designs with quality materials and there is always a place for new fashion.
If you have a hobby in designing clothes why not make it your profession? There is a great outcome in doing the job you love and desires the most. The commitment and effort you put into it will be outstanding. Great training in fashion design will help you to reach out to your audience with your creativity and skills.
Career Opportunities in Fashion Designing:
Fashion Designer
Retail Buyer
Rental Manager
Fashion Stylist
Jewellery and Footwear Designer
Personal Shopper
Makeup Artist
Fashion Model
Fashion Photographer
Fashion Journalist
Textile Designer
Course Curriculum:
Introduction to Fashion Designing
Introduction to Textile Science
Introduction to Fashion Accessory
Garment Construction and Pattern
Fashion Illustration
Fashion Ornamentation
Fashion Management and Merchandising
Computer-Aided-Designing (CAD)
Product Specification
Fashion Marketing and Management
Brand Management
Course Duration: 6-12 Months
5. Certification in Interior Designing
Are you into designing a home? Do you have innovative taste in home design?
If yes, this career choice is totally for you. Interior design plays a great role nowadays. Everyone wants a creative and innovative design approach for their newly built home, institutions, ventures, etc. And so there is a great projection for professionals skilled in interior design.
Possessing great training in interior design will help you to convert your passion into a profession. People are willing to pay for skilled designers with an innovative approaches because the contemporary world we live in gives so much importance to visual design.
Career Opportunities in Interior Designing:
Certified kitchen designers
Corporate Designers
Furniture arrangers
Healthcare designers
Home lighting advisers
Interior decorators
Kitchen and bath designers
Course Curriculum:
Principles of Design.
Decoration Design.
The personality of the home.
Basic Principles of Space Planning.
Interior Background Materials.
CADD Application in Interior Designing.
Interior decoration Elements.
Ergonomically Considerations.
Commercial Trends.
Course Duration: 6-12 Months
6. Certification in Event Management
Another great short-term job-oriented training program is a certification course in event management. The event plays a good role in social well-being and economic development. People love gathering for many occasions to gather together to cherish and make memories. This has given a great job requirement for event managers.
Coming with creative and innovative event planning is always a trend. If you have an interest in organizing and managing events, a certification course in event management will help you to get there. The course explores the event planning domain using case studies, field trips, research results, and hands-on exercises and activities. You will also learn about the dynamic industry's complexities along with improving the skills needed to finish off tasks efficiently in every aspect of the work.
Career Opportunities in Event Management:
Conference center manager.
Event manager.
Hotel manager.
Outdoor activities/education manager.
Public house manager.
Restaurant manager.
Course Syllabus:
In-house event training
Create a successful event series with a growing attendance
Event marketing and advertising
Event Logistics
Event accounting
Get publicity and press coverage for your events
Monetize events in an effective way
Course Duration: 12 Months
7. Diploma in Photography
Are you a passionate photographer? Do you have a collection of mind-blowing images that you captured? Why not make your hobby or passion your profession?
A Diploma in photography will be a great job-oriented training program after your 10th. The creative ability in capturing a sensational image by recording lights, color, and scenes is called photography. A good photographer is always in demand and depending on the skill you possess, you can earn a great deal with your passion. This course helps you in acquiring the tricks and techniques for getting the right shot.
There are several photography courses available now. Some of the diploma photography courses include:
Diploma in Advertising and Commercial Photography
Diploma in Digital Photography
Diploma in Photography and Cinematography
Diploma in Fashion Photography
PG Diploma in Photography
Diploma in Photography and Digital Imaging
Diploma in Digital Cinematography
Diploma in Professional Photojournalism
Some of the certification course in Photography includes:
Certificate in Photography
Certificate in Contemporary Photography
Professional Certificate in Professional Photography
Still Photography
Certificate in Nature and wildlife photography:
Career Opportunities in Photography:
Photojournalists
Advertising Photographers
Fashion photographers
Scientific photographer
Wildlife photography
Concluding:
Short-term job-oriented training programs are great to start your career journey faster. Choose the training program that you have a great interest in pursuing. The above-mentioned list of course is the best pick short-term job-oriented program after your 10th grade. All the list has a great demand and scope in the market. You can also go forward to attend +1 after 10th grade and continue choosing a professional course or degree program.
Aviv Digital is one of the leading digital marketing course in calicut, Kerala. Our globally recognised certification programs include advanced SEO training, SEM, SMM, Email Marketing, and Inbound Marketing courses. We also provide detailed online classes for digital marketing courses. For more details regarding the course schedule and workshops, contact us through a quote or call us right away at +91 8157998844 or +91 81569 98844