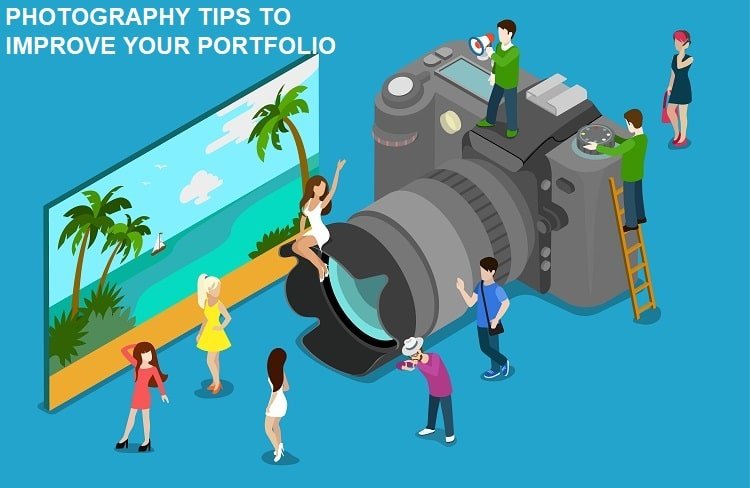 As a photographer, you constantly need to work on self-improvement and professional growth. The competition you're facing is strong and there are more and more new photographers showing up at every corner. That means that you can't relax and let them take your place on the market. Instead, you need to work even harder.
The best way to ensure you have more customers and are well respected is to boost your marketing efforts. That means you should work on your portfolio and make it more attention-grabbing and unique. If you feel like your marketing needs a boost and you're out of ideas for boosting your portfolio, don't worry. We've got you covered.
Here are the best photography tips that will help you skyrocket your career.
Develop a Style
Photographers are artists and every artist needs to have a signature style. Your style is what separates you from the rest and makes you the professional you are.
What this actually means is the following:
don't go around doing photos of everything that comes to your mind

think about what moves you and how you want to present it

slowly develop and nurture a style in all your photos
This is actually a form of branding that you have to apply to your photographer portfolio.
Branding your portfolio means having photos that are unique to your personal artistic style, and that people will know it's yours once they see it.
Just like you know you're watching a Coca Cola commercial before they say it, so do your customers need to recognize your work as soon as they lay eyes on it.
Build Strong Social Media
Social media today is the strongest and most powerful marketing tool you can possibly use.
Photographers can make the most out of their social media profiles since the visual content is so important to people.
Therefore, to improve your marketing efforts, you need to work on creating a brilliant social media presence. The best place for you to start is Instagram.
Here's what to do:
turn your Instagram account into your social media portfolio

publish some of your best work there

publish something new each day

showcase your skills, style, and personality
Try building a steady army of followers, and work on getting new ones every day. Be present and actively interact with people following your account.
This will help you boost your marketing strategy and make your online portfolio richer.
Narrow Your Area of Expertise
Most beginner photographers try to win their place on the market by doing all kinds of work. From food photography to wedding photography, they try to find customers wherever they go.
However, this is not sustainable in the long run.
The truth is, with this kind of an approach you actually:
don't have a style

lose track of who your target audience is

don't specialize in anything and wind up being

mediocre

in everything
Although narrowing your target audience might sound like a crazy move, it's actually the best thing you can do to market yourself better.
Don't go running around saying "I can do anything you need". Instead, try this strategy:
choose your area of expertise

work on improving your work within it

advertise yourself as a "food photographer", "wedding photographer", "animal photographer", etc.

let people know what is it that you do best
People will be more likely to hire you as their wedding photographer if that's what you do, and what you do best, rather than if you do all kinds of things.
Collaborate With an Influencer
Everybody needs a good picture nowadays since most people, brands, or companies are advertising their business online.
This is a great benefit for you as a photographer. You can offer your services to an influencer or a famous brand and get something out of it.
Here's an example:
you're an animal photographer doing animal portraits

there's a famous Instagram dog that many animal lovers follow

you get in touch with their owner

offer your services for free

in return, have them mention you on their Instagram profile
It's very simple but it's surprisingly effective.
All you have to do is choose the influencer wisely, and make sure they hit your target audience right where they need to.
This marketing move will boost your portfolio, increase your audience, and help you raise the bar for all your future jobs.
Show Off Your Versatility
It's one thing to nurture a unique style, but it's another thing to be repetitive and monotonous.
Photographers need to reinvent their work and constantly look for inspiration in new things, places, or people.
This is why it's extremely important that you show off your versatility and let people know you can make every photo shoot unique and special.
The best way to do this is to:
create a website and build your portfolio there

create a separate section for different types of work that you did

come up with unique captions for each of the sections
For example, you can have a section called "cats in winter" followed by "dog clothes". This will let people know what you can do and how creative and special you are.
Set Up a Giveaway
Giveaways are another great way for you to boost your marketing strategy and get things going.
All you have to do is come up with a prize that would interest people and inspire them to participate in your giveaway. Depending on your area of expertise and the type of photographer you are, the prize could be:
"a one-day model" photo-shoot for a girl who always wanted to be a model

a free children's birthday photo-shoot

a Christmas family photo-shoot
Make it interesting and appealing, keeping your target audience in mind.
Once you figure out what the prize is, go ahead and run the giveaway:
create an Instagram post announcing the giveaway

set clear rules

make sure the rules require people to

follow your account

and

tag

some of their friends

explain how you'll choose the winner
Once the winner is announced, make sure you do a follow-up post on how the photo-shoot went and share some of the amazing photos you made with them.
A giveaway will help you reach more people, advertise yourself and your brand, and get inspired to doing great photography.
Run a Blog
Although you may feel like blogging is out of your league, or you're not talented at writing, we need to beg the difference.
Blogging about what you love doing the most might come naturally to you. All you have to do is give it a try.
But, why is blogging so important?
Blogging is the best way for you to get to new people who have no idea who you are or what is it that you do. Here's how it works:
you have a website and there you have a Blog section

on the blog, you publish blog posts that might interest people who are your target audience

they decide to google something and your blog post comes across as the answer

they read your post and realize they're on your website

they check it out to see who you are
The important thing is to cover trending topics that people in your target audience will want to read about. Think about topics such:
How to Choose a Photographer For Your Special Day?

Why You Need a Professional Photographer at Your Child's 1

st

Birthday

How to Help Your Customers Relax on a Photo-Shoot
You'll be sharing your knowledge with your target audience and writing about the things you know how to do best.
It will make significant improvements to your career and help you come across as trustworthy and reliable. Consider this option and you won't regret putting in the extra effort.
Final Thoughts

As you can see, success is all about hard work, dedication, and persistence. Also, it takes a lot of planning and strategizing to get where you want to be. Still, boosting your marketing strategy is not as hard as it may seem. You just need to know where to start.
Hopefully, the advice above will help you improve your portfolio and boost your marketing strategy to win new clients. Follow the advice that will help your photography career the most, and don't be afraid to take risks.
Author Bio
Erica Sunarjo is a self-driven, young blogger who enjoys sharing her ideas and advice with the rest of the world. Her passion for writing is the one thing she follows without hesitation. She works as a writer for The Word Point and is a freelance blogger. She covers topics such as digital marketing, branding, and social media, helping people reach their goals by using these tools.