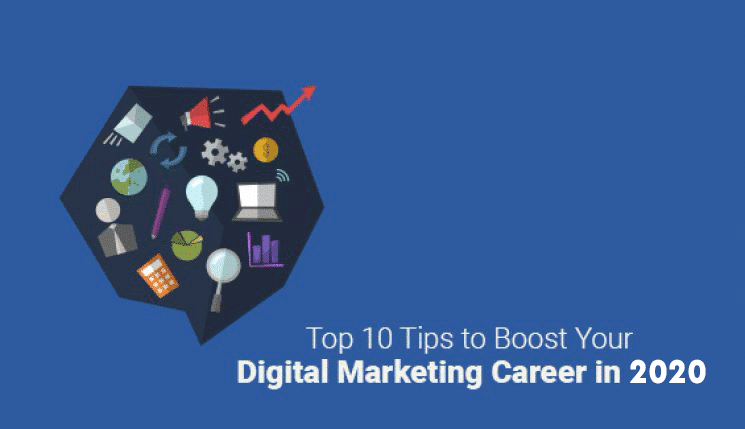 According to recent survey Digital Marketing is going to create 20 lacs Jobs in India by 2022.
Today, digital marketing is the best ploy by which a company can promote its business throughout the world.
The opportunity and scope of digital marketing are unfathomable.
As per the recent article which is published by Ad Age is that more than 80% of companies are planning to enhance their digital marketing budgets within 1-2 years.
So, the companies are desperately looking for some talented and sagacious employees who can take care of their digital marketing strategies and implementations.
Though companies are spending a hefty amount on digital marketing budgets, unfortunately getting quality talent has been a stumbling block. The core reason behind this is, there is a huge gap between demand and supply.
Digital marketing covers many areas such as Content, Video Marketing, Social Media Marketing, SEO, Analytics. If you want to make a scintillating career in digital marketing, then at first, you need to find a stream that is compatible with your interests.
If you want an unprecedented career in digital marketing then, we are mentioning some tips which will boost your digital marketing career in 2022.
Learn Some Professional Digital Marketing Courses:

If you want to stand out from all your acquaintances, then you need a proficient knowledge of

digital marketing

and its various aspects. At Aviv Digital, we provide various

digital marketing courses to the aspirants

. In addition to this, we organize various

seminars, webinars, events, interactive sessions, industry training, special SEO training, etc

. so that the students can have a piece of in-depth knowledge and applications of digital marketing. So, if you acquire some professional

digital marketing courses

from one of our pre-eminent institutes in Kerala, then this will certainly boost your career and will give you some big opportunities in the future.
Learn the Terminology:

If you want to add a sheen to your digital marketing career, then you must be familiar with the terminology like

PPC, SEM, Analytics, SEO, etc

. Every term has a different meaning, and if you don't have adequate knowledge in those terms, then you need to polish your skill. The ability to analyze various digital marketing campaigns and understand what will work best for a campaign is utterly dependent on your ability to understand and proper knowledge of industry jargon.

Eagerness to Learn:

These days, the digital marketing industry is growing very rapidly, and it is incredibly competitive. This industry always demands passion and a desire to succeed. So, you have to be very active and agile all the time. Moreover, new things are coming in every other day. So, you always need to show your eagerness and fervor to learn new things. This quality will not only help you to become a successful person in this domain but also

boost your career

in many ways.
Keep Stress on Networking:

Networking plays a pivotal role in the growth of digital marketing. It's your core responsibility to stay active in various social media channels and remain connected with the relevant people. Attending webinars, offline events, chats, participating in discussions, etc. are great ways that will help you in building your network and will boost your career. You can follow the posts and comments of various industry experts so that you can get a detailed idea about this sector and its growth.  Networking will not only help you to learn new things but also it will help you to meet potential employers.

Start Your Own Blog:

Though this could be an assiduous job for you at the beginning of your career, this will certainly help you to enhance your career and portfolio. A blog will reflect your skill and comprehensive knowledge in digital marketing and will help you in building new connections so that you can make a bright

career in the field of digital marketing.



Take Some Projects:

Before entering the industry of digital marketing, take some projects, and try to execute them properly. You can do some freelancing works before making your first step in the industry. This will uplift your confidence and will help you in acquiring some practical knowledge and challenges.



Always Stay Updated:

Though digital marketing is a new thing, there are many facets of this industry which you need to learn if you want a bright career. You need to keep watch on top of industry news by following various major sites in this field. This will help you to stay updated in this field and will give you an idea about what's going in this industry. There are many blogs and forums which usually post regular updates from the experts who are in this industry. You must go through these forums and blogs which will not only help you in enhancing your knowledge but you also get a chance to familiar with certain terms of digital media like SEO, PPC, analytics and other relevant terms. You can follow sites like

Moz

, Distilled, SEOGadget,

Search Engine Land

for SEO, PPC Hero for PPC, Social Media Examiner, Social Media Today for social media news, and

Hubspot for content

.

Polish Your Software Skills:

Though Microsoft Office is the standard application that everyone uses in their life, you need to learn beyond the basics if you want a strong and robust career. This is the time that you need to polish your software skills so that you can become the monarch of this digitalized industry.

Build Your Own Personal Brand:

If you want an unparalleled career in this field, then you need to present yourself very firmly in online. If you want to show an employer that you can enhance their company's online visibility, then you need to build your personal brand very strongly in all the online and social media channels. You can't ignore the fact that a strong online presence could be the deciding factor between two applicants who have applied for the same position. So, you need to build a strong personal brand before entering the corporate world.

Don't Lose Hope:

Though the potential of digital marketing is unlimited, still it is in a dormant step. Maybe you won't get your dream job quickly, but you never lose hope. Always keep yourself motivated and try to learn new things so that one day you can reach the zenith of success.
All the points mentioned above are very relevant and intriguing and will definitely help you in boosting up your career in the field of digital marketing in 2022.
Aviv Digital is one of the best digital marketing training institutes in Kerala. We offer a wide variety of globally recognized certification programs which include SEO, SEM, SMM, Email Marketing, and Inbound marketing course.For more details, Contact us at: +91 9037 489 577