Having an aesthetically beautiful website is quite necessary nowadays. There are more than 1.2 billion websites available worldwide as of today.
A majority of the traffic to these websites comes from search engines, followed by social media and backlinks on other websites.
Hence, it becomes necessary to do a proper SEO to make your presence on search engines and make your presence known to the potential customers.
It is quite necessary to take a smart approach while doing SEO. This helps you to rank on the search engines higher and faster.
There are several tools available that assist you in this task.
One such tool is Ahrefs which is used by thousands of professionals on a regular basis. Here is a detailed review of the same that helps you to get an idea on why should you use Ahrefs.
Ahrefs is a backlink checker, competitor analysis, keyword research, content research, link building, and web monitoring tool that helps you to handle different aspects of the search engine optimization using a single platform. 
With 12 trillion known links, 200 million root domains, and 3 trillion known URLs it has a massive crawling setup as compared to the other tools.
It helps you to monitor your website as well as keep an eye on your competitors. This, in turn, helps you to plan accordingly to have an extra edge over your competitors.
Due to these reasons, it is recommended by numerous SEO and marketing experts like Neil Patel, Brian Dean, Aaron Wall, and many such experts who are well known in their field.
Ahref provides different pricing options to meet the needs of both the individuals and business. The prices start from $99 per month to $999 per month.
You are provided with some extra benefits as well while billing annually.
Here are some of the tools provided by Ahrefs that helps you in your proper SEO planning and execution right from the beginning.
Make sure that you start using it right from the beginning while planning for a business and website.
This will help you to select a profitable niche, identify the competition, select appropriate keywords, select an appropriate domain name and target the intended customers.
Keyword Research:
Keyword research is the first and foremost point to be taken into consideration while planning for a website.
The keyword research tool helps you to target different countries and displays some of the related keywords as well.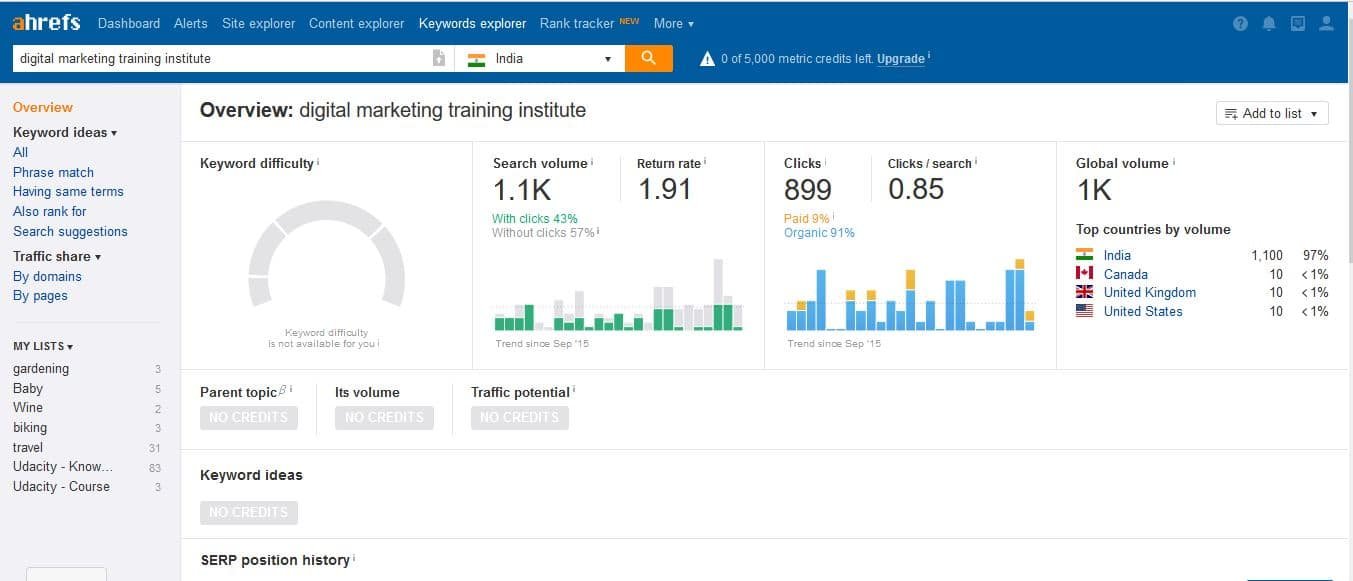 It also displays information about the keyword difficulty, search volumes, CPC, clicks, CPS, return rate, parent topic, and SERP.
The best part of this tool is that you can filter keywords based on phrase match, search suggestions, having same terms, etc. You can also filter traffic share based on the domains or pages.
This will help you to target appropriate keywords and choose a profitable niche.  
Content Explorer:
You must have come across the phrase "Content is King".
It plays a major role in enhancing the SEO of your website. These also turn out to be a driving factor in attracting the traffic from search engines and social media.
Ahrefs also provides a Content Explorer tool that helps you to find out the viral content belonging to your niche.
The popular content belonging to your niche can be easily found out using this tool which can be filtered as per the location and sorted as well.
In order to do, you simply need to enter a keyword after which the relevant content belonging to a niche is displayed along with the same backlinks, organic traffic and social shares are also displayed.
These are combined with important information like domain rating and referring domains.
These metrics turn out to be a very important factor in researching the reasons for which a page may turn out to be popular.
Some of the important points to be kept in mind while doing the research is that you should look for the article word count, flow of writing, images used, etc.
Based on the same, you can take appropriate measures to increase your social shares, the idea to market content and which topics to be covered for your content.
It can also be used to get an idea of what constitutes the viral content and you can plan your content accordingly and attract more and more visitors.  
Rank Tracker:
Rank Tracker helps you to track your ranking for different keywords. It provides you an insight of the keyword ranks improved and the keyword ranks that declined.
You can also track the ranks based on the specific keywords and the location.
The keywords display the mobile and desktop rankings which helps you to get an idea of on which platform you have to lay important emphasis upon.
You can also view the reports in the form of graphs which helps you to easily track your progress.
The reports can be scheduled to send regular email reports of the performance of your website.
This can also be used to monitor your competitor website and then plan accordingly to draft content based on the related keywords.
Backlink Checker:
Backlinks also turn out to be quite an important factor in determining the SEO of a website.
Here the backlinks of your websites and provides you with an idea of where you can post to get quality backlinks.
The backlinks of the referring domains are also provided which are beautifully classified in the form of domain extensions.
With the help of link profile overview, you can analyze performance charts and link growth graphs that will help you provide an overview of the growth of backlinks.
These also further display information about whether the backlinks are do-follow and no-follow links and inbound and outbound links with an overview of the referring domains.
In case of SEO, the broken backlinks and negative SEO prove out to introduce a negative effect.
Ahrefs helps you to take care of these as well with the help of broken backlinks checker and backlink anchor text.
It also helps you to disavow link spam with few clicks. But in order to do so, you have to choose the option of Google's Disavow Tool.
The backlinks can also be filtered and sorted based on certain parameters. With the help of link intersect analysis, you can choose to get a list of the competitor's backlinks that do not link to you.
Then you can get in touch with the owner of the website or draft relevant content to get backlinks.
With the help of broken link checker tool, you can get the broken backlinks of the competitors and approach the webmasters for the same to grant you a backlink.
Last but not the least, you can also download the report in the PDF or CSV file to analyze later.
Keyword Generator:
Whether you are targeting a single country or a large number of countries, keyword generator turns out to be a quite useful tool.
These help you to decide which keywords to target based on certain parameters like keyword difficulty, location, search volume, clicks, volume distribution, difficulty distribution, etc.
It has the largest keyword volume database, with over 4.3 billion words and phrases from 100+ countries which keeps on growing day by day.
With the help of four keyword generation algorithms, i.e. phrase match, having same terms, also rank for, and search suggestions that help you to target relevant keywords. You can also use certain filters that will help you to narrow down the keyword suggestions.
These keywords can also be exported in the form of CSV.
Site Explorer:
Site Explorer is an important tool that helps you to get an idea of the website the different statistics associated with it.
Some of the most important information conveyed in the same are backlinks, referring domains, organic keywords, organic traffic and paid keywords as well.  
It also provides data about the organic traffic and paid traffic. This, in turn, helps you to decide on which you should lay focus.
Here you can also research for the backlinks and get a detailed analysis of the same. These can be filtered based on link type, platforms, and similar such parameters.
Along with the same, these can be sorted based on UR, DR, etc. to find out the most relevant backlinks. This can help you to plan accordingly to get a link from the same website and get the maximum link juice.
With the help of organic keywords section, you can spy on the competitor's keywords, which too can be filtered based on volume, CPC, keyword difficulty, number of words, etc.
Here you can also research for the paid keywords, to know your competitors and what they are bidding on. This will help you plan your Adsense budget accordingly and target the appropriate keywords to reach a wider audience.
A proper research of the pages of a website can be carried out based on backlinks and social shares. You can also research for the outgoing links.
This will help you to monitor your own performance and also spy on the strategies of competitors.
Site Issues:
Unlike any website, your website too may face certain problems like normal websites like short title, missing descriptions, 302 issue, HTTP timeouts, long URLs, and much more such problems.
Here any such problem encountered with the website is immediately displayed and then appropriate steps can be taken to fix these errors.
These are some of the most important tools that make Ahrefs quite helpful in planning your SEO.
Along with the same, it also provides some other important tools like domain comparison where you can compare 2 different domains and find out the similarities and differences between the two.
The link intersect tools helps you to get the backlink opportunities for your own website.

Image courtesy: seolium
Summary:
Ahrefs is quite a feature-rich tool with a vast keyword and domain database in order to provide the best result for SEO-related queries in the form of data, graphs, and charts (line charts, bar charts, gauge chart, etc.).
This vast amount of information if utilized properly can turn out to be quite helpful and is worth the investment as it helps you take appropriate steps to rank higher on the search engines and reap huge benefits.
Make sure to give it a try and opt for a trial version to get a brief idea of how it works and whether it is worth your investment or not.
Aviv Digital is one of the leading digital marketing training institute in Kerala. We offer a wide variety of globally recognized certification programs which includes SEO, SEM, SMM, Email Marketing and Inbound Marketing course. For more details, Contact us at: +91 9037 489 577