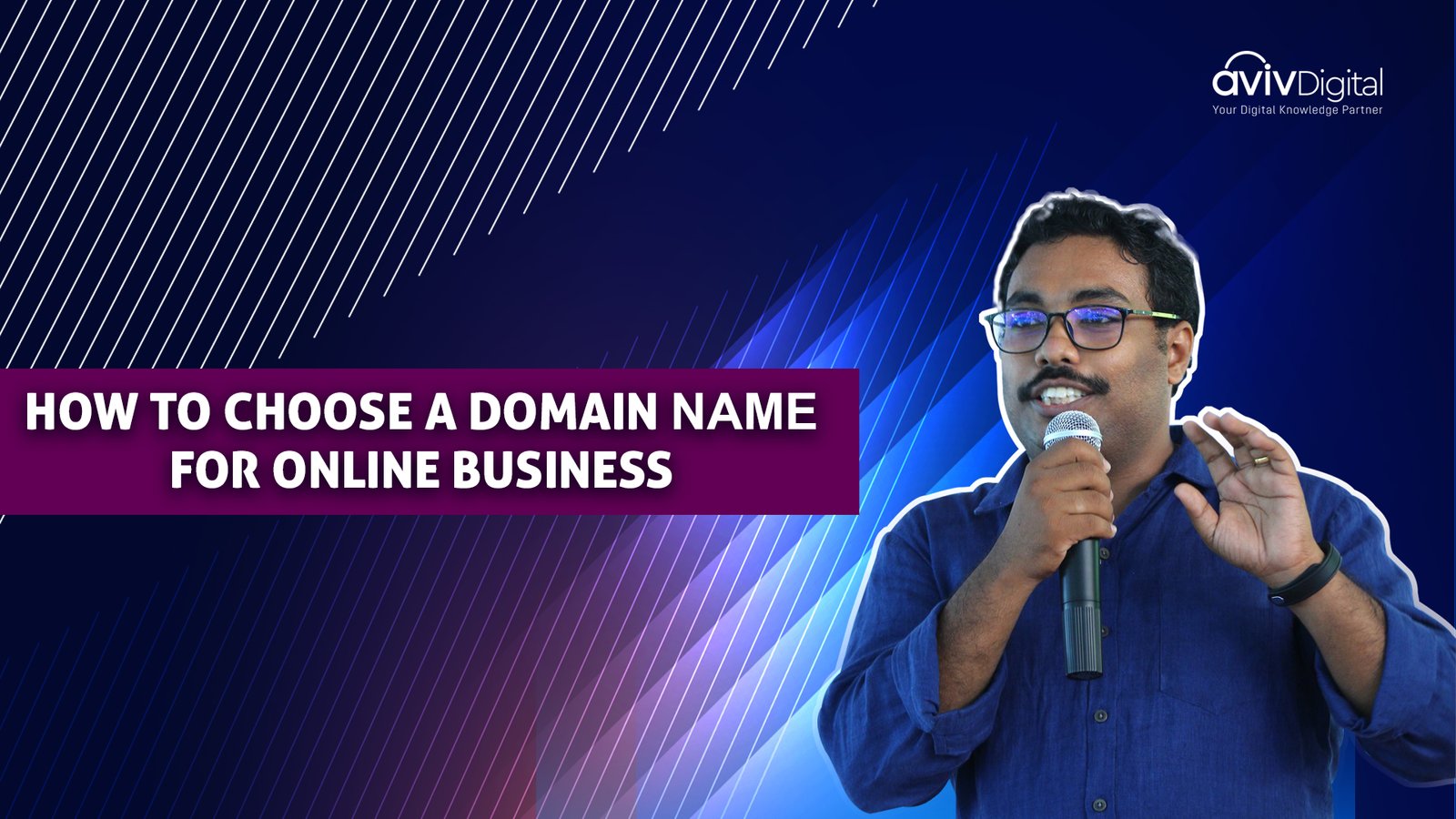 You may have some questions arise when you started to choose a domain name. You need to focus that it is important to consider the representation of the brand. If your company have any specific name or brand, you have to concentrate on it and need to buy the domain based on it.
Things to Note Before Choosing a Domain Name
Before buying a domain you need to focus on the following points:
1. Understand that the domain is used by the audience, not by you.
2. The name should be catchy and easier to type.
3. Keep it in short, because they stay in mind and easy to remember.
4. Keyword plays an important role that mainly in SEO prospect. The logical prospect, view prospect it has its own importance.If you have a domain name with the specific offer in service.
Eg1: Our company name AVIV DIGITAL, here AVIV is some specific brand/name and the digital is included because to make the people understand that it is a digital marketing company and also our course strength is digital! That is why he AVIV DIGITAL domain came.
5. If your business is in location specific, you can also include the location keywords within your domain.
Eg; If you are a plumber, doing plumbing more than 100 km away. You need to be specific about the location with EMD (Exact Match Domain). This area we will include the domain which helps in the prospect of SEO. As we come across to the notification that, during the year of 2012, EMD of Google is not working. But this is not talking about EMD, it is giving out actually the users to understand that the particular service available nearby location. So there is most of chance in that the customers will engage within you over there. That is the basic concept of this.
6. Avoid using the numbers and hyphens, misspellings while you putting the domain name. It provides the people to think a lot and will have confusion in it.
7. The memorable domain name should be used. It will make branding awareness increase.
8. When you buy a domain for your business you should make sure that no trademarks or no prebooked sites. You have to research before buying it.
9. When you use the extension you can pick the extension like international standerd.com, organization.org,.net, etc. The country extension can also be used.
Sometimes lots of business come across the issue regarding what domain is needed for them to use. So think wisely before choosing a domain, name them as it clicks one's mind easily.
Aviv Digital is a wing of Acodez, an international award-winning company. Aviv Digital is the first of its kind in India to offer A to Z Digital Marketing courses with certifications recognized across the globe.
For more information on digital marketing courses Kerala, SEO training, and other related queries dial +91 8157998844 or drop us a mail at info@avivdigital.com
Aviv Digital is a leading Digital Marketing training institute in Kerala providing the best digital marketing courses in Calicut, Kochi, Delhi, etc. We offer a wide range of globally recognized certification programs which includes SEO Training, SEM, SMM, Email Marketing and Inbound marketing courses. For more details, Contact us at +91 8156998844 or message us at ask.avivdigital.com