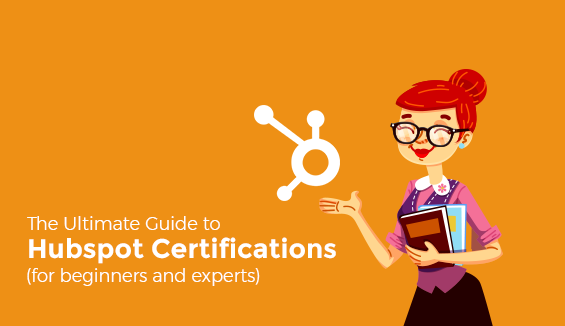 Digital marketing or marketing is evolving and the process is infinite, accommodating newer changes and stimulating this ever-changing world of marketing to be ready to welcome novelty.
The interesting fact about digital marketing is the zest for information spotted among the web-net-tech savvies, who eat, drink and live over the web.
Not until very recently, people have started considering digital marketing as a profession.
There is actually a lack of experienced professionals in the field of digital marketing. So, if you are looking for a job plus if you are very much passionate about the world of digital, then, this should be for you.
Ensure that you acquire all the essential resources before you set out to revolutionize the evolving world of digital marketing.
Hubspot offers a number of courses and certifications to enhance your skills and knowledge, transforming you into a professional expert, based on your preferences of the marketing arena you choose.
We will take you through some of these courses that you can take up, from the comfort of your home, regardless of whether you are an amateur or a pro at digital marketing.
If you are new to the world of online learning, then you might be wondering what this Hubspot Academy offers.
It is one of the places, where a lot of online learning happens and you will get a chance to meet aspiring individuals, such as yourself here: sales executives or other sales professionals, designers, marketers, webmasters, entrepreneurs, and more.
Here, we will introduce you to the latest industry best practice to help you to prepare for with what lies ahead.
Hubspot Academy Courses and Certifications: An Overview
The courses and certifications furbished by Hubspot Academy are educational resources that comprises of all the knowledge and information required for you to transform yourself into a digital marketing expert. All these are available free.
The Hubspot Academy's courses are classified into various areas on the basis of which marketing sector you wish to specialize in, such as inbound sales, email marketing, social media marketing, or content marketing and various others.
Also, you can get in-depth insights on each of these topics.
Before enrolling in for the certifications, you can be part of the optional courses, comprising of classes wherein experienced Hubspot professionals provide extensive coverage of each of these topics.
These on-demand videos are precise and up to date and are available in slide decks as well as in the form of lecture transcripts.
You can actually complete all these lectures or classes, to prepare yourself for the final certification exam.
In order to pass, you need to acquire a total of 75%, which makes you eligible for a printer-friendly certification along with certification-reward badges that you can pin up onto your LinkedIn profile.
All these certifications are valid only for a year, after which you need to get back and take up the certification again.
This means you need to get re-certified annually, which will help to refresh your knowledge and stay up to date.
Every time a new update arrives, the courses are updated to help the learners with the new arrivals.
Find out which one is right for you:
Hubspot Certifications
1. Inbound Certification
Are you planning to set up your business online or learning digital marketing from the scratch or would like to know further about the digital marketing, then, start with Inbound Certification, which will provide you with a better insight into the tactics to reach out your audiences.
This introduces a variety of inbound marketing jargon for the newbies, such as search engine optimization (SEO), keywords, landing pages, call to actions and much more.
Most of these form the building blocks of your online marketing regime.
This certification helps you to learn further about inbound marketing, as it comprises of all the digital marketing components, which you will be utilizing in your daily business life, helping you strategize a business model, which will drive your customers into the sales funnel, improvising your business.
This class is free.
Number of Classes:12
Total Time: 4.5 Hours
2. Email Marketing Certification
It is one of the most important components, playing a vital role in strengthening the building block of your business strategy online. This is your key to lead generation, helping you to devise an email marketing model that will close prospective leads into the sales funnel, converting them into loyal brand promoters over time.
Email marketing is not easy to learn the aspect of marketing, so Hubspot compresses in all the most important ingredients of email marketing, ensuring that the process is easy, while providing you with advanced knowledge of:
Building a strategy for email marketing that will actually work

Targeting the right audiences, to ensure that your messages are directed to the right people during the various phases of the business cycle

Strategizing a highly performing email that will drive attention

Measuring strategies for your email marketing efforts

Free of cost
Number of Classes: 9 
Total Time: 3.5 Hours 
3. Contextual Marketing Certification
Content is king and always rule the world of digital marketing. So, the central strategy of any digital marketing model is content.
You might be good at writing, but mere writing skills are not the only necessity for developing content that actually works.
Your content should be capable of attracting, building trust, establishing leadership thoughts, while growing your business.
Take up Hubspot's free content marketing certification, regardless of whether you are writing content for the first time or even if you are an experienced writer.
The certification covers content generation ideas, developing effective long-term content strategies, tips on analyzing, promoting and restructuring existing content, and creating content that will tell a story, which people love.
Number of Classes: 10
Total Time: 5 Hours 
4. Inbound Sales Certification
Once you become an expert at inbound marketing, ensure that you get yourself enrolled for inbound sales certification too, if your focus is more toward generating sales.
Like the Inbound Marketing, the inbound sales cover the basics of sales techniques and how to strategize it to attract buyers. This free course will ensure that you get your business on the right track.
Number of Classes: 5
Total Time: 3 Hours 
5. Hubspot Marketing Software Certification
The Hubspot has its own platform for marketing automation, which comprises of all their tools, marketing purpose and the techniques that you can utilize to implement these in your marketing model to build sales.
This certification provides an insight into all these marketing strategies from Hubspot.
You will get an in-depth idea of how to implement each of these tools, as these classes provides a demo on how to utilize each of the tools transforming you into an expert, just like the Hubspot pros.
This certification is available for Hubspot customers only.
Number of Classes: 14
Total Time: 6.5 Hours 
6. Contextual Marketing Certification
What do you think is the key to creating a successful brand story online?
User experience or UX as they call it!
Ensure that you offer the best user experience and your brand will soar great heights in no time.
Remember you are not the only one out there doing business; you have a lot of competitors too.
Impressing your customers while beating your competitors is not an easy task
Provide your people with a great user experience, by delivering what they expect will automatically develop brand trust, generating leads for your business.
But, if your brand fails to live to the promises, you are on the wrong path.
Here is why you need the contextual marketing certification, which will help you to create a website, which will satisfy user needs, ensuring that no one leaves annoyed, but happily.
This Hubspot certification is available only to Hubspot customers and it is necessary that you have a minimum of 500 contacts in your contacts database and you should have knowledge on lead segmentation strategies as per the Hubspot's disclaimer policies.
Number of Classes: 6
Total Time: 1.5 Hours 
7. Hubspot Sales Software Certification
Many a time it happens that, you go about doing many manual tasks due to lack of knowledge or resources. There should be some way to help you reduce the manual effort involved in the sales tasks that you perform online.
To help you with this, there is the Hubspot Sales Software Certification, which covers topics on how to efficiently utilize the Hubspot CRM to create a sales strategy that Hubspot sales implement.
This will help to reduce the time spent on performing manual tasks as well as focus more on improvising user experience.
This certification intended to transform you into a master of the software is free to Hubspot Sales users. Once through the process, you will be an expert at generating a selling strategy that actually works.
Number of Classes: 5
Total Time: 2 Hours
Would you like to know more about these courses and certifications?
Then, contact us today.
Aviv Digital is one of the leading digital marketing training institutes in Calicut, Kerala. We offer a wide variety of globally recognized certification programs that include SEO, SEM, SMM, Email Marketing and Inbound Marketing courses.