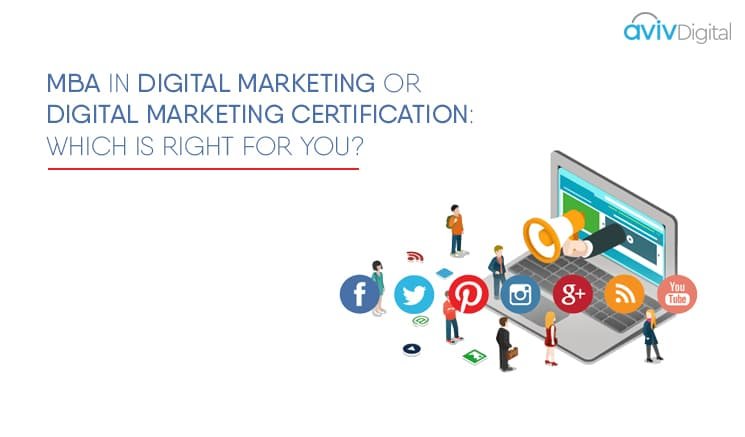 Doing an MBA is quite the rage these days. It's like booking a ticket to a fat pay package. However, you need to invest time and money – 2 years, and the fees depend on the institute you get into, and you need to make sure you're accepted into a good one. To get into a good college, you also need a degree with good percentage, clear entrance examinations and so on. Attractive as the qualification of an MBA is, it's not easy to get into the program – even for an MBA in digital marketing.
An MBA in digital marketing will teach you more about business management with some focus on digital marketing. It will give you a fair idea of the part digital marketing plays in business.
A certification in digital marketing however, will give you all the essential professional skills you will require to succeed in this field.
So if you're keen on a digital marketing career opportunity, then a digital marketing certification would be more helpful than an MBA in digital marketing. Still not convinced? Let me tell you more.
Let's first review the basics:
You don't need any prior qualifications or degrees to enroll for a certificate course

You don't need to prepare for any entrance exam or interview

You will receive you certification much faster than an MBA degree

You will receive intensive hands-on training in all the practical aspects of digital marketing, and will be able to start working as soon as you qualify

There is a dearth of talent in the digital marketing arena
Meeting the Requirements for Digital Marketers
Digital marketers require a different set of skills, which they can acquire only when they are specifically taught those skills hands on in addition to theory. Ergo, it is such professionals who can apply their theoretical knowledge to find resolutions to customer issues, who can really fulfill the need of an organization.
Unfortunately, even the premier business schools are not able to impart this kind of technical and practical knowledge when it comes to digital marketing.
There are several aspects of digital marketing, and no one person can claim to be an expert in all of them. Normally you have specialists in each area – like SEO specialist, social media marketing expert, web analytics specialist, and so on.  You can also choose which area of digital marketing you'd like to work in, and specialize in that. When you enroll for a digital marketing course, you are taught not by a pure academician but by someone who is already reputed in that field in their work. Such professionals are in the best position to impart the practical skills that are needed to work in digital marketing.
Job Opportunities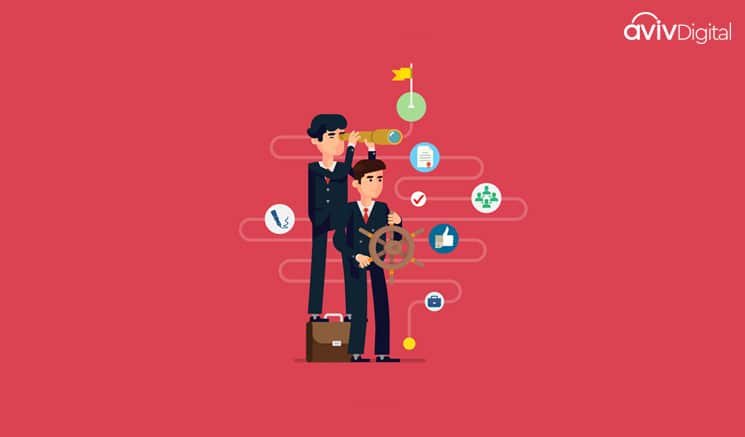 You may be worried about the opportunities that may be available to you if you have a diploma and not a proper degree – and rightly so. However, you can rest assured that if you obtain a certification in digital marketing, you can easily find a good job almost immediately on course completion. As for MBAs, because of the number of business schools that have mushroomed, you cannot hope to find a plum job unless you have qualified from a highly reputed institute. In fact, several thousand graduates who are from poor institutes do not even manage to get a job; if they do, they are not highly paid, and have to put in many more hours at work. So unless you're sure that nothing but an MBA will do for you, we recommend that a certification is an easier and more practical path for you for a digital marketing career.
Digital Marketing Certification Or Free Online Digital Programs?
When it comes to a diploma or certification also, it's always preferable that you stay away from shady websites that promise 'free' programs. If it sounds too good to be true, it probably is!  They may not be recognized by companies, and the certificate may not carry any weight.
To do a course all by yourself online, you need tremendous drive and commitment; there are no penalties for not completing assignments or lagging behind, unlike in a classroom; and no rewards for excellence either. Competition keeps human being going – the desire to do better than a classmate is one of the biggest motivations there can be, and that's missing here.
If you have any queries about a certain point or lesson, there is no one you can turn to for getting answers. However, if you hold a proper diploma from a recognized institution (even if it's online, make sure it's recognized) the company looking to hire you can verify that you have actually qualified, and get references from your trainers.
Of course, eventually you will need to take this decision based on your budget constraints, time available and your own talent and abilities.
Digital Marketing Certifications you can Get
Here are some of the arenas in digital marketing you can specialize in:
SEO
In this you will be taught all the ways you can use to push up the ranking of a website in a search engine's search result pages and attract more visitors. Different search engines like Google, Bing, Yahoo etc. have their own algorithms. You will learn about on-page and off-page optimization, algorithms and how they affect search results and so on, and then you'll get to work on live projects to gain experience.
SMM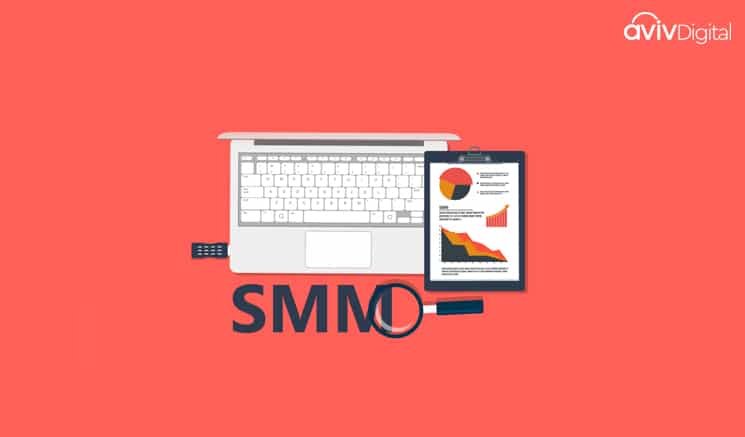 Here you will learn how to attract visitors through social media – creating and promoting content that gets attention, and encourages them to share. You will learn the nuances of different social platforms, and what kind of content works in each, timing of posting, and so on.
SEM/PPC
In search engine marketing you will learn to make the website more attractive to search engines, mostly through paid ads. You will learn to do market analysis, strategize PPC plans, manage campaigns, track performance and more.
Web Analytics
Here you are taught to collect, measure and analyze data regarding the effectiveness of a website. You will be able to provide reports outlining what works in the website and what doesn't, and offer recommendations for remediation. You will learn about ecommerce, the goals of the site, the different analytic tools, and different analytics like social media, email, web and CRM.
Email Marketing
This course will make you an expert in delivering meaningful and valuable content to customers, automating the emails, ensuring timely delivery and nurturing leads and fostering relationships to turn them into customers.
Inbound Marketing
This approach to marketing relies on attracting customers through providing valuable information and meaningful engagement – soft selling if you will. This is done through blogs, ebooks, videos, social media posts, discussions on public forms and more. You will be taught all about lead magnets, creating the ideal customer persona, show to convert prospects and traffic into leads, attract potential customers into the conversion fuel, and to nurture these leads through emails etc.
Content Marketing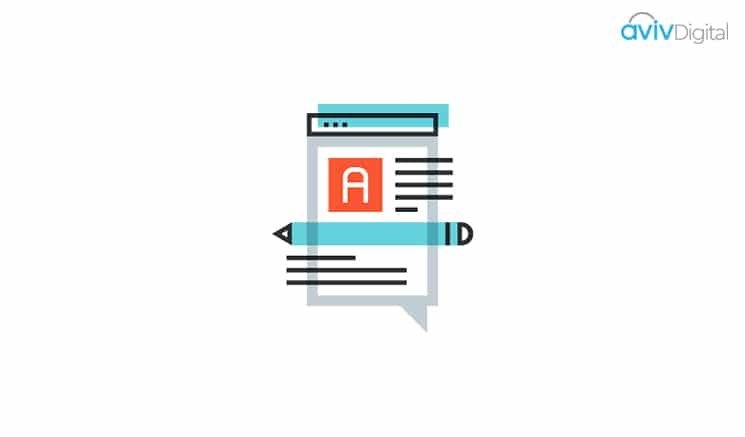 This involves the creation and distribution of unique, valuable and relevant content consistently, to a pre-defined target audience, to engage with them and induce them into becoming customers. You will learn how to write blogs, newsletters etc. To specifically attract your target customers, create a strategy to market content, and measure its effectiveness.
Career Options
You can find a job as an expert in the digital marketing field that you have qualified in – like SEO, SMM, email marketing, PPC, Inbound marketing, web analyst, and content marketing. All of these are highly paid jobs; of course depending on your own skills, experience, and the recognition your certificate carries. If you do multiple courses in different areas of digital marketing, and you have gained sufficient experience, you can also land the dream job of a digital marketing manager, leading the team. You will be in charge of boosting the efficiency of the digital marketing team and to improve the strategies.
Aviv Digital is one of the leading digital marketing training institutes in Kochi, Kerala. We offer a wide variety of globally recognized certification programs which includes SEO, SEM, SMM, Email Marketing and Inbound Marketing course. For more details, Contact us at: +91 9037 489 577