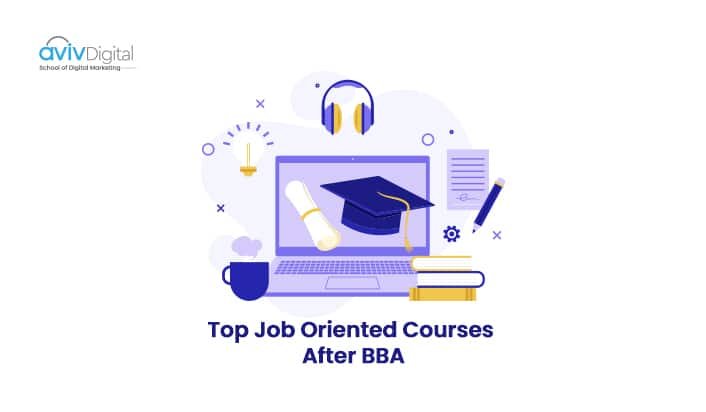 What Is BBA?
BBA means Bachelor of Business Administration; it's one of the most popular programs that students take up after completing their higher secondary or 12th standard. It is a good course with excellent scope and employment prospects.
Scope
Students who have enrolled learn basic management concepts in theory and through internships they also learn to put that knowledge into practice. BBA courses are job-oriented courses and also teach students to improve communication skills and boost confidence. Students who have successfully completed BBA courses can seek jobs in almost any industry, as administrators are required everywhere.
Top Courses after BBA
While BBA graduates can get employment after finishing their course, they can further improve their career prospects by doing these courses after BBA:
Digital Marketing Courses
With digital becoming the norm and mobile proliferation increasing day by day, the e-commerce industry is growing by leaps and bounds in India and elsewhere in the world. This has created a heavy demand for digital marketing professionals, and the need continues to grow. A digital marketer is responsible for developing and executing marketing strategies that will help businesses increase their sales, widen their reach, and boost profitability. Digital marketing is one of the most in-demand fields all over the world, and it is one of the best choices for career options after BBA. In fact, it is a sort of specialization for BBA graduates. When you sign up for a digital marketing course from a renowned institute like Aviv Digital, you will get to learn the basics of digital marketing, and advanced concepts too. You will learn about the different platforms that can be used for running campaigns, what strategy works on specific platforms and for specific types of audiences, how to target the right customers, how to create a robust online presence for a brand, and so on. Modules include topics like affiliate marketing, SEO, mobile marketing, SEM, email marketing, social media management, content development and marketing, analytics, and more. You will get hands-on training on live projects so that you get to learn real-life scenarios and problems and how to tackle them. If you do a digital marketing course from Aviv you get a certificate that is recognized by the government. It will increase your employability and your growth prospects. You can apply for jobs in any part of the world armed with these two excellent courses and command a good salary as well.
Course Duration: 3 to 6 months
Career Prospects:
· Digital marketing manager
· SEO specialist
· SEM specialist
· Affiliate marketer
· Inbound marketing manager
· Social media manager
· Analytics expert
2. UI/UX Course
Today, every application whether on the web or mobile needs to have a good user interface and deliver excellent UX or user experience. Without that, your app may not be adopted by users, which will make it a failure. Today UI/UX professionals are highly sought-after in the IT industry, not only in India but in the Middle East, USA, UK, Singapore, and so on. If you have an artistic mindset and are good at problem solving, doing a UI/UX course is one of the best choices for certification courses after BBA. At Aviv Digital students enrolling for this course are given training in several subjects like fundamentals of design, creating user-focused design, ideation structures, wireframing, user research, information architecture, prototyping, and so on. We also provide practical training on actual projects in addition to classroom theory and lab sessions. You will learn how to combine the techniques and technology you learn with your creativity to craft web and app designs that deliver superior experiences. At the end of the course, you will gain enough skills to design a site or app by yourself. UI UX professionals with the right skills can get high salaries in the IT industry anywhere in the world.
Course duration – 4 months classroom training and 2 months on-project training.
Career Prospects:
· UI UX team manager
· UI designer
· UX designer
· UX architect
· Analyst
3. Full Stack Development
A full stack developer is capable of developing both the frontend and backend of a website or app; today such professionals are in very high demand in the IT industry. They are more in demand than programmers who can only develop the frontend or only the backend. By hiring a full stack developer, companies can cut costs by reducing the number of people hired. Full stack development courses train students on the basics and advanced concepts of frontend and backend technologies, like Python, HTML, CSS, JavaScript, PHP, Angular, jQuery, and so on. On successful completion of the course, students get a certificate. AVIV Digital's full stack program has an excellent curriculum, and you can be sure that you get a thorough education about the subject. At AVIV, students are given hands-on training on live projects at Acodez IT Solutions, as AVIV is a part of the company. This is a huge advantage that students of AVIV get, which may not be available in most other institutes. UI UX is one of the best career options after BBA, as it will open the doors to an exciting career path in numerous industry verticals. Students who successfully complete training will be able to build and maintain web services and interfaces, develop new features for APIs, conduct functional testing, perform tests, troubleshoot, and resolve bugs.
Course duration – 6 months
Career options:
· Full stack developer
· Frontend developer
· Backend developer
· Industries – IT, Finance, Healthcare, Education, Retail, Travel, Hospitality.
Entrepreneurship Development Program
This is again one of the good courses after BBA you can consider as it will help you develop your entrepreneurial skills. In this course, you will learn everything you need to know to start and operate a business. It will help sharpen entrepreneurial skills and is aimed at developing first-gen entrepreneurs. You will get all the guidance required to start off your entrepreneurial journey. Together with a BBA, it will equip you to handle all aspects of running a business successfully.
Masters Of Business Administration (MBA)
This seems to be the most logical course to do after your BBA – the master's degree after your bachelor's. If you are interested in higher studies and want to get into the corporate world, this is a good option. It is also helpful for those who want to join the family business and improve it by infusing new ideas. MBA courses will enhance your leadership roles and teach you to manage people, resources and projects, along with strategic planning. This is a 2-year course.
PGDM
The Post Graduate Diploma in Management is another 2-year course you can do after BBA. You can upskill yourself in administration and management, helping you land plumb jobs in the corporate sector. PGDM is offered by independent institutes and is a great option for students who are interested in business, higher studies, and enterprise jobs.
Company Secretary
A company secretary is a professional who deals with compliance and statutory regulations, legal decisions of a company, maintaining tax records, providing advice on financial matters, and so on. This is another of the good courses after BBA for students who are interested in higher studies.
PG Diploma in Banking
A post-graduate diploma in banking after a BBA can increase your career options, and you can seek managerial positions in banking sooner than others. You can get high salary in the financial industry with good training and experience. If you are interested in finance, this is a very good career option for you after your BBA course.
Masters in Finance Management
If you are wondering what to do after BBA, you can consider a master's degree in finance management. You will learn all about financial and accounting management in this two-year course. You will be able to find work as a finance project planner, economic analyst, and corporate audit planner among others. It is a bonus if you have analytical skills and are tech savvy.
Masters in Hotel Management
If you like travelling, meeting people, and tackling problems with a cool head, this can be an excellent career choice after BBA. You already have learned management skills in your BBA. This will help you use those skills in a specific industry. Typically, this course lasts for two years, but you can also do diploma courses that are shorter in nature. You will learn all about food and beverage management, managing the front office, restaurant, housekeeping management, banquets, and a whole lot more.
Masters in Marketing Management
Marketing is one of the in-demand fields today, and is a great choice after BBA. A marketing manager is responsible for communicating the information about products and services of a company in such a way as to excite the audience and create a desire in them to purchase those products and services. If you are up for a challenging career option and are willing to spend two years to earn your Master's degree, this is definitely worth considering.
Conclusion
Certainly, these are not the only career options after BBA, but these are some of the best. These courses will improve your career prospects and growth. Compare these courses and see which is best suited for you based on your preferences, aptitude, time available, and budget.
AvivDigital is the top-ranked digital marketing institute in Kerala that provides the best online and offline courses to every digital marketing aspirant, including freshers, professionals, and entrepreneurs.. We have one of the leading Digital marketing course calicut. We offer a wide variety of globally recognized certification programs that include SEO, SEM, SMM, Email Marketing and Inbound Marketing courses. For more details, Contact us at: +91 8156998844