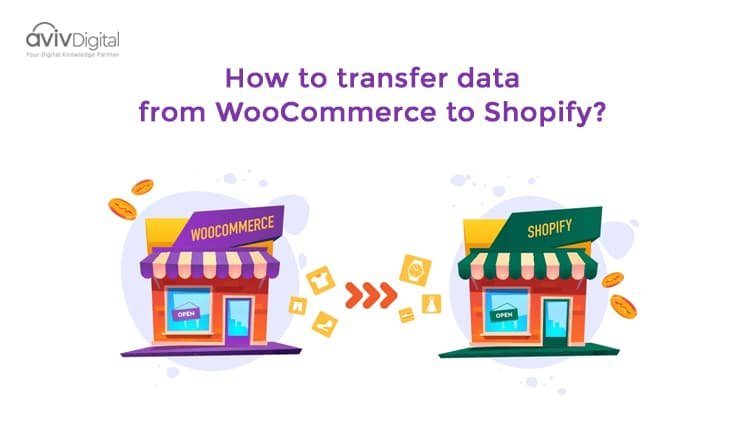 You are running a business on WooCommerce and it seems that this platform no longer meets your requirements when your store expands in scale. Your WooCommerce site loading time is pretty slow, the plugin installing process is complicated, or you need more payment gateways for your store. And now you determine that Shopify might be the solution to the above-mentioned problems. 
If this is your case, and you are finding how to transfer data from WooCommerce to Shopify accurately and securely, don't miss this article!
Why is Shopify the destination for sprouting?
Shopify is one of the dominators in the eCommerce world. this sentence "With the Shopify email automation and other benefits it offers, Shopify is a beloved platform for eCommerce brands Let's take a look at these numbers to see how powerful this platform is:
Over 1 million businesses built on Shopify

$319 billion is the global economic activity from businesses on Shopify

175 countries using Shopify

50+ countries with $100+ million in economic activity from businesses on Shopify

18+ countries with $1+ billion in economic activity from businesses on Shopify
Beside these impressive statistics, Shopify has proved itself to be the ideal solution for WooCommerce e-merchants thanks to offering better features that can deal with some WooCommerce's issues and improve WooCommerce email marketing plugins
Now, let's discover how to move data from WooCommerce to Shopify!
WooCommerce to Shopify migration process
1. Preparation for the migration
Step 1: Back up data of WooCommerce store
Before kicking-off your WooCommerce to Shopify migration, it is necessary to back up your source store data, especially the files you are going to transfer. The aim is to make sure your data is safe in case you encounter any problems during the migration such as corruption or missing files.
To make a backup of your data, you can export them from WooCommerce store by following these actions:
From your store dashboard, go to

Tool > Export

Choose what you want to export: You can export all content or choose certain ones such as posts, products, orders, variations, and so on.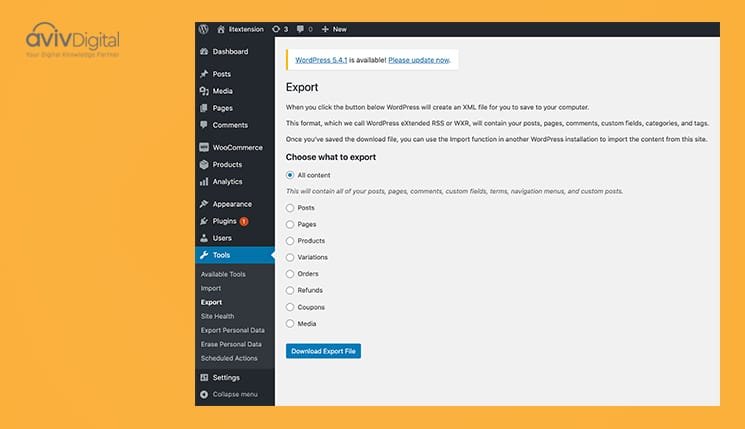 Step 2: Register a Shopify store
If the first step is preparing backup files from the source store, the second is preparing the target store. In other words, it's time to create your Shopify store.
Well, you could feel setting up your WooCommerce site is complex, but it is another story when coming to Shopify. Shopify has become one of the most famous eCommerce platforms, and perhaps the easiest-to-use tool to build your online store.
You can either go for the 14-day free trial or go straight to the paid plans. Please check this Shopify tutorial video and follow these easy steps to create your Shopify website in a few minutes.
Go to the

Shopify website

and sign up for an account. You will need to enter your email address, password, and the store name. Please note that you need to give a unique name for your store, otherwise Shopify will not allow you to purchase the domain. Then, click

Create your store

button.
After that, Shopify will need you to answer some basic questions regarding your new store as shown below.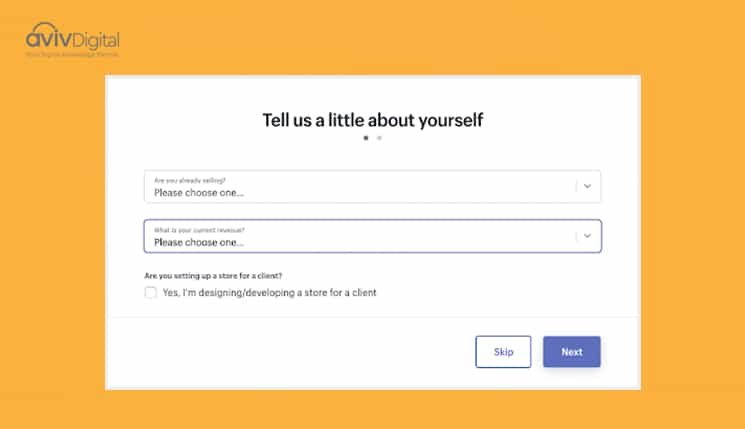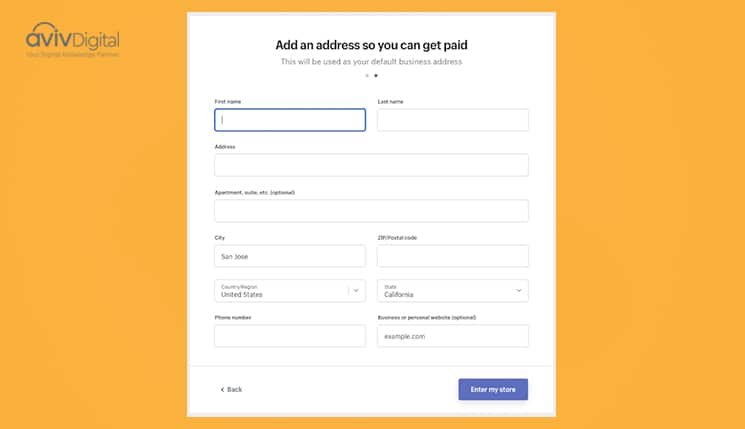 When finished, click Enter my store button and you will be redirected to the admin screen of your new website.
2. Transfer data from WooCommer to Shopify
After backing up data from the source store and creating the target store, it's time to run your WooCommerce to Shopify migration with LitExtension. 
LitExtension is an advanced data migration solution that gets 97% customer satisfaction on Trustpilot, one of best global review websites. 
With LitExtension, you can transfer data yourself or let their specialists take care of your migration from top to bottom.
In case you have any difficulties during your re-platforming, feel free to contact LitExtension support team. They offer 24/7 live support from experts with instant response.
Let's login at the latest version of LitExtension with your Google/ Facebook account and follow these 3 easy steps to convert WooCommerce to Shopify:
Step 1. Fill in Source Cart and Target Cart info
Once you have logged in, click Create new migration and fill required information of your WooCommerce vs Shopify store.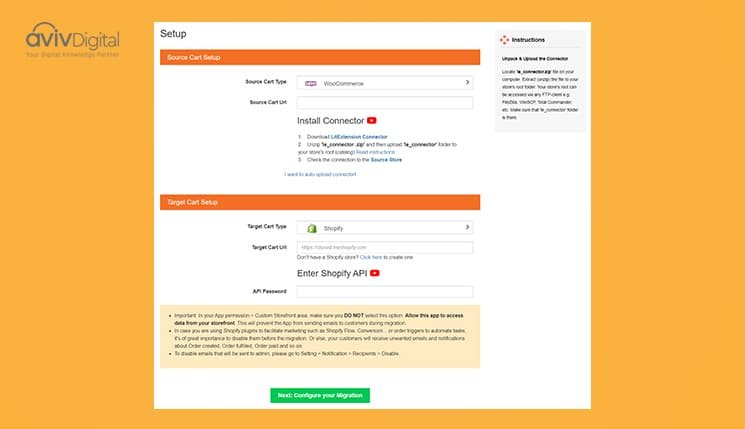 Source Cart: Fill your WooCommerce store URL then upload the

connector file

. LitExtension Connector is the connection between your shopping carts and makes the data exchange possible. You can follow the instructions on the site or rush this video to install and upload the "le_connector" file. 
Target store: Fill your Shopify store URL and the API Password. Here's how you can find your API Password from the admin
https://youtu.be/JMpNQAz79zE
After entering this information, click Next: Configure your Migration green button
Step 2. Choose what you want to migrate
LitExtension supports migrating products, customers, pages, blog posts, and coupons. You can choose certain entities or tick Select All to migrate all of them.
Besides, you are available to take advantage of advanced features such as 301 redirects, images migration, etc. These options help you migrate more important things and boost your store performance.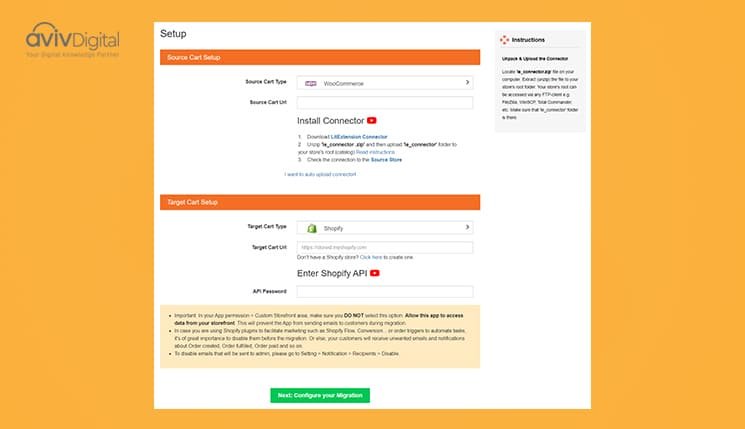 Step 3. Kick-off migration
Now it's time to perform your WooCommerce to Shopify migration. 
LitExtension allows you to run Free demo migration to see how your transfer is complemented. Or else, you can skip the Demo and start the full migration.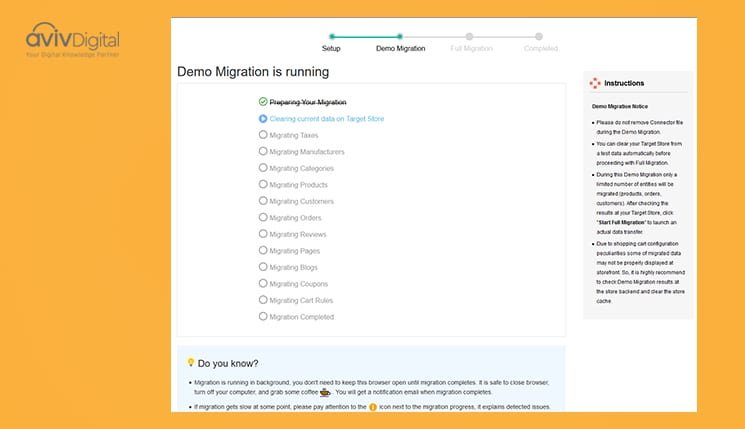 The full migration is cloud-based, which means the tool runs automatically in the background even when you turn off your browser. 
It's worth noting that your source store won't be affected during all migration so there isn't any losing traffic and data. 
When the transfer finishes, you will receive a notification email from LitExtension system. 
 3. To-do list after migration
Now your WooCommerce to Shopify migration has completed. However, there are some steps you might need to take before your Shopify goes live. Let's check it out:
Choose theme for Shopify store
It's undeniable that theme is one of the most important factors that help you increase user experience then make conversions. Choosing a suitable theme makes your site impressive and brings good experience to the customers when they visit your store.
Currently, Shopify offers users 73 themes including 64 premium and 9 free ones. All of them are user-friendly and have stunning designs. Besides, there are other sources like Themeforest and Template Monster which provide bunches of themes and templates to Shopify users.
You can check the best Shopify themes here and choose one that best suits your online store.
Migrate and update new data
As mentioned above, there is no impact on your WooCommerce store and it still receives new orders during the re-platforming. So another thing to do after your transfer finishes is migrating newly appearing and edited data.
If you choose to migrate with LitExtension, they offers 3 advanced options to help e-Merchants and web agencies deal with these issues:
Re-migration

transfers all your data over again.

Recent migration

allows you to migrate new entities that appear during your migration.

Smart Update

enables you to update changes you made to data in the source store along with newly appearing data.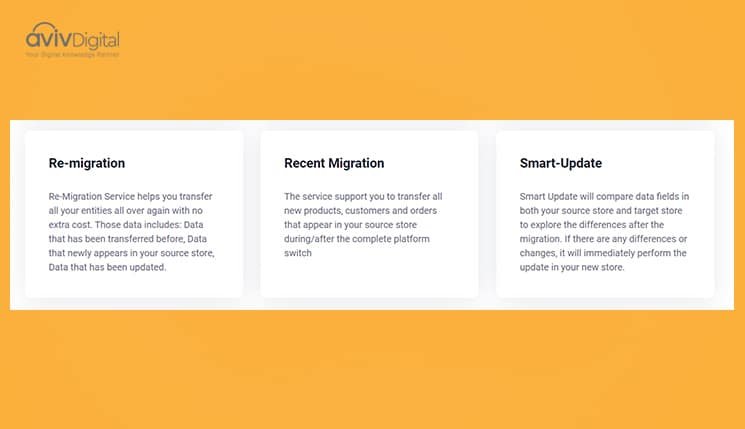 Check necessaries before launching new store
Now that you have migrated your data from WooCommerce to Shopify and taken actions to decorate your new store. But wait! It's not a good idea to just launch your new store and wait for new orders and customers.
It's necessary to use the right tools that help you manage your store, reduce workload, and improve your business's profit. Thanks to the strong development of technology, there are many digital marketing tools that help you do these tasks.
For example, Email marketing is used to increase sales, improve brand loyalty, and deliver important information. Besides, Youtube marketing is also a gold key that brings you closer to success.
Final thoughts
To conclude, here we have given you a full step by step guide to migrate from WooCommerce to Shopify seamlessly.
With the right combination of skills, a solid business plan, and a flexible eCommerce platform, you can get your online Shopify up and run in no time.
Good luck with your migration and see you in the next articles!