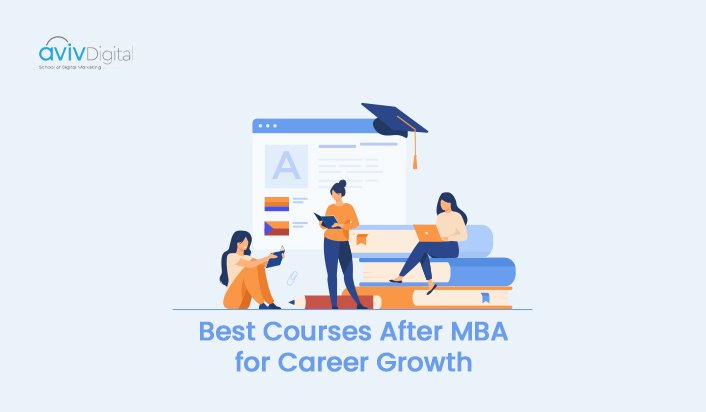 So you've completed your MBA; That's great! The world of opportunities awaits you, with the network you have built while doing your course. Sometimes though, just doing an MBA may not be enough for you to get that dream job you've always wanted. Today, there are hundreds of MBA graduates thanks to the mushrooming of management colleges across the country. So you need to do something extra to be able to stand out and show that you have something that others don't. To do this, you need to do some Courses After MBA.
Benefits of doing courses after MBA
Doing a short-term course after MBA can give you that extra desirability in the job market. There are dozens of courses available, but make sure you do the right one as that shows you are serious about enhancing your skills. It not only looks good on your CV, but will actually equip you to land a good job and grow professionally and personally. If you're looking for excellent career options after MBA, here is a list of courses that you can do. Choose the one that suits your aptitude, abilities, interests, and of course, your budget.
Digital Marketing Course
This is one of the most preferred courses for management graduates, and especially those who are looking for courses after MBA marketing. With more businesses going online, there is a lot of demand for digital marketing specialists. Combined with your MBA degree, it's a huge bonus point for you, and you can advance in your career rapidly. What's more, you can even think of starting your own business once you have enough experience. As a digital marketer, you will be in charge of creating and implementing marketing campaigns and monitoring them to help companies grow their business. Digital marketers employ various means and channels to achieve these goals. When you join a well-known and reliable institute like Aviv Digital, which offers the best digital marketing course Calicut, you'll gain the skills and knowledge needed to excel in the field, you will get a thorough training in everything related to digital marketing – from basic to advanced concepts. The course will teach you about different types of content, marketing channels, and what type of content is suitable for what channel. You will learn to identify the typical consumer of that brand, and tailor the campaigns for them. At Aviv, not only do you get to learn in an interactive classroom from the top professionals in the industry, you will also be able to work on live projects at Acodez IT Solutions, our parent company, under the supervision of our expert faculty. You get to learn how to deal with real-life problems. On successful completion of the course, Aviv Digital awards a government recognized certificate to students. This gives you a distinct edge over other students in the job market. Doing this course will help you apply for high-paying jobs anywhere in the country or even abroad.
Course Duration: 4 months classroom, 2 months hands-on training
Career Prospects:
Digital marketing manager
SEM manager
SEO manager
Inbound marketing manager
Affiliate marketing manager
Social media manager
Analytics manager
UI UX Design
UI UX designers are in great demand today, as it's all about pampering the customer. Basically, UI UX design ensures that anyone who uses your web or mobile app has a pleasurable experience, motivating them to use it for longer, and eventually buy your goods and services. If they don't have a good experience, they will most certainly not want to continue with the app, and your app could fail. If you have a flair for art and design, you can definitely consider this; it's one of the best certification courses after MBA. At Aviv Digital, we offer the best UI UX design course in Kerala, where students are thoroughly trained in all the aspects of UI UX design and the tools used for it. You will learn topics like how to create user-focused design, user research, prototyping, design fundamentals, wireframing, information architecture, and more. You will be given ample practical training in the lab so that you get the confidence to design apps with superior UI UX even by yourself. Combined with your MBA degree, you can soon grow to become a UI UX manager also. This course will add immense value to your degree and help you get a job with high salary anywhere in India. With the right experience, you can also apply for jobs in the Middle East, UK, Canada, US, etc.
Course duration – 4 months classroom training and 2 months on-project training.
Career Prospects:
· UI UX team manager
· UI designer
· UX designer
· UX architect, manager
· Analyst
Full Stack Development
Full stack development refers to developing both the client side and server side of an application – web and mobile. Most programmers are specialized in either one or the other, necessitating the hiring of two developers. Any programmer who is adept at both is therefore highly sought after in the industry, as it reduces hiring costs and wages for companies. Aviv Digital offers comprehensive full stack course in Kerala where you will learn the different technologies used for frontend and backend development. This includes: Python, HTML, CSS, JavaScript, PHP, Angular, jQuery, and others. You will be taught how to develop and maintain web services and interfaces, conduct functional testing, build new API features, troubleshoot, fix bugs, and a lot more. You also get to work on live projects at Acodez IT Solutions under the watchful eyes of our experienced faculty. Once you have completed the course and passed all the tests and evaluations, the institute awards a certificate that is recognized by the government of India. Doing a full stack development course after MBA will open many more doors of career paths for you than with just your management degree. And when you have done that course from such a reputed institute like Aviv Digital, you will be welcomed in the industry – such is the value of the certificate we provide. You can expect to land a high-paying job after completing this course.
Course duration – 6 months
Career options:
Full stack developer
Frontend developer
Backend developer
Full stack development manager
· Industries – IT, Finance, Healthcare, Education, Retail, Travel, Hospitality.
Postgraduate Diploma In Marketing Managem
ent
This is an excellent course to do after completing your MBA in marketing, as it will help you put the skills you gained to good use and become a top-class marketer. If you are a creative thinker capable of strategizing, this course is for you. This super-specialization will help you kickstart your career in marketing, and to progress rapidly as well.
Project Management Professional (PMP)
If you are good at managing people including clients, management, and teams, and are good at allocating resources, and so on, you should consider this. It's one of the best courses after MBA HR as you already have learned some people management skills. There are several institutes that offer certificate courses in project management. Choose the right one, depending on the time and funds at your disposal.
Financial Risk Management (FRM)
This is one of the best choices for courses after MBA Finance. It makes sense to continue in the same field. It is ideal for you if you enjoy the prospect of analyzing the risk profile and formulating strategies for risk mitigation. You may need to have a little work experience to apply, though some institutes will accept fresh MBA grads too – check the eligibility for individual institutions.
Certified Information Systems Auditor (CISA)
If you are interested in having a career in information systems, security, and auditing, you can apply for this certificate program. You will learn to conduct thorough audits of the information infrastructure of a company, supervise information management, ensure systems are updated, and ensure regulatory compliance for IT activities.
Chartered Financial Analyst [CFA]
This is also a great course after MBA Finance. It will help you specialize in Finance and have an excellent career trajectory. You have to pass three levels of the course to get this degree. You will learn subjects like Corporate Finance, Business Ethics, Equity Investment, Portfolio Management, Alternative Investments, and so on. You can have career profiles like portfolio manager, consultant, financial strategist, analyst, and others.
Post Graduate Diploma in Computer Applications (PGDCA)
PGDCA is an excellent course after MBA that you can pursue for higher studies. You will get to learn basics of computer apps, programming languages, and so on, giving you the technical skills needed to succeed in the IT industry. Computer knowledge and MBA is a great combination, and you can rise to the post of programming manager very quickly. In fact, there are dozens of opportunities available to students who have this dual qualification.
Data Science
Today, a great deal of data is generated by any business; knowing what to do with it is critical. Proper analysis of this data helps businesses formulate marketing and customer service strategies, and even inform them about making modifications to their products and services. You could say that data science plays a major role in facilitating proper decision-making that propels the growth of the company. As a management graduate armed with a data science diploma, you can have a whole world of opportunities come and knock at your doorstep.
To Conclude
As you can see, doing an MBA is not the end of the road. There are so many courses after MBA that you can do, to further your career prospects. There are hundreds of institutes and courses available for you to choose from. Make your decision wisely. Ensure that the institute you join is worthy, has a good reputation in the industry, has proper trainers, offers a well-rounded curriculum, and adequate practical experience. Be sure to check if they offer placement assistance as well.
AvivDigital is the top-ranked digital marketing institutes kerala that provides the best online and offline courses to every digital marketing aspirant, including freshers, professionals, and entrepreneurs.. We have one of the leading Digital marketing course calicut. We offer a wide variety of globally recognized certification programs that include SEO, SEM, SMM, Email Marketing and Inbound Marketing courses. For more details, Contact us at: +91 8156998844