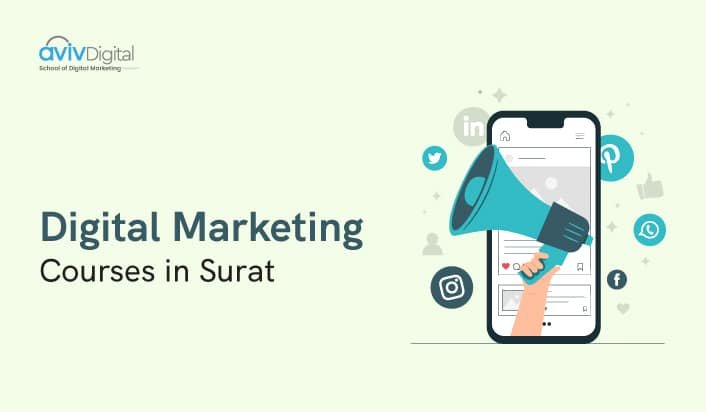 Are you keen to make a career in Digital Marketing?
Are you confused about which institute will help you make your mark as a digital marketer?
If so, you have come to the right place!
In this blog, we will talk about the different institutes that offer digital marketing courses in Surat.
If you check statistics for the past couple of years, you will notice that there is a huge increase in the number of online digital platforms. Today we have a large number of shopping platforms whether it's for clothes, grocery, bill payments, ordering food, or anything else. You can do all of it online as it is a very flexible and convenient method of shopping. People are saved the trouble of commuting, waiting in queues, jostling for space with other shoppers, and so on.
Businesses also derive immense benefits from online platforms. They can target a much larger audience and establish a robust online presence on various digital platforms using intelligent marketing strategies.
The rise in the number and type of digital platforms has created an enormous demand for skilled digital marketing professionals. Digital Marketing involves running marketing campaigns on the Internet to promote a brand or product and to enhance the brand presence across digital platforms, including social media.
There are 8 main types of Digital Marketing:
Search Engine Optimization
Content Marketing
Pay-Per-Click
Affiliate Marketing.
Email Marketing
Social Media Marketing
Mobile Marketing
Marketing Analytics
Considering that there is a huge demand for skilled digital marketing professionals in the industry right now, enrolling in a digital marketing course is a wise decision. There are innumerable career paths available in digital marketing. With the right training, you can have a highly successful career and be on a rapid growth trajectory. Excellent training is necessary to imbibe the knowledge and perfect the skills required in the industry.
Let's see what career opportunities are available in the field of digital marketing.
Digital Marketing Manager
SEO Specialist
Social Media and Content Manager
SEM Manager
Content Writer
Copywriter
Email Marketer
Advertising
Chief responsibilities in digital marketing are:
Planning, creating, and maintaining an active presence on social media
Designing and implementing all marketing campaigns like email, SEO/SEM, web, social media, database marketing, and so on
Ideating and crafting innovative strategies for growth
Monitoring and analyzing trends to gain insights that enable performance optimization
Measuring the effectiveness of marketing campaigns and generating reports
Creating landing pages to optimize UX through team collaboration
Assessing trends in marketing techniques
Establishing important points of conversion and drop-off
Leveraging analytics to study end-to-end customer experience across channels
Surat has several institutes that offer outstanding training in digital marketing. To make things easy for you, we have chosen the 7 best digital marketing courses in Surat that you can join in Surat.
Aviv Digital
IIDE – The Digital School
EduPristine
Inspire Computer Education
IIHT Surat
ETC Academy
ASDM
1. Aviv Digital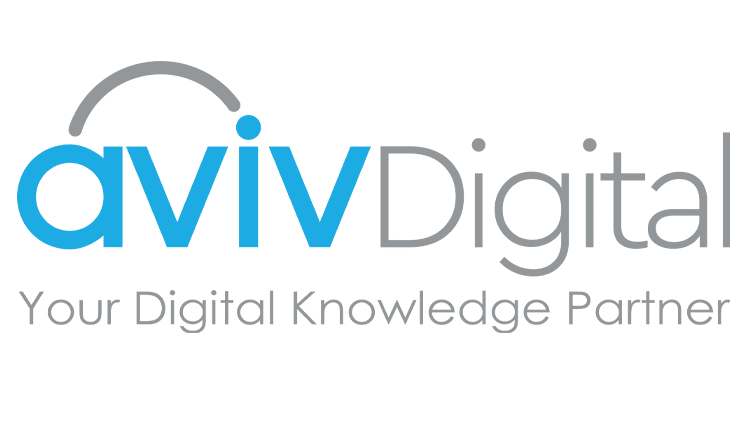 Aviv Digital is one of the best institutes to enroll in digital marketing courses in Surat. Students can learn from some of the best professionals in the industry. Aviv has certified industry experts who are very approachable and provide excellent training to the students. Anyone desiring to become a digital marketing professional can sign up for their courses, receive exceptional training, and enhance their skills.
They have a well-developed and structured curriculum that includes everything basic to advanced level in each subject. Courses are designed as per top industry standards, and enable students to become competent professionals. At Aviv Digital, students are given online training as well as in-house, allowing students to learn at their own pace. Students are given individual attention, irrespective of the training method. This unique method of learning will help students develop their skills and become adept at using them practically.
All students who complete the course receive a certificate that is internationally recognized and are given the opportunity to become an intern at Acodez IT Solutions – a prominent web design and development company in India. Students also receive assistance for placements, and are supported in many ways. These include helping to create a resume that stands out, writing cover letters, submitting applications properly, and so on.
Key Highlights of learning from Aviv Digital
Leading Digital Experts
Global Standards
Industry-Validated Syllabus
Flexible Study Options
Gain current Industry Knowledge
Globally Recognized Certification
Top Skills You Will Learn
Branding
SEO
Social Media and Content Marketing
SEM
Marketing Analytics
Aviv Digital Offers the following Digital Marketing Courses:
1. Advanced Diploma in Digital Marketing
The advanced diploma in digital marketing includes learning advanced digital marketing skills and enables you to become a leader in the field. You will be taught how to use data to make decisions, execute strategies successfully, craft innovative campaigns to enhance business growth, and a lot more.
Course Curriculum:
Search Engine Optimization (SEO)
Social Media Marketing (SMM)
Search Engine Marketing (SEM)
Content Marketing
Email Marketing
Affiliate Marketing
Data Analysis and Tracking
Minor Courses
Duration: 7 Months (4 Months in the Classroom and 3 months Practical training at Acodez)
2. Diploma in Digital Marketing
Diploma in Digital Marketing course will equip you with skills in SEO, SEM, marketing, analytics, and more. You will learn how to research and craft the right marketing strategies to build the brand and boost business growth.
Course Curriculum:
Search Engine Optimization (SEO)
Search Engine Marketing (SEM)
Social Media Marketing (SMM)
Affiliate Marketing
Content Marketing
Email Marketing
Data Analysis and Tracking
Other Minor Courses
Duration: 5 Months (4 Months in Classroom and 1 Month Practical training)
3. Digital Marketing For Entrepreneurs
As the name suggests, Digital Marketing For Entrepreneurs course is meant for entrepreneurs to help them develop the skills and knowledge essential to grow their businesses. It is a two-month program that includes digital marketing topics that entrepreneurs need.
Course Curriculum:
Search Engine Optimization (SEO)
Social Media Marketing (SMM)
Search Engine Marketing (SEM)
Course Eligibility
Bachelor's or Equivalent Degree
Higher Secondary School
Course Faculty

Our Students Works on Brands like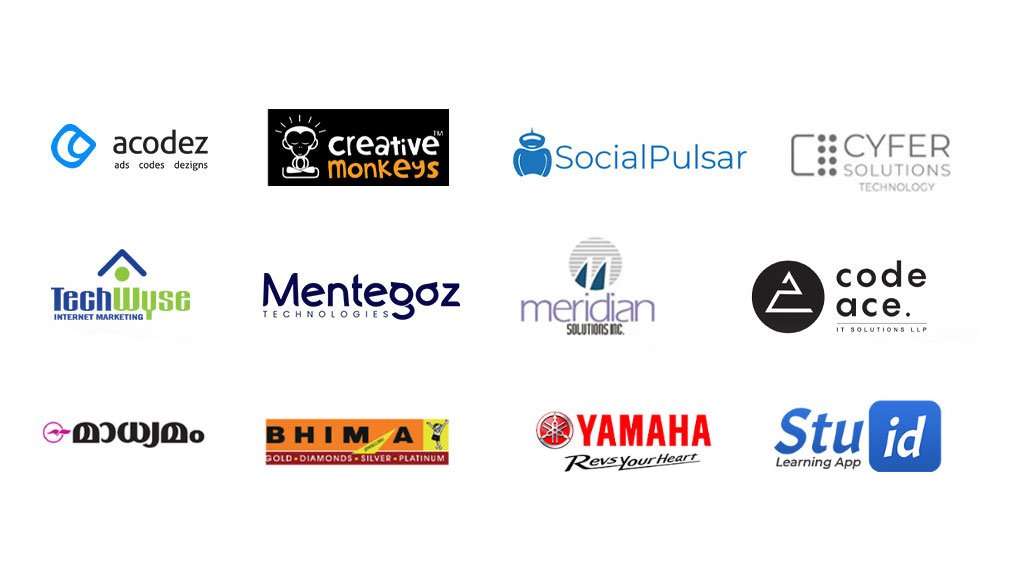 Inspire Computer Education Institute is reputed for its quality training and hands-on approach. They train students to equip them with the skills needed to become digital marketing professionals.
Course Syllabus
Search Engines
Keywords
Optimizing geo, meta, author, title, and H tags
Optimizing images
Introduction to Search Engines
SEO breadcrumbs with microformat
Social media marketing with a special focus on Facebook
Course Duration and Fees
Inspire Computer Education offers a digital marketing course for 2 months. They train students on the latest techniques, use case studies for training, and finally give them hands-on training. They also offer excellent career guidance and placement assistance.
IIHT is a popular and reliable training institute in Surat that offers economically priced training programs. With over 12 years of experience in the industry, they have successfully trained over 10,000 students.
Course Syllabus
Introduction to Digital Marketing
Fundamentals of Digital Marketing
Blogging
Social Media Marketing
Link Building
Google Search Console
Email and SMS marketing
Online Reputation Management
Ad Marketing
Analytics
Affiliate Marketing
IIHT offers digital marketing courses for durations of 45, 90, or 120 days depending on the students' requirements.
Course Highlights
Industry experts as mentors
Hands-on training
Completion certificate
100% assistance with placement
ASDM has several industry experts as trainers, and they have imparted training to over 10,000 students in the past 10+ years. It is one of the top institutes in Surat for digital marketing courses.
Course Syllabus
SEO
PPC
SEM
Social media marketing
Overview of digital marketing
Email marketing
Content marketing
Lead generation
Google Analytics
E-commerce marketing
Internet marketing strategies
Online reputation management
Bagging freelance projects
The digital marketing course duration at ASDM is 3 months.
Course Highlights
Communication and soft skills training
Freelance projects training
Placement assistance
Internationally recognized certification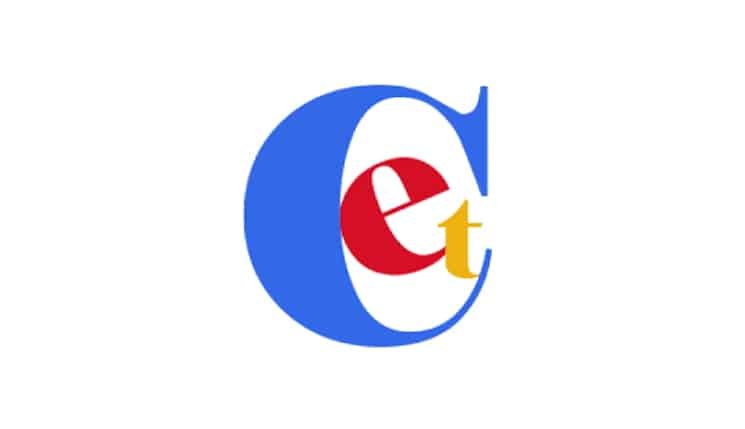 ETC is a well-known academy for digital marketing in Surat that imparts practical training that helps students become proficient in digital marketing.
Course Syllabus
SEO
SEM
PPC
Remarketing
Web Design
Social media ads
On-page and off-page Optimisation
Graphic design
Lead generation
Video development and marketing
Keyword Planning
Social Media Marketing
Content development and marketing
Affiliate marketing
Web and Google Analytics
Inbound Marketing
Mobile Marketing
Course Duration
ETC Academy offers a digital marketing course that has a duration of 3.5 months
Course Highlights
Hands-on training
Free tools
Expert faculty
Internationally recognized certification
Placement assistance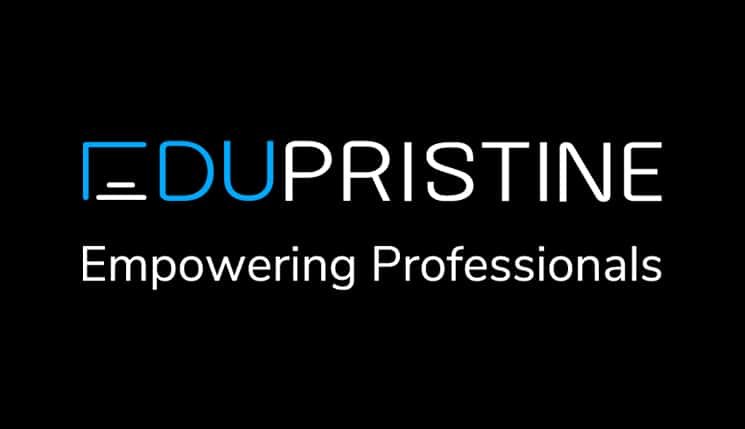 Edupristine offers online and offline classes for any person interested in making a career in digital marketing. They have highly experienced faculty who help students gain both theoretical and practical skills in digital marketing.
Course Syllabus
SEO
SEM
Mobile Marketing and Optimization
Email Marketing
Social Media Marketing
Affiliate Marketing
Marketing Automation
Content Marketing
Web Analytics
Conversion Rate Optimization
Soft Skill Training
Course Highlights
Live Onboarding Session
Self-paced Learning Content
Case Study for Real-Life Practice
Soft Skill Training
International Certifications
24*7 LMS access for one year
Placement Assistance
Knowledge Hut is aimed at professionals from various sectors, helping them build additional skills that can be applied in the corporate world. In addition to digital marketing, the institute offers high-value training in fields like digital media and technology. They also conduct several workshops to help professionals learn faster.
Course Syllabus
Digital Marketing Introduction
Business strategy and marketing
Brand strategy
Email Marketing
SEM
SMM
Marketing Analytics
Data Visualization
Metrics and Statistics
Retargeting
Budgeting & Planning
Acquisition and Engagement of Users
Fundamentals & Trends in UX
content strategy
Activating & Retaining
Influencer Marketing
Paid Advertising
Course Duration
This is a 16-hour online course.
Courses Highlights
Strategies necessary for improving business reach
Recognize what works and what doesn't
Comprehensive training from experts
Case studies and real-life scenario training
Downloadable courseware
Wrapping-Up
Digital marketing courses equip you to become proficient in the field and offer a robust career path, provided you get the right training. If you are looking to sign up for a digital marketing courses in Surat, choose the right institute that fulfills your needs. Digital marketing is a field that has a paucity of skilled professionals; if you join the best institute in your city, you can find several job opportunities after completing your training.
Aviv Digital is a leading digital marketing institute in Kochi, Kerala. We offer a comprehensive suite of globally recognized certification programs, comprising courses in SEO, SEM, SMM, Email Marketing, and Inbound Marketing. For more information, please feel free to contact us at +91 8156998844.