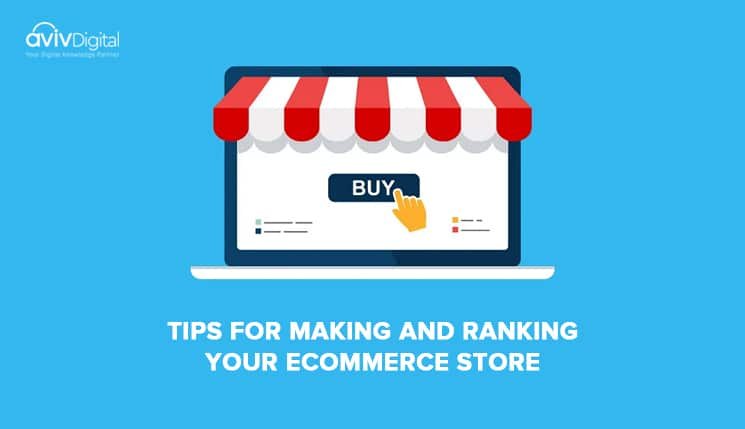 The success of every traditional business depends upon acquiring new customers and retaining old ones. Customer acquisition is much easier compared to customer retention. Businesses use different strategies to retain old and new customers i.e., offering promotions, reminding them about your brand via TV Advertisements, Banners, and Vehicle Ads, and so on.
The same case is with online businesses, especially eCommerce websites that sell and deliver products to customers. Today, most customers want to buy products using their tablets, laptops, and telephones. If you are jumping or already jumped into an online business – your success will be based upon digital strategies you use to acquire and retain customers.
The Most Important Strategy
Various short and long-term strategies help eCommerce businesses to increase their sales. Applying these strategies can turn your normal eCommerce store into the market leader. The most important one is SEO– stands for search engine optimization. 
SEO is a continuous practice of understanding and applying search engine crawler-friendly practices to gain its trust and rank on the first page to bring more traffic to your store to make more sales. SEO is further divided into two parts i)on-page SEO and ii) off-page SEO. Both are equally important and go side by side.
The Most Common Mistake
Many new businesses make the mistake of only focusing on off-page SEO and neglecting the importance of on-page SEO for your digital store. Most business owners are non-technical and are afraid of making new changes to their websites. They have a fear that a single mistake can crash their store and they may need to pay high charges to the developer for bringing it back.
The Solution for your Development & Management Problem
You do not need to worry about this if you smartly choose WordPress as your CMS and WooCommerce plugin to manage your product listing and sales. Yes! WP is a very simple and easy-to-use content management system designed for non-technical users. Any person can create their own blog, business site, or eCommerce store with very basic tutorials and can easily manage a running website too.
You can easily install the WooCommerce plugin and add your products to show them on your site. It may be clothing, fashion accessories, or any household item. Multiple development companies keep researching customer needs and design better and improved versions for a store.
All basic plugins are free and can be found in the wordpress.org directory. Many advanced featured plugins can be purchased for a lifetime with standard or extended support. Magnifying options, color selection, delivering after a specific date, customer panel, and many similar tasks are easily managed with these.
Focus on UX as well
Offering a great user experience to your customers is the key to any business's success. However, giving your customers a seamless experience on your website can also have some SEO benefits as well and hence this is something that cannot be ignored. A great user experience can improve the user engagement and time spent on a website which can eventually boost your SEO rankings. There are many WooCommerce plugins that can help you further improve your website UX. One such plugin is the WooCommerce Product Addons plugin which can help website admins add additional fields in your product detail page, so you can provide a personalized detail page to your visitors, based on the types of products that you sell. Admins can set conditional logic where certain fields can be hidden based on the product or product category selected. Also, there are features like custom price formulas that can help to showcase add-on prices, based on certain fields selected. WooCommerce Custom Fields plugin is a free plugin that helps to add basic fields like text fields, number fields, date fields, etc.
The Ranking Starts Now
It means a failure if everything is ready but there's no visitor in the store to check and buy your items. It's time to start SEO for your store. To do your digital store SEO, we recommend you follow these steps.
Step 1 – SEO by Yoast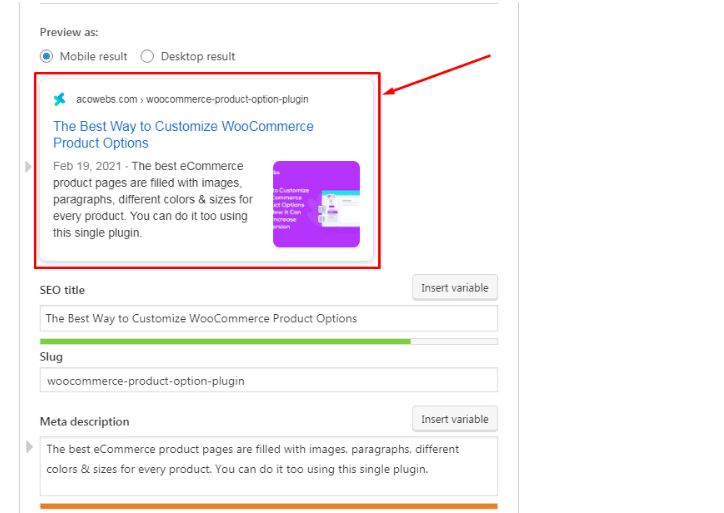 Yoast is the market leader for WordPress website SEO. This single plugin provides you all solutions in a single click. You can add a custom Meta description and page title for each product you add. This tool also gives you free suggestions to improve it.
Step 2 – Setup Webmaster and Analytics
The two Google-owned programs, Google Search Console, and Google Analytics are specially designed for webmasters and help you in getting crystal clear insight into your site. GSC is mostly used for adding your site to google's database and checking what problems or improvements you can make. It's also used for monitoring backlinks. On the other hand, analytics is a testing tool and provides real-time insight into your website traffic.

With these two, you will also be able to know what pages of your entire site are getting traffic from search engines and what visitor behavior is on your site. Their age, gender, location, device; all this information would surely help you decide better plans.
Step 3 – Be Found on Social Media
No one including me will buy from a company that has no presence. As it is an online store, you must have to set up your social media pages for your business. Here are the most important ones:
Facebook

Twitter

Instagram

Youtube
All of them are free to set up in a few clicks. Making these will not only help you getting customer's trust but also trust from different search engines
Step 4 – Be Found in Search Engine
As mentioned earlier, SEO is divided into On-Page & Off-Page. A very basic on-page knowledge and understating to use Yoast will be more than enough to start getting a little presence. It wouldn't be an alternative to SEO Expert but it would be a little satisfactory because you are at the start of your business.
Step 4.1 – Get to know what people search
Many free and paid tools give insight into what people type in search engines. These are typically called, "Keywords". Get a list of keywords related to your business and try using them in your product description, Meta description, on your page. Don't overdo it. It will be considered stuffing.
Here's a list of a few paid and free tools that have performed well in the market.
| | |
| --- | --- |
| Free Tools | Paid Tools |
| Google Keyword Planner | Ahrefs |
| Keywordshitter | Moz |
| SEO Surfer Chrome Extension | KeywordEverywhere Chrome Extension |
| Ubersuggest | Kwfinder |
Step 4.2 – Get Mentioned
Different SEOs worldwide noticed a pattern that search engines prefer a site to rank higher which has more backlinks from related and authoritative sites. (Here authoritative sites mean aged, old, and those sites that are brands in the online industry).
In this strategy, you write different articles for different blogs and request them to publish on their website with a link back to your website under your preferred anchor (clickable text). The more backlinks you make the better ranking you'll get.
Step 4.3 – Get Visible with other types of backlinks
After guest post links, there are a few more important types of backlinks you should start working on. These are comments, profiles, wiki, and pdf. 
Enjoy your efforts Now
In this complete guide of starting and ranking your eCommerce site; we have put maximum effort into explaining things shortly but completely. It is a step by step continuous process. All these strategies are really effective and will definitely help you rank on the first page of Google in the long run.
Aviv Digital is one of the leading digital marketing training institutes in Calicut, Kerala. Our globally recognized certification programs include advanced SEO training, SEM, SMM, Email Marketing, and Inbound Marketing courses. We also provide detailed online classes for digital marketing courses. For more details regarding course schedule and workshops,  contact us through a quote or call us right away at +91 81569 98844