Digital marketing enables real-time communication with your customers globally, and vice versa, possible.
With effective strategies for promoting your marketing campaigns across digital platforms and social media, you can grow your business digitally and earn multifold.
To easily understand and learn all the important concepts of digital marketing, you must choose the best digital marketing courses in Calicut.
An ideal course can help you to build the capabilities and skills to improve your career in digital marketing.
In this blog, we will help you with the best digital marketing courses that can deliver you vital and useful insights to kickstart or improve your digital marketing skills and thrive in this highly competitive and demanding industry.
Why Learn Digital Marketing in Calicut?
Being the colonial city that attracted tourism and trade, Calicut has been a major attraction of Malabar, Kerala.
Pursuing your career in digital marketing in the 3-tier city of Calicut makes you comfortable living in a strategic location with proximity to major cities like Bangalore, Cochin, Coimbatore, and Mysore.
Kozhikode Beach, Kadalundi Bird sanctuary, Pazhassiraja Archeological Museum, Mananchira, Stone Corner, Sarovaram Bio Park, etc. are the stunning tourist attractions of Calicut, you can enjoy being at Calicut.
CyberPark, Kozhikode is the prominent hub of IT services, providing numerous job opportunities to qualified candidates.
With robust architecture and amazing digital connectivity, you get to experience the ideal career growth and knowledge & skill development on the right path.
Top Digital Marketing Courses
Following courses are the best digital marketing courses in Kerala available from where you can improve your skills in the field of digital marketing.
AvivDigital Digital Marketing Course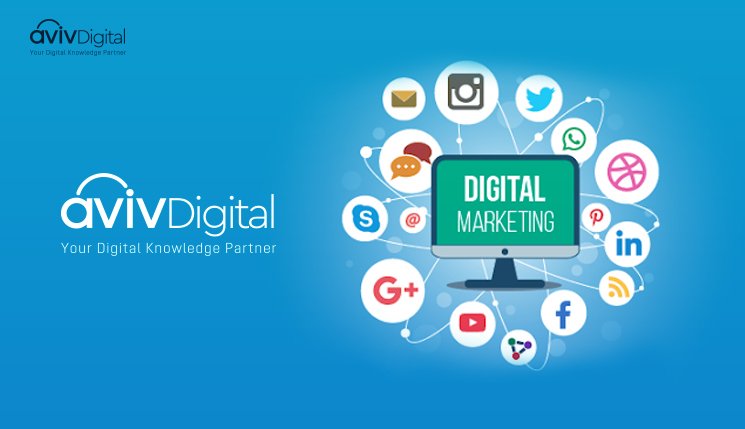 Avivdigital is the most trusted and pioneered digital marketing course provider that offers the best digital marketing course with an in-depth curriculum-aligned for your future career perspectives.
This digital marketing agency is listed and certified by Google and Bing. AvivDigital has been known for the best training and lives project-based coaching experience imparted to digital marketing aspirants.
With offices situated in different locations of India, like Kochi, Calicut, Gurgaon, Mumbai, and Bangalore, Avivdigital has a tradition serving more than 800 clients across the world, and the majority of the clients are from the Middle East, the UK, the US, Australia, etc.
The 5-months job-oriented diploma course for digital marketing provided by Avivdigital is a unique yet most worthy course that can be accessed both offline and online according to your comfort and convenience.
If you wonder why to choose AvivDigital for learning digital marketing, then here are the features that make AvivDigital most unique and recommended course:
Right from 2012, AvivDigital had achieved 14+ international awards across various segments and could contribute to the renowned web portals and industry magazines.
The course is focused on providing full hands-on coaching and completely ousts the olden PPT method. With live coaching and mentoring, the course keeps aspirants highly engaged.
Course Highlights:
You get exposure to daily live Zoom sessions, which are specially handled by experienced faculty.
The offline sessions are available at the Center.
You can get complete access to the whole session recorded worth INR 9,997.
With the VIP Facebook Groups, (Private), you can get access to Q&A.
You get guaranteed placement support and a job-oriented internship
The preparation sessions for Mock interviews are available
Live projects and assignments are available for practical exposure and real-time experience
You get access to more than 15 international certificates
The training sessions are purely instructor-led
The sessions are completely interactive
You get more accessibility to the free marketing tools
The content is advanced and of high quality
Syllabus Details of the Course
Social Media Marketing (SMM)
Facebook- events, tools, pages, account basics, business manager, custom audience, persona, campaigns, traffic and engagement ads, retargeting tactics, brand awareness, app installs, video views, messages, lead generation, conversion ads, messages, pixel, store traffic.
Instagram- account types like personal, branded, or fan page profiles, bio links, sales funnels, hashtag strategies, effective posting, shoutouts, UGCs, follow-me-follow-you strategy, growth hacks, tools, influencer marketing, campaign monitoring, and tracking.
Pinterest- Personal and Business accounts, website linking, optimizing profile, boards, pins, terminologies, tagging, ads, campaigns, creating the audience.
LinkedIn- setting profile, optimizing, groups, pages, article, network, ads, tagging
Twitter- Ads, Fundamentals, Spaces
Snapchat- Fundamentals, ads, tagging
Social Media tools like Hootsuite and Buffer
Data Studio and Facebook Analytics- Reporting tools
Search Engine Optimization (SEO)
SEO Basics- Keywords set up, optimization, keywords planner, Ahrefs, SEMrush, etc.
Google Search Console – on-page and off-page
Link building tools and techniques
Reporting tools paid tools- SEMrush, Ahrefs, Screaming Frog
Search Engine Marketing (SEM)
Google Display Ads- Gmail ads, Responsive ads, banner ads
Google Video ads- Bumper Ads, Skippable Ads
Google Search Ads- Keywords, Types, Bidding, Call and Text ads
Google Ads- Account, Setup, Smart Campaigns, Setting up campaigns, tools, campaign optimization
Conversion Setup and Remarketing- setting up a custom audience
Mobile Advertising- App engagement and installation
Shopping Advertisements- Dynamic ads and setting up Google Merchant Center
Bing ads-set up, campaigns, tools, optimization
Google Analytics- Setup, events, basics, tracking goals
Blogging
Setting up Adsense
Content Planning
Vlogging
Setting channel
Channel Optimization
Youtube videos and SEO
Podcasting
Mastering Podcast
Setting up Anchor. fm
Planning Content Calendar
e-Commerce Mastery
Book Publishing Mastery
Digital and Print Books- Kindle Publishing and Notion Press Publishing
Digital Course Creation Mastery
CMS Setup, course creation, and set up of 5 days Whatsapp class
Inbound Marketing & Content Marketing
Inbound marketing, fundamentals, content marketing, and content calendar
Email Marketing
Fundamentals, automation, mailing list, MailChimp
Native Ads
Native ads, campaigns setup, and optimization outbrain campaign, Taboola campaign
Chat Bot Mastery
Setting up automation, Manychat, building funnel
Marketing Automation
Setting up Zapier and IFTTT
Whatsapp Marketing
WhatsApp message Automation, Setup Business Account
Apart from the above-mentioned curriculum, you also get a one-month complete internship with interview preparations, final projects, and exposure to live assignments and projects.
Faculty Details
Avivdigital offers the choicest curriculum, and above all with a team of professional trainers who can mold you into digital marketing experts.
The trainers with their years of expertise and proven experience in the field of marketing and sales, are directly available to train you and get you equipped with the most advanced marketing training for your shining career.
The trainers of the course are as follows:
Rithesh Raghavan (Founder & Director, Acodez)- 17+ years experience in Sales, Marketing, IT field.
John P Manjaly (Founder & Director, Acodez IT Solutions )
Vipin Nayar (Founder, AvivDigital) – Digital Marketing Consultant and Coach
Vishnu K (Digital Marketing Analyst and Trainer) Google and Hubspot Certified Faculty
Adarsha TT (Digital Marketing Analyst) and experienced faculty
Course Duration and Fees
The Avivdigital digital marketing course is available for 5 months. The diploma course is available at a fee of INR 45,000.
When compared to other courses in the field of digital marketing that offer similar courses, the Avivdigital digital marketing course comprises all essential lessons along with live projects, hands-on experience, career-oriented learning, and job placement support.
Certifications Provided
Post completion of the five-month job-based marketing diploma course of digital marketing, you can achieve more than 15 international certifications that include the following major certificates such as:
STED council Government Certification
Google Certification
Microsoft Bing Certification
Hubspot Certification
AvivDigital Certification
In addition to these certificates, you can get the benefit of absolutely free tools, templates, and software worth Rs. 50,000.
With this premium digital marketing diploma course, you can get the best training that will help you improve your career in digital marketing.
Contact Information
To get further details regarding the course and clarify your doubts, visit the website:
Website: www.avivdigital.com
Phone: +91 8157998844
Email: info@avivdigital.com
Location details for Offline Coaching:
Door No. 40/383, 5th Floor,
Jos Annex, Jose Junction,
M.G.Road, Kochi-682016.
ClickMinded Digital Marketing Course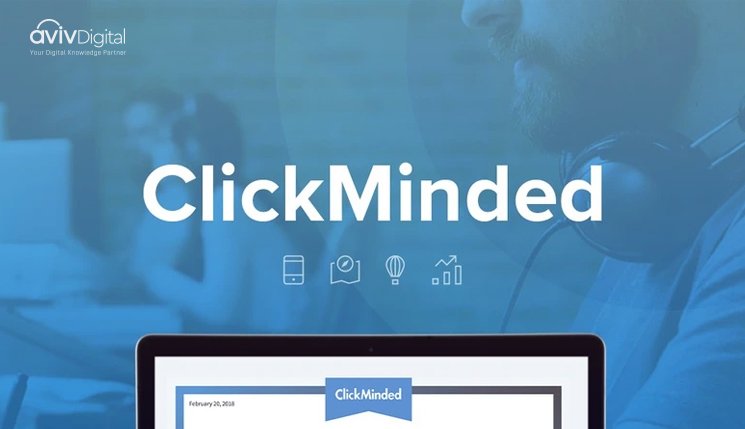 Clickminded offers a package of digital marketing courses that can make a learner evolve into a specialist in the field. The digital marketing course consists of 7 modules that are essential for an expert to learn and understand.
Syllabus Details of the Course
Search Engine Optimization (SEO)
Email Marketing
Social Media Marketing
Sales Funnel
Paid Advertisements
Google Analytics
Course Fee & Duration
To get full access to the package, you have to pay an amount of $1997. This is a certification course and you get it at discounted prices too. To know more about the courses, you can visit their website.
Pros
7 modules in one clubbed package are available
Real-time and interactive learning facility
Cons
Only online learning is available, no offline learning facility
Contact Information
Email: hello@clickminded.com
Udemy Digital Marketing Course
Complete digital marketing course from Udemy is a combination of all core concepts offered at affordable prices.
The course covers all the points concerned with the subjects like SEO, marketing, sales, Google Ads, etc. With interactive learning, expert-led classes, and projects the course is worthy for the future too.
Syllabus Details of the Course:
Setting up WordPress
Market research
SEO and SEO writing
Linkedin Marketing
SMM-Social Media Marketing
App Marketing
YouTube Marketing
Google Ads
Google Analytics
Facebook Ads
Course Fee & Duration
The whole course is scheduled for a 20-hours duration. The fee for Udemy Complete Digital Marketing Course is INR 8640. However, you can also get them at discounted prices which you can get to know from their website.
Pros
Affordable learning options
Project-based learning
Cons
Only online learning is available, no offline learning facility
Contact Information
website: https://www.udemy.com/course/learn-digital-marketing-course/
Simplilearn Digital Marketing Course
The digital marketing specialist course offered by Simplilearn is a premium course, with a primary focus on the core areas of digital marketing such as SEO, PPC, Brand Management, Web analytics, SMM, etc.
These digital marketing courses let you be aware of the skills in demand, and let you get equipped with the tools and techniques in this field.
Syllabus Details of the Course
Search Engine Optimization (SEO)
Social Media channels
PPC or Pay-Per-Click Ads
Facebook and Google Ads
Conversion Optimization process
Email Marketing campaigns
Mobile Marketing campaigns
Web Analytics
Content Marketing
Course Fee & Duration
The digital marketing specialist course is scheduled for 12 months with 14 main modules, and the course fee is INR 55999.
Pros
Real-time Projects
Live interactive learning
Cons
Online learning only, offline courses not available
Contact Information
To get further details regarding the course and clarify your doubts, visit the website: https://www.simplilearn.com/digital-marketing/
Udacity Digital Marketing Course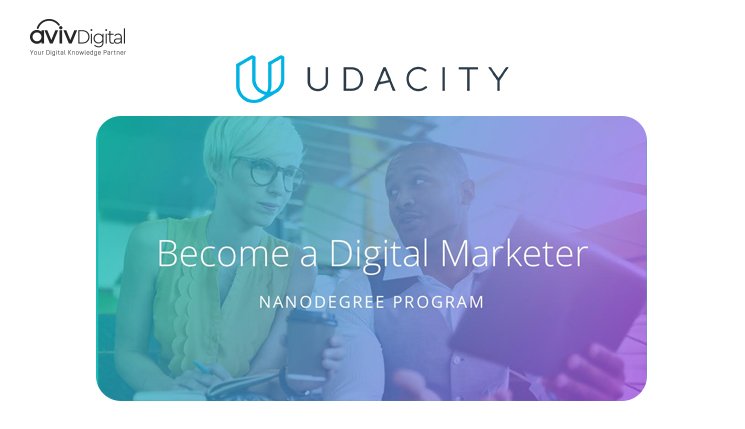 Udacity nanodegree digital marketing program is yeat another premium course that offers you the best understanding of the field of digital marketing in 360-degrees.
With the course, you can also learn how to build marketing content, use various social media platforms to market, how to make the content visibility high, and a lot more about the various promotional campaigns.
Syllabus Details of the Course
Internet Marketing Basics
Content Strategies
SMM-Social Media Marketing
Social Media Advertising- Facebook Blueprint
SEO-Search Engine Optimization
Google Ads- SEM(Search Engine Marketing)
Email Marketing
Display Advertising
Google Analytics- Optimization and measurement
Course Fee & Duration
To get complete access to this premium course, you will have to make a payment of $399, ie. about INR 29977.00 every month. The duration of the course is 3 months.
Pros
Technical support from mentors
Resume support
Real-world projects
Cons
Only online learning is available, no offline learning
Contact Information
To get further details regarding the course and clarify your doubts, visit the website: /course/digital-marketing-nanodegree–nd018
Upgrad
With certification courses and the best online learning platform, Upgrad holds the tag of the pioneered online digital marketing course provider with headquarters in Mumbai.
With more than 300 partners worldwide for hiring assistance, the platform provides a worthy digital marketing course you can learn at your ease from anywhere.
This advanced digital marketing course comes with certification and interesting yet core highlights of digital marketing covered.
Syllabus Details of the Course
Basics of Digital Marketing
Deep Dive on Digital channels
Integrated Marketing analytics strategy
E-commerce Bootcamp
Branding and communications
Marketing analytics specialization
Content marketing and social media Specialization
Marketing communications
Course Fee & Duration
The digital marketing course by Upgrad extends for a duration of three months and the course fee starts at INR 3252 to be paid every month.
Pros
The sessions are directly handled by experts in Industry.
You can run marketing campaigns live along with carrying out the course.
Cons
You get only online training, offline training is not provided.
Contact Information
To get further details regarding the course and clarify your doubts, visit the website: https://www.upgrad.com/
FAQ
Who should follow a digital marketing course?
Any learning aspirants who love to polish their skills in digital marketing can take up the course.
This is not just confined to digital marketing professionals or experts but extends to everyone who works with businesses that have a digital presence.
Entrepreneurs, small business owners, marketing specialists, and marketing managers can also take the course.
Why are these the best online courses in digital marketing?
Once you browse the Internet for an answer related to 'best digital marketing courses, then you can get many results with various digital marketing courses.
There can be some courses that concentrate only on SEO, while there are some truly focused on other niches of digital marketing too.
The courses recommended above are digital marketing courses that cover the points from every single area of the digital marketing field.
This includes covering many concepts related to the area of digital marketing. The courses mentioned above are suitable for every aspirant, including the pure beginner, intermediate learners, and experts as well.
What are the 5 Ds of the digital marketing course?
The process of digital marketing is endless and keeps on evolving every day. The term Digital itself describes the essence of the digital marketing process.
The 5Ds of digital marketing are Digital Platforms, Digital Technology, Digital Data, Digital Devices, and Digital media. The best digital marketing courses revolve around all these five core areas.
Aviv Digital is one of the leading digital marketing training institutes in Calicut, Kerala. Our globally recognized certification programs include advanced SEO training, SEM, SMM, Email Marketing, and Inbound Marketing courses. We also provide detailed online classes for digital marketing courses. For more details regarding the course schedule and workshops, contact us through a quote or call us right away at +91 8157998844 or +91 81569 98844