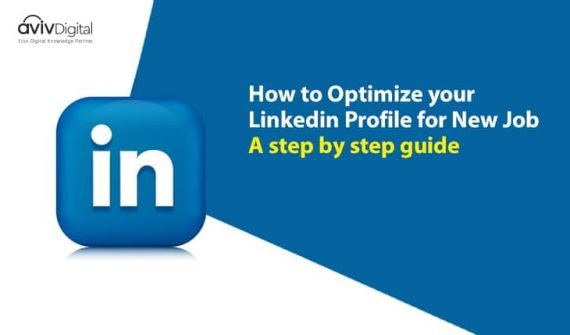 Social Media has become important for a job search in India and worldwide. Particularly, LinkedIn has quickly become the go-to place for job seekers.
As per recent statistics, LinkedIn has around 11 million job listings while around 100 million job applications are submitted on Linked Monthly. 94% of the recruiters use LinkedIn to vet their candidates through their Linkedin Profile.
All these above statistics suggest that LinkedIn has become quite important for both job seekers and recruiters. It has become the medium for companies and particularly startups to hire top talents with complete vetting.
But of the half-billion LinkedIn users, how can you distinguish yourself so that recruiters look at your profile? What different approaches can you take to optimize your LinkedIn Profile for job search?
In this blog, we have broken down various methods in which you can distinguish yourself and place your profile highly by optimizing your LinkedIn account.
Optimizing your LinkedIn profile for job search – Covering basics
You might be thinking that your profile is updated, with all background information in it, with a profile picture and all. But the question still arises, why are you not getting as much attention as you should with the profile information? What is it that you have not been doing to optimize your LinkedIn Profile for a new job?
So, before we delve deep to understand how to optimize your LinkedIn profile, let us understand some basics that must be fulfilled in order to start optimization:
A Professional Profile Picture
On LinkedIn, you are building a brand for yourself. For a brand to get more recruiter heads turned, you must have a professional look. You should dress professionally and get yourselves photographed.
Try to smile and have a positive vibe so that a positive message gets sent to the recruiters. Any recruiter would look for professionally sound candidates and your profile picture can go a long way in getting your profile noticed.
A brief LinkedIn Summary and Headline
Your profile must have a brief summary and a headline where you tell the recruiters about yourself and what you desire to do in the future in brief. The headline tells the recruiter about you to the recruiter in a very crisp line. Therefore, it is a must to have in your profile.
Your career timeline
You must update your profile with what you have done and doing in a chronological manner. Creating a timeline helps the recruiter understand your career path and growth over the years. You can even mention your full-time and part-time gigs as well. But make sure to align the career information in chronological order.
Education, training and certification details
You must update your education details right from your high school to your postgraduate and Diploma details. These details must cover your training information, certifications, and other educational details as well so that the same is available to the recruiters when needed.
Now if you have completed all the pointers mentioned above, your basics are covered with the General tips for your LinkedIn profile. Now, your LinkedIn profile is ready to be optimized. Let us get your profile optimized and ready for more relevant job invitations.
Optimize your new grad LinkedIn Profile – 2022 Updates
Once your basics have been covered, you should now focus on optimizing your LinkedIn Profile to get your dream jobs. Here is how you can optimize your profile to garner the best results:
Optimize your LinkedIn Profile Headline
One of the first things that a recruiter would see on your LinkedIn profile is your profile headline. You can consider this as an elevator pitch that grabs other people's attention.
In job searches, your name and headlines would show up first and it must be informative and attractive so that the recruiter would click on it. Here is how you can optimize your LinkedIn profile headline –
Show your value proposition – You must showcase your expertise and specialization here. It will be your Unique Selling Proposition (USP).
Showcase your certifications and accolades – You must show your certifications such as '30 under 30 in Forbes List of young innovators'.
Do describe your speciality and responsibilities held.
You must note that the LinkedIn headline length is limited to 220 characters. Therefore, you should be creative to write the same in the limited characters.
Optimize your Profile with Endorsements & Skills
LinkedIn provides the users with a unique proposition of showcasing your core competencies by adding skills that you possess.
Therefore, adding all your skills to the LinkedIn profile will help you optimize your LinkedIn Profile. In other ways, skill sets entered by you act as keywords for recruiters.
The more keywords you have, the more chances you would have to attract employers and gain prominence in your network of potential recruiters.
While having a skill set is one thing, getting the same upvoted or endorsed by colleagues, managers or friends makes your skill set legitimate and fit to be considered. Therefore, you must ask your managers or friends, or colleagues to endorse you on the skillset that you have entered.
Optimize your Linkedin Profile Summary
While the LinkedIn Profile Headline attracts recruiters and connections, the summary is what will cement your place in their recruitment space. It is arguably the most important part of the profile as it sits on the top of the profile when anyone looks at it.
To optimize your LinkedIn profile summary, you must convey the most important facts about yourself in the first 150 characters only because the recruiters are too busy to read the entire summary and then make up their minds.
Therefore, give them something to get them reading your profile in its entirety. Here are some tips to optimize your LinkedIn Profile Summary –
You must open your LinkedIn summary with a summary of your major skills set and accomplishments over the year. Do not write down every accomplishment – only the major ones.
Then, you must provide an overview of your employment details, education details and relevant training, certification and licenses.
In the end, you must end the summary with a call-to-action by providing your email ID so that the recruiters connect you efficiently.
Optimize your LinkedIn Profile as a potential resume
LinkedIn has made the use of resumes in recruitment a little obscure and obsolete. Many recruiters now take up to LinkedIn to understand the candidate, vet them with their skill sets and understand their career trajectory as well.
The recruiters can easily see a candidate's education, licensing, certifications, and details of their previous employment. It helps them understand the candidate's credibility better.
Moreover, the recruiters also get to see endorsements from previous employers and reviews from previous managers to understand the candidate's on-the-job behavior, skill sets, etc. something that a resume never offers.
Therefore, your LinkedIn Profile is your potential resume, and therefore, you must optimize your LinkedIn resume to attract more job invitations and recruitment posts.
General Optimization methods for your Linkedin Profile
Now that you have optimized various important sections of your LinkedIn Profile, there are many more aspects that you must use to attract more recruiters and job invitations. Some of these techniques are as follows:
Use #OpenToWork Profile Photo Frame
LinkedIn launched this #OpenToWork profile photo frame feature last year as part of its enriching platform experience for both job seekers and employers. In this feature, there are two frames available such as:
Job Seekers – #OpenToWork
Employers – #Hiring
As a job seeker, you can use the open-to-work frame to show the recruiters and your entire network that you are looking for a job change and seeking employment.
As per LinkedIn, the #OpenToWork profile frame increases the chances of a job seeker receiving relevant recruitment invitations by 40%. Similarly, recruiters use #Hiring photo frames to reach more talents through their network and also by search results on the LinkedIn search engine.
Use Keywords on LinkedIn
Keywords have become much more important in the context of job searches on LinkedIn. They act as a signpost that tells the potential recruiters about who you are and what your talent is.
For example, if you work in the content department, some of the common keywords that would describe your profession would be:
Content writer
Content Editor
Web Content Writer
WordPress Content Manager
Content developer
Creative Content writer etc
The recruiter would see these keywords and would immediately understand your skillset. But to bring them to your profile, you must use these keywords in various places in your profile such as Headline, Summary, etc. You can even get keyword suggestions from LinkedIn's skills tool.
Follow your dream company and ideal employers
We all have a dream company where we want to work someday. While some people have one such company, many people have different companies that they would want to work for.
Therefore, it is advisable to follow your favorite companies and favorite recruiters. This will help you know about the vacancies when they post on their wall or in the jobs section.
The recruiters of these companies not only post job vacancies but also career tips and recruitment details that they follow. Such tips will always help you optimize your profile and be ready for recruitment when it happens.
Explore the Career Explorer Tool
LinkedIn has the Career Explorer Tool which helps you understand the job demands during career changes. It is here that you can learn about different skill overlaps across the industries and positions.
You can also discover the emerging roles and requirements for the roles that are being advertised as well as career tips on how to ace them. You can also check out the skills that are high in demand. In this way, you can fill the gaps that your skillset has.
Build your Network
LinkedIn is a networking tool. Like you make friends on Facebook, you can make great connections here by building your network.
However, making a friend on Facebook and connecting on LinkedIn is quite different. You would be required to have more etiquette on LinkedIn so as to not give a feeling that you are spamming their inboxes.
Therefore, you can send a connection request with personalized notes. It must state very briefly why you want to be in a connection with the said person. If the connection accepts your request, do thank them for accepting you.
Finishing up
If you are still looking up jobs on websites or by traditional methods of sending resumes to hiring managers, it may be that your resume would be sitting somewhere deep in the recruiter's inbox.
Therefore, it is not only about optimizing your LinkedIn Profile but also about optimizing your method of Job search. Getting on LinkedIn should now be your priority given that all recruiters have moved here and have started advertising their openings.
Through the methods of optimizing your LinkedIn profile for a new job, you can optimize your profile and start getting employed.
FAQs
Why Optimizing Your LinkedIn Profile Should Be One of Your Top Priorities?
Optimizing your LinkedIn Profile should be one of your top priorities because it helps in bringing out your profile to a lot more recruiters than a simple profile. By optimizing your profile, you can bring it to the top of the result page if a recruiter searches for a relevant candidate.
How to Build the Perfect LinkedIn Profile according to Recruiters?
To build the perfect LinkedIn Profile according to recruiters, you must follow the given instructions here:
Optimize your Headline
Optimize your summary
Update your educational details
Update your career details, licensing details as well as certifications
Use keywords more often according to job requirements in your field
Update your skill sets and get endorsed by your managers, co-workers or friends
Get review of your employment done by previous managers and employers
Aviv Digital is one of the leading digital marketing training institutes in Kochi, Kerala. Our globally recognized certification programs include advanced SEO training, SEM, SMM, Email Marketing, and Inbound Marketing courses. We also provide detailed online classes for digital marketing courses. For more details regarding the course schedule and workshops, contact us through a quote or call us right away at +91 8157998844 or +91 81569 98844