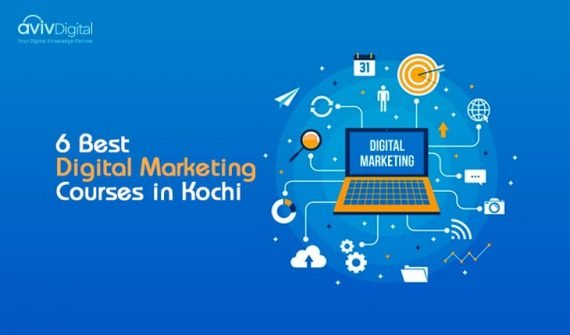 Digital transformation has been a trend-setter ever since gadgets and smartphones have started to grab the attention of people across the globe.
There were about 381,000 digital marketing job openings posted on LinkedIn in 2020. There was about a 63% increase again in the last six months for this particular job position.
Every business is now online, and various campaigns, promotional activities, and marketing techniques are ruling the market.
Digital marketers are highly on-demand, as every company needs to establish a strong online presence to market the products and services.
Digital marketing courses are everywhere, however, the right course is the one that covers all the basic aspects along with real-time hands-on training. We are here to bring the top 6 digital marketing courses in Kochi to your notice.
You need to know the difference between the courses offered by various digital marketing institutes before you enroll.
Hence, we have come up with the best digital marketing institutes in Kochi, from where you can learn both offline and online digital marketing courses.
Why choose Kochi to learn Digital Marketing
With people from various parts of the nation and even the world, Kochi has proven to be the most comfortable place in Kerala for professional well-being and efficiency. The smart city is the hub for industries, businesses, and startups,
Being the commercial capital of Kerala, Kochi is the best place to learn and polish your digital marketing skills. Wondering why?
Well, Kochi serves as a base for many growing companies and the best digital marketing agencies, with more opportunities for your placement soon after you complete your career.
Kochi has been the favorite place for young minds for growing their businesses and improving their careers.
Cochin Infopark has many companies with numerous opportunities for digital marketers. The major SEO companies and digital marketing agencies thrive in the organizational cluster of Infopark.
There are other spaces for digital marketing opportunities like companies under Cochin Special Economic Zone, IT Tech Park, KINFRA, and many more.
In short, Kochi is the right place to grow your digital marketing career because:
There are abundant job opportunities 
You get paid enough
Demand for digital marketers are high
There are many digital marketing companies based in Kochi
Many MultiNational Companies operate in Kochi, catering globally, to the digital world.
Top Digital Marketing Courses in Kochi
Now, let's deep dive into the best digital marketing courses in Kerala which can make your career successful and help you on the path of professional development too.
Here are some recommended courses which will be useful to improve your digital marketing skills.
Avivdigital
Agency certified and listed by Google. Since 2012, the parent company of AvivDigital is a proud Google partner. The company also holds a tag of accreditation from Microsoft as the Bing ads certified agency.
The company offers pioneered digital marketing solutions across India, with offices across various locations such as Mumbai, Gurgaon, Bangalore, Cochin, and Calicut.
Ever since 2011, the company has served about 800+ clients worldwide, with major clients from the US, UK, Middle East, Australia, and so on.
AvivDigital has introduced a 5 Months Career Oriented Diploma Course, which can be taken online or offline at your convenience.
Now, why AvivDigital for your digital marketing course?
From 2012, AvivDigital had bagged more than 14 international awards, in various categories of recognition. The firm is well-known for its contribution to many leading industry magazines and online portals.
The course focuses on complete hands-on training, which replaces the traditional PPT method. The agency aims at providing live mentoring sessions with activities that keep the learners engaged and active.
Avivdigital digital marketing course comes with the following benefits:
Globally recognized certifications
Real-time experience on the projects
Job oriented internship
Instructor-led training sessions
Complete job assistance and support
Live projects and assignments
Interactive training sessions
Free tools for marketing
Best quality advanced content
Want to know more about the course? Let's jump into the course details:
Course Highlights
With the course from Avivdigital, you will be able to get the following benefits:
The online batch can experience daily zoom class (Live), handled by experts.
For the offline batch, daily classroom training will be held at the Center
The recorded course of the session is also available worth INR 9,997.
You can make use of the private VIP group on Facebook for Q&A
Get 100% assured placement support and assistance
Mock interview preparation
Practical Experience will be obtained with the live projects
15+ international certificates
Course Syllabus at a Glance
The course structure of AvivDigital career-oriented diploma course (5 months) is as shown below
SMM or Social Media Marketing Modules:
Facebook
Facebook Account set up, event, page, and groups creations
Facebook Tools
Business Manager Account
Customer Persona
Facebook Custom Audience
Facebook Campaigns: Brand Awareness, Reach, Traffic Ads, Engagement Ads, App Installs, Messages, Video Views, Lead Generation, Messages, Conversion Ads, Store Traffic, Facebook Pixel
Instagram
Types of Accounts: Branded Account, Personal Account, and Fanpage Account
Instagram Sales Funnel
Importance of Bio Links
How-to Post effectively and strategies- Hashtags, Follow me Follow-You Strategy, Shoutouts, User Generated Contents
Instagram Growth Hacks
Instagram Tools
How to track Campaigns
Pinterest
Pinterest Introduction & Account Set-up: Personal Account and Business Account
Profile Optimization & Website Linking
Pinterest Terminologies: Pins, Boards, How to Create them
Pinterest Tag Setup
Pinterest Ads and Campaigns: Ads Set-up, Pinterest Audience Creation
Linkedin
Linkedin Basic- Profile Optimization, Article, Groups, pages
Linkedin Networking
Linkedin Ads
Linkedin Tag Setup
Twitter
Twitter Fundamentals
Twitter Ads Set-up
Snapchat
Snapchat basics
Snapchat ads
Snapchat tags
Social Media Tools
Reporting
Data studio
Facebook analytics
Search Engine Optimization (SEO)
SEO Basics
SEO Keywords Optimization and Setup
Google Search Console
Low-class activities
Middle-class activities
Advanced Link Building Techniques
Competitor Link Analysis
Auditing
Algorithm
Guidelines
Reporting
Paid Tools – Ahrefs, SemRush, Screaming Frog, etc.
WordPress Website Setup
Buying Domain & Hosting
Theme Setup
Website Customization
Search Engine Marketing (SEM)
Google Ads
Express Account and Smart Campaigns
Tools and Campaign Set-up
Google Search Ads
Types of keywords
Bidding Types
Text ads
Call ads
Google Display Ads
Banner Ads
Responsive Banner Ads
Gmail Ads
Google Video Ads
Remarketing and Conversion Set-up
Custom Audience Setup
Mobile Ads
App installment
App engagement
Shopping Ads
Dynamic Shopping ads
Google Merchant Center Setup
Bidding & Extensions
Reporting
Bing Ads
Bing Ads Set-up
Campaigns Setup
Tools and Campaign Set-up
Campaign Optimization
Google Analytics
Google Analytics Basics
Google Analytics Set-up
Google analytics event setup
Google Analytics goal tracking
Affiliate Marketing
Affiliate Set-up
Niche Selections
Basics of Affiliate Marketing
Amazon Affiliate
Blogging
Content Planning
Adsense setup
Vlogging Mastery
Youtube Mastery
Channel Setup
Channel Optimization
Youtube SEO
Podcasting
Podcast Mastery
Anchor.fm Setup
Content Planning Calendar
e-Commerce Mastery
POD (Print On Demand)
Dropshipping Mastery
Book Publishing Mastery
Digital Books – Kindle Publishing
Print Books – Notion Press Publishing
Digital Course Creation Mastery
Course Creations
CMS Setup
5 Days Whatsapp Class Setup
Inbound Marketing & Content Marketing
Basics of Inbound Marketing
Content Calendar
Email Marketing:
email Automation setup
mailing List Building
Mailchimp Setup
Native Ads :
various Native ads channels
Campaign setup
Campaign optimization
Outbrain and Taboola Campaign Setup
Chat Bot Mastery:
Manychat setup
Automation Setup
Funnel Building
Marketing Automation:
Whatsapp Marketing:
Whatsapp Business Account Setup
Message Automation
1 Month Internship
Live Project Exposure
Final Project Submission
Course Faculty
The course from AvivDigital is a lifelong asset to those who take them. The expert trainers with years of experience in digital marketing and related fields, directly teach and train you to get equipped with all the advanced digital marketing lessons for your bright career.
Below mentioned are the trainers:
Rithesh Raghavan, the Founder and Director of Acodez, with more than 17 years of experience in IT, Marketing & Sales.
John P Manjaly, the Founder and Director at Acodez IT Solutions Pvt Ltd
Vipin Nayar, Founder at AvivDigital, Digital Marketing Consultant & Coach
Vishnu K, Digital Marketing Analyst & Trainer, Google Certified, Hubspot Certified Faculty
Adarsha T T, Digital Marketing Analyst
Course Duration and Fees
The duration of this Digital marketing course is 5 months. This 5-month diploma course is available at a fee of Rs. 45,000.
This cost is much lower when compared to the other digital marketing courses available, however, the quality of the training provided is quite huge, with a great impact on the career.
Course Certifications
After the successful completion of this 5 months career-oriented diploma course, you receive 15+ international certificates including Government Certification (STED Council), Google Certificate, Microsoft Bing, Hubspot, Facebook Free Blueprint Certificate, and AvivDigital Certification.
Apart from these certifications, you also get free tools, software, and templates worth INR 50,000. Isn't that amazing?
Avivdigital Cochin is the premier institute across India, providing the best training in digital marketing to excel in the career.
Contact Details:
Phone: +91 8157998844
Email: info@avivdigital.com
Website: avivdigital.in/digital-marketing-courses-kochi
Location:
Door No. 40/383, 5th Floor,
Jos Annex, Jose Junction,
M.G.Road, Kochi-682016
Above TBZ Jewellers M.G.Road
Digital Vidya
With 11 years of experience, Digital Vidya offers digital marketing training to students online. The professional online digital marketing courses from the company have 44 modules with various digital marketing techniques and hands-on assignments.
Digital Vidya is also a pioneered online education site providing courses in various disciplines like technology, marketing, data analytics, big data, and many more.
Course Syllabus at a glance
Build and Promote blog
Search Engine Optimization
Search Engine Marketing
Social Media Marketing
Email marketing
Inbound Marketing
Web Analytics, and
Case study assignments.
Duration of the Course
The duration of the course is 3-6 months and the in-demand professional courses can be taken by entrepreneurs, freshers, and experienced professionals.
Pros
Instructor-led training
Assignments for real-time experience
Cons
No classroom training at Kochi, only online classes are available.
Visit the website for more details and queries:
digitalvidya.com
Simplilearn
Simplilearn is one of the best online Bootcamps that offer about 1500 live classes to the students every month in various disciplines.
The digital marketing specialist certification course from Simplilearn lets you excel in the major domains including SEO, Social media, content, email and mobile marketing, social media, PPC, etc,
The experience of training with real-world projects makes the sessions interesting and fun-filled along with hands-on expertise.
Course Syllabus at a glance
Mastering the SEO, Content Marketing, PPC, and Digital Analytics
Social Media, Mobile Marketing and Digital Strategy
Advanced Web Analytics
Advanced SEO
Advanced PPC
Advanced Social Media
Harvard Business Publishing Case Studies
Duration and Fee of the Course
The digital marketing specialist course has a duration of 12 months and costs INR 59,999.
Pros
Masterclasses by Facebook Team
Real-world projects
Cons
Only online classes are available
Visit the website for more details and queries:
simplilearn.com
Upgrad
Found in 2015, Upgrad is a leading online course and education training platform with headquarters located in Mumbai.
The platform is popular with about 300+ hiring partners and an outcome-oriented curriculum.
The advanced certificate in Digital Marketing and communication is the course with about 15 live sessions and 180 hours of content where you cover every major digital marketing concept.
Course Syllabus at a glance
Digital Marketing Laandscape
Digital Channels Deep Dive-I
Digital Channels Deep Dive-II
Marketing Analytics & Integrated Strategy
Capstone project & e-Commerce Bootcamp
Specialization in Branding & Communications
Specialization in Marketing Analytics
Specialization in Social Media & Content Marketing
Specialization in Marketing COmmunications
Duration and Fee of the Course
The duration of the course is 12 months the fee of the course starts at 3252 per month.
Pros
Industry experts led live sessions.
Run live marketing campaigns along with the course.
Cons
Only Online Training available.
Visit the website for more details and queries:
upgrad.com
Udemy
Udemy is one of the largest platforms that offers online courses to aspirants.
The site has about 155,000 online video courses about various fields, with details and major concepts covered, providing affordable options and budget courses.
Udemy has about 40 million students already enrolled in various courses like programming, technology, marketing, data science, and many more.
Course Syllabus at a glance
How to grow a business online from the scratch
How to make money as an affiliate marketer
Getting hired as a digital marketing expert
How to be a Freelance Marketer from Home
Duration of the Course
The complete digital marketing course by Udemy is a 22.5 hours on-demand video with about 35 articles and 10 downloadable documents.
Pros
Affordable price
Easy to understand
Cons
No classroom training at Kochi, only online classes are available.
No live projects or hands-on expertise
Visit the website for more details and queries:
https://www.udemy.com/
Coursera
Coursera provides a world-class learning experience with effective collaboration with 200+ leading institutes, companies, and universities.
From courses you can finish in a day, to long courses, Coursera offers free and paid options too. You get a hands-on project experience and certificate you can share with the professional network.
Course Syllabus at a glance
Marketing in a digital world
Digital Marketing Analytics in theory
Digital Marketing Analytics in Practice
Digital Media and Marketing Principles
Digital Media and Marketing Strategies
The digital marketing revolution
Digital Marketing Capstone
Duration of the Course
The Digital Marketing Specialization course is offered by the University of Illinois. It takes approximately 8 months duration to complete the course.
Pros
Self-paced learning options
Flexible schedule
Videos and Material for the course
Cons
No classroom training, only online classes are available.
Visit the website for more details and queries:
Conclusion
The digital transformation has seized many opportunities for businesses and companies to establish their presence online.
The offline and online digital marketing courses are helpful to get your skills added up and to establish a good career in this field.
While choosing the institute you wish to learn with, you must be careful to be wise enough. It is always better to have a credible platform where you get returns for your investment.
The above courses are highly recommended to you based on the quality these services offer after the successful completion.
FAQ
What are the eligibility criteria for a Digital marketing course?
To pursue a digital marketing course, you can For Digital marketing courses, you need to secure at least 50% marks from any stream in class 12.
Also, you can enroll in any online digital marketing courses, after 10th or 12th education.
What are the fees of Digital marketing in Kochi?
The best digital marketing courses are available at a feasible rate of Rs. 45000 for the whole curriculum along with the real-time coaching.
Avivdigital offers the best digital marketing training with placement assistance covered under the cost you invest.
Though there are many other courses available at still cheaper rates, the quality and support for placement opportunities have to be ensured.
What is the salary for Digital marketing jobs in Kochi?
The beginner level salary in the field of SEM specialists counts to an average value of INR 2,80,000 per year.
If the experience is nearly 4 years, then they can earn an average salary of INR 3,63,547 per annum.
Aviv Digital is one of the leading digital marketing training institutes in Kochi, Kerala. Our globally recognized certification programs include advanced SEO training, SEM, SMM, email marketing, and Inbound Marketing courses. We also provide detailed online classes for digital marketing courses. For more details regarding the course schedule and workshops, contact us through a quote or call us right away at +91 8157998844 or +91 81569 98844