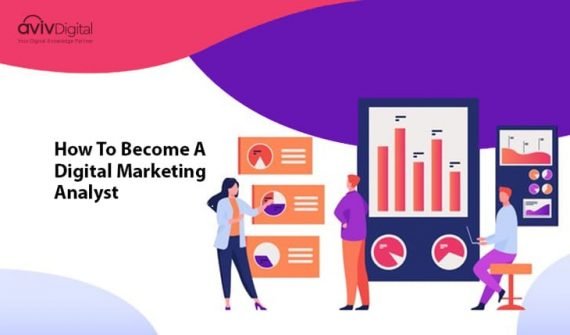 Digital marketing is spreading its wings in various aspects, where companies are now looking for multiple ways of promoting their products and services digitally. To enhance the reach of a product in the digital market, several companies find a digital marketing analyst who can prepare some resources to reach potential audiences.
The role of a digital marketing analyst is to compile the company's marketing with the latest trends, where the products can reach whole new audiences. If you are among those who have some ambitions to become a digital marketing analyst, this article focuses light on understanding the role of a digital marketer.
How to Become a Digital Marketing Analyst?
A digital marketing analyst works similarly to its name, where you have to perform some research on the latest marketing trends and stats.
Then, you can use the stats and trends to enhance the reach of the products, where most users will see them and make a bid.
They help the team prepare marketing strategies as per the trend, which helps the business achieve more success in a period. Also, digital marketing analysts must perform some customer research to understand their behavior and testing multiple campaigns.
Several digital marketing analysts at least pursue a bachelor's degree in the respective genre or attend some other digital marketing courses to understand it completely.
Also, nearly 17.4% of digital marketing analysts have a master's degree. In addition, some digital marketing analysts have associate degrees, where they understand the basics of digital marketing.
The main factor in becoming a digital marketing analyst is experience, which can become a significant consideration. However, if you have performed some marketing internships and other digital marketing, becoming a digital marketing analyst is not complicated.
Essential Metrics for a Digital Marketing Analyst
A digital marketing analyst must understand Google analytics to perform the research, which will help them understand the trend.
Below are some crucial Google analytics every digital marketing expert must follow to promote the services to a larger group of audience.
Audiences
If you are not aware of your customers, you lag a lot to promote your services. You need to take care of your audience and include other information like demographics, devices, location, and their interest.
If you have done proper research about your audience, then you are going on the right path to enhance the ROI of your business. Knowing the audience is the first and crucial metric for a digital marketing analyst, where he can understand the audiences and promote the products to the relevant buyers.
Customer Behavior
The metric deals with the activity of a viewer on the website. It will show you what a customer is finding on the portal and which page he is visiting for a longer time. Also, a digital marketing analyst will get the average time a customer is on the portal to find some solutions.
Customer behavior helps a digital marketing analyst to find out the retention and engagement rate on the website. You can also find some problems on the website which the customers are facing while finding the services.
Acquisition
You need to gather information, how your audiences are getting on your service page. The acquisition helps a digital marketing analyst to understand the source of customer's interest to visit the page.
You can dig into various channels (SEO, Organic Traffic, Advertising, PPC, social media, emails, etc.) to know their source and interest.
The acquisition allows you to compare various channels to run some campaigns to generate more traffic on the portal.
Most customers get recommendations from social media or search engine advertising, which you can figure out to know the most active source of customer gathering. You can invest in those sources to gather several audiences on the portal.
Conversions
It allows you to get the stats about the actions of the customers on your approach. Conversion mainly acts in the funnel, where you can find out the customer's activity on what you are expecting from them.
Conversion rate is also a crucial metric in google analytics, where you can find out your viewer's actions on the services.
Google analytics aim to separate data into multiple dimensions and metric, which help a digital marketing analyst find out the customer's behavior on the platform.
Businesses need a digital marketing expert who can look forward to finding ways to enhance the reach to multiple users. Metrics help a marketing analyst to understand their performance and improve them with time.
Digital Marketing Analyst Job Description
A digital marketing analyst is a crucial part of the business finding the strategies and sharing them with the marketing team. Also, the analyst needs to look over the company's digital marketing performance and find ways to enhance them.
The analyst must find ways to maximize the business's revenue by using their marketing skills and turning data into valuable insight.
The job responsibility of a digital marketing analyst are:
Prepare a tracking mechanism on mobile and web apps to monitor customer behavior.
Work on some trends and understand the competitor's next moves to share the strategies with the marketing team.
Optimize the business's online presence, content to the funnel conversion, boost customer experience and increase customer's LTV.
Create a dashboard and the data set to discuss it with the HOD's of the organization to find out various ways of enhancing the services.
Compile the marketing skills with the in-house team to create a better relationship of business with the customers.
Degrees crucial to become a digital marketing analyst
Google Analytics Individual Qualification (GAIQ)
Bachelor's or master's degree in marketing or economics. 
Knowledge of statistical models. 
Understanding of multiple analytics programs.
Digital Marketing Analyst Salary
A digital marketing analyst has multiple payrolls in an organization to get nearly $50,000 to $60,000. The figures are quite fantasizing, which will make you work on your skills to become a digital marketing analyst.
What kind of person makes a great marketing analyst?
In today's context, the need for a great marketing analyst is becoming crucial in every organization, where companies are searching for a skilled person to perform marketing analytics.
You need particular skills to become a fantastic marketing analyst:
Account Management Skills
Article Writing
Email Newsletter Design
Brand Promotion
Marketing Trends
Community Management
Competitive analysis
Content Curation
Content Management System
Content Strategy
Conversion Rate Optimization
Copywriting
Content Management
Data Management
Digital Advertising
Digital Marketing Analytics
Display Advertising
Email Marketing Software
Facebook Marketing
Google Ads
Content Development
Copy Editing
Creative Writing
Conclusion
The Digital Marketing Analyst job is a fantastic career for marketers, where they can establish a great resource to enhance the customer engagement on the website. Businesses always need a marketing analyst who can go with the market flow and prepare some tactics to improve the conversion rate on the portals.
Companies hire a person with Google Analytics certification, which ensures the quality of that person in Marketing. Google is the biggest platform to perform digital marketing, where you can find yourself as an expert to apply in multiple organizations. The marketing team needs some data and stats, which helps them prepare some of the best reasons to get more audience.
Aviv Digital is one of the leading digital marketing training institutes in Kochi, Kerala. Our globally recognized certification programs include advanced SEO training, SEM, SMM, Email Marketing, and Inbound Marketing courses. We also provide detailed online classes for digital marketing courses. For more details regarding the course schedule and workshops, contact us through a quote or call us right away at +91 8157998844 or +91 81569 98844