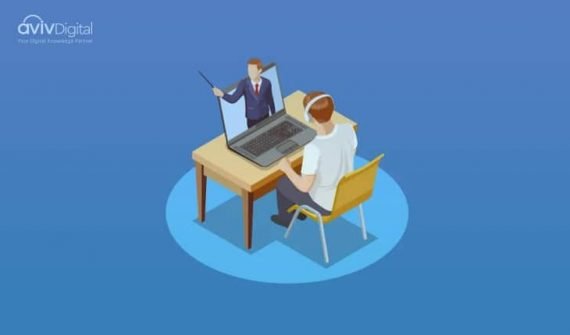 Remember your phone had broken down and you were desperately searching for a budget smartphone in your range. You scoured every website link trying to learn more about the smartphone that you wanted to buy.
You even searched on comparison videos on YouTube to better understand your phone and look if there was a better phone available. Even after having bought the smartphone, you went back to look for certain functions of your smartphone that you couldn't comprehend.
Knowingly or unknowingly, you stepped into the field of E-learning to learn and comprehend the features of your smartphone.
The E-learning industry has grown tremendously over the past decade. Market research firm Global Industry Analysts had projected that the E-learning sector would amass $107 Billion by 2015 and it surpassed the target. Within 10 years, the market is slated to triple and reach a revenue of more than $325 Billion by 2025.
With such heavy forecasts coupled with uncertainties in the education sector due to Covid19 regulations, the E-learning sector is growing at an exponential rate. Who would have thought that learning would become a process to be completed from home?
With the market slated to grow exponentially in the coming years, it is the perfect time to create and sell an online course. But while creating an online course is one task, selling it is a daunting task.
In this blog on 'how to sell an online course', we have broken down the tidbits of online course marketing, step by step guide to sell an e-learning course, and to adhere to different forms of marketing to sell the course online.
But before we delve deep into how to sell an online course, we must understand why you should create and sell an online course in the first place –
Why create Elearning course?
The best answer to the above question is because you want to make people experts in the field and earn money while doing that. Had the same answer been given in the 2010s, the prospect would not have held up.
But with global uncertainties arisen due to the pandemic, the vortex of thinking has significantly changed. With Work from Home quickly taking over the working population, Education from Home has been another giant shift.
But keeping aside the general assumption, the first and foremost criteria of why one should create and sell an online course is being sure of why you want to do it.
While the most obvious reason is money, your core aim should always be towards pushing education. Here are some reasons as to why one should create online courses:
Huge Revenue Source
As per the forecast, the global e-learning revenue might touch $325 Billion 2025, three times jump from the global revenue that stood up in 2015.
Creating and selling online would be the most profitable income source in the coming decade. As per the last available data of 2018, digital education and e-learning had more than $46 Billion in sales revenue.
As per a report by KPMG and Google, the number of Indians taking on e-learning would rise 6-fold, taking the number of users from 1.6 million in 2016 to 9.6 million in 2021. In the coming times, this number will grow significantly worldwide bringing in the need for more online courses.
Online course as a tool for customer acquisition
Some businesses are now using the e-learning solution to invert the marketing model. They use the online courses to build rapport with audiences who would then buy other products offered by them.
For example, Hootsuite, a social media management software would offer a free social media marketing course on Hootsuite Academy to lure customers to buy more of their software products.
Similarly, Coursera provides some free e-learning courses only that the learner would buy from them. This model has helped companies not only grow their business but also build credibility with their customers.
Online courses as a way to train employees
Companies are now taking online courses to train their employees. In this way they are not only customizing their resources but also saving big bucks on training budgets.
This helps them customize their learning products handy with slight investments but the same can be used throughout the employee cycle thereby helping them save big.
Online courses for customer success
Ustraa, a men's grooming company, teaches its customers how to use a Hair Oil Vitalizer in order to keep the scalp clean and dirt-free.
While this strategy helps their customers to use the product in the right way, it helps the company generate a loyal base of customers who would use Ustraa products in the long-range not only specific to hair growth.
Such marketing tends to help the company create a brand awareness that goes a long way in helping the company stabilize itself and finally monopolize the sector.
Now that we have understood how e-learning courses are the talk of the town today, we must understand the next steps of selling an online course – Choosing the right subject that sells.
Choosing the right course
Market research becomes the most important factor in choosing the right business and product to sell. As per a study, around 42% of entrepreneurs fail because their product has no market to sell. Here are some pointers that tell the reasons why people buy online courses:
Career change or upskilling for promotion
Getting certified in a product specific technology or software
Getting education while continuing to work or taking care of household
To prepare for examination
It must be understood that the highest-selling courses are those that tend to help in career transition or bolstering work opportunities. Some of the most profitable online courses subjects are:
Software products, technology products
Health and Fitness
Business, entrepreneurship and management
Writing, Arts and crafts
Personality development, coming of age products
To sell an online course, you must have subjects that actually sell in your kitty. That can be accomplished with greater market research and user analysis trends. It might be a technology recently launched or software recently published.
It can also be an entrepreneurship skill that is not widely covered or a digital marketing tool recently released. All these courses would sell better than traditional courses which already have too much content made on them.
Now that you have a complete idea of which courses sell and how to accomplish that, the next step would be getting down to creating the right content using various available techniques.
It can either be a blended experience or an informative video stating all the course requirements. However, once the course is complete, the primary objective now shifts to how to sell the online course and earn review.
Below we have given various processes that can be employed to gain maximum from your e-learning course through the right sales channels.
Where to sell online courses?
Most eLearning developers face this conundrum for the first time when they venture into eLearning content marketing. The question of 'where to host and sell my online courses' has crossed the minds of every educator whether online or offline.
To sell an online course, you would require a hosting solution that is easy to access while also allowing access to customize the product with your own branding and professional look. There are various hosting options you can explore in this regard. These are:
Self Hosting
For self-hosting, you would require renting a server, creating a website, and also setting up payment processing options for your eLearning course. There are other processes also involved in self-hosting.
For starters, you can start by setting up WordPress for creating the site and use plugins for the rest of the activities. For self-hosting, you would also require a lot of technical expertise and consume time. While self-hosting is profitable, there are a host of difficulties that it can bring with itself.
Course Marketplaces (aggregators)
There are online course aggregators like Udemy or Coursera where you can upload your course content and start selling it. The technical teams of these marketplaces take up the entire work while also promoting the same on their databases of students. It is they who will collect the payments and ensure that the course videos run smoothly.
While all of this sounds pleasant to hear, these content marketplaces tend to control everything from their terms and conditions to division of revenue which of course would be higher on their side. Apart from that, you would have restrictions on pricing the content or how many times you can use email marketing campaigns.
So, if you want control over pricing and promotions, there is a third hosting solution available that can be used.
Learning Management Systems (LMS)
There are some learning management systems available in the content niche that enables you to create, manage and directly deliver your eLearning content easily to the target audience.
It is here that the content creators would have complete control over their course, pricing, and promotion with a slight fee. These Learning Management Systems come with different features and themes for WordPress users.
As an e-learning creator, you would definitely want to provide the best of the services to your end-users and therefore must learn about it. Here are some themes according to your category of usage –
WPLMS Learning Management System for WordPress – Best for Education theme, Zoom and Google Live meet
Academist – Education & Learning Management System Theme – It is perfect for modern education and IMS websites with complete layouts for your courses and training programs. 
Luma – Education HTML Learning Management System for complete LMS User Interface. You can also use it to add courses, Lessons, Quizzes, and video tutorials. 
Skilify LMS Theme – This theme uses Sensei LMS to provide world-class E-learning courses which are WooCommerce ready. 
Language School – This WordPress theme allows you to use its LearnPress LMS Integration technique to design a fully responsive Learning Management System for your e-course. 
There are a plethora of themes available for WordPress LMS integration that can be used to create amazing and responsive e-learning courses for specific users.
How to price an online course?
It is a tough question and one of the most common questions asked on the Internet. Pricing an online course depends directly on the market research of the course.
You cannot be sure of the pricing in the beginning as you would not have the proper information as to how the course will be perceived. But you need to ask yourself the following question – Will the higher price affect my learner outcome?
While the exact price can be known from the various competitor analysis, the right answer will come from your market research. You must ascertain the demand of the course.
Higher the demand, higher the number of interested learners and higher can be the price. But then again, it shouldn't be as high that it gets out of hand for the learners. Therefore, consider the following pointers before pricing an online course –
Investment on creating and hosting the course
Pricing of the competitors for same or similar courses
Income level of the target audience – Predict the amount they would be willing to spend
Demand of the course – If the demand is high, the price can be kept at a little low.
However, if you are not sure of the exact pricing, you can structure your payment while selling online courses into these three metrics:
Lifetime access plan – Charging a lump sum amount from the learners and making them lifetime members.
Monthly Payments – You can charge the learners a monthly fee and allow them to complete any number of courses in that period of time.
Course wide payments – The learners can be charged for each course they undertake.
You can use all these methods given above next time when you ask yourself 'How to price an online course?'.
How to make an online course profitable?
Once the online course has been uploaded and starts selling, the most formidable question that comes to mind is 'How do I make an online course profitable?'
This tricky question has a simple answer: ADD VALUE!
You can do the following steps to add value to your online course:
Offering Bonus course material
Every good content creator can become great if they start providing some bonus course materials at the same price as the content.
This helps the students comprehend better and also consider you as someone who takes care of the learner. This would go a long way in mouth-to-mouth promotion of your content in the learners' circles thereby increasing your sales.
Here is what you can do to offer some bonus course materials:
You can build relationships with other experts and include their content as your bonus content. You are not essentially monetizing this content. Therefore, it would not incur any IP related issues.
Create supplements such as reports, case studies, templates and some extra lessons as well as assessment. Providing a feedback mechanism goes a long way in building rapport with the learners.
Offering referral bonuses to students who bring in their friends through an invite link for your course.
If you have strong bonus content, your content is a sure hit for the learners. The other method to add value in order to make your online course profitable is by upselling your course.
Upselling the digital course
One of the best ways to make your online course profitable is to offer some additional products during purchase. This method of marketing is called upsells.
Upselling a product creates an opportunity for the buyers to receive more as part of one single transaction. This increases the chances of selling by huge margins. You can upsell your digital course using the following ways:
Personalized teaching – Along with the course, you can offer some live sessions on a monthly webinar basis, or email doubt resolution or even personal meet up to take learning into a further process.
Live sessions – If more people have similar doubts, you can also arrange some live sessions to clear their doubts and thereby increase the loyal customer base.
Launching and start selling your online course
Now that your course has been developed, it is time that your target audience takes the full benefit of the course you have created. But before launching the course, you must test it out to see if there are any technical or content-related issues and fix them before the final launch.
Beta testing will help refine your target market while also filling the gaps to the most significant questions and needs. You would also be able to understand what the market needs and is willing to pay for. You can start with a seed launch by sending a free trial offer to a small audience which might include –
Your email list
Your followers on social media such as Facebook and LinkedIn
Any willing friends and family
You can even test your course in some networking events.
While you would not be able to sell a lot of courses with the seed launch, it will help you gauge the possibilities of the sale and see if the course is viable in the current market structure. It will also help you price the online course as per demand.
Learning from the seed launch will also help in marketing and selling your online course as you would be able to understand the needs of the target audience.
Marketing and selling your online elearning course
Just because your course is good and has all that is being required by the learners, it will not sell. You will obviously have to market your online course to take it to more learners and make it successful. You will have to engage the learners and tell them why this course is important and what prospects they can have if they take this online course.
Some ways to market and sell courses online are as follows:
Creating and optimizing a dedicated website – Your course must have a dedicated sales landing page where you can inform your customers about the course. It is here that you would be able to show all the benefits that come with your course and persuade the learners to take up the course. It would be the place where links to all your courses will be hosted so that they can be taken by the learners. 
Creating course awareness – You must create useful marketing content through your own blog posts, marketing videos or posting and participating in discussions on Facebook groups. You can write answers on Quora and provide links to your course or write blog posts on Medium to spread your course awareness. 
Social Media presence – Social Media is the ultimate place to market your online course as there are billions of users with each user being a prospective client. Make sure you are creating engaging posts to upsell your course here. 
Building an email list – You can build an email list from social media and create forms on your website or by spreading the same in your contact lists. 
Brand partnerships – You can build partnerships with other entrepreneurship to sell your course. 
Finishing up
With the future of eLearning looking bright, there couldn't be a better time to create and sell online courses. While it has the prospect of creating revenue in a very short time, it will help you build a name for yourself as an educator and prospective author.
In this blog on How to sell online courses, we covered how online educators can create, host, market, and sell their courses online using very simple techniques and marketing tips.
They can use up various methods of connecting with learners and build rapport that would go miles in making the online course not only successful but into a credible information source.
FAQs
Do online courses sell well?
Answer: The online courses' sellability depends entirely on the demand of such online courses. If the course creator has researched the market well according to his/her course, they can ascertain whether the course would sell in huge quantities or not.
However, the eLearning market is expected to grow three times to $325 Billion by 2025 with a year-on-year growth likely to touch 5%. At this rate, selling the online course would be profitable.
How do I create an online course in 2022?
Answer: Creating an online course in 2022 has become way easier than in the last decade. With a plethora of content-creating technologies coming up coupled with various marketing and hosting networks, creating content has become way easier.
Apart from using a camera to shoot and record content, you can use Adobe software to edit and animate the content as well. Some of the ways in which content can be created and sold are:
You can use Udemy to launch the first course.
You can use Skillshare for teaching creative skills
You can use Teachable to create an online school with marketing available at your tips. 
You can use Podia to sell digital products
You can use Thinkific to build a course for any subject. 
You can use Kajabi for marketing a course on autopilot
You can use LearnWorlds for creating an online school. 
You can use Mighty Networks for building a paid community. 
Which software is best for online teaching?
Answer: Some of the best software solutions for online teaching include:
Zoom – for synchronous Live video lessons
Google Classroom – with fully baked LMS 
Microsoft Teams
Blackboard – for cutting edge LMS
Slack – for employees and organization wide learning
Floop – for work questions and support
SmartSurvey – for feedback on remote learning
Edmondo – for centralized teacher student communication. 
Additionally, consider using creative online meeting backgrounds to make your online courses more engaging.
Where to publish your online courses?
Answer: Best platforms to publish the online courses are:
Udemy
Teachable
Thinkific
Podia
Teachery
Educadium
Ruzuku
iSpring etc
What are some other ways to increase my income from online courses?
Answer: Some other ways to increase income from online courses are:
You can charge a learner upfront for the course fee before taking the course. This will ensure your payment even if the learner does not take the course.
You can offer the course for free but can charge them for certification.
You can charge the learner through subscription models.
You can also use a tiered payment system to get more.
Pre-sell the course.
Sell the course online for free and then funnel it into a product or service.
Selling course license for bulk use.
Aviv Digital is one of the leading digital marketing training institutes in Kochi, Kerala. Our globally recognized certification programs include advanced SEO training, SEM, SMM, Email Marketing, and Inbound Marketing courses. We also provide detailed online classes for digital marketing courses. For more details regarding the course schedule and workshops, contact us through a quote or call us right away at +91 8157998844 or +91 81569 98844